Synth-Punk Roguelike Black Future '88 Comes To Steam With 10% Discount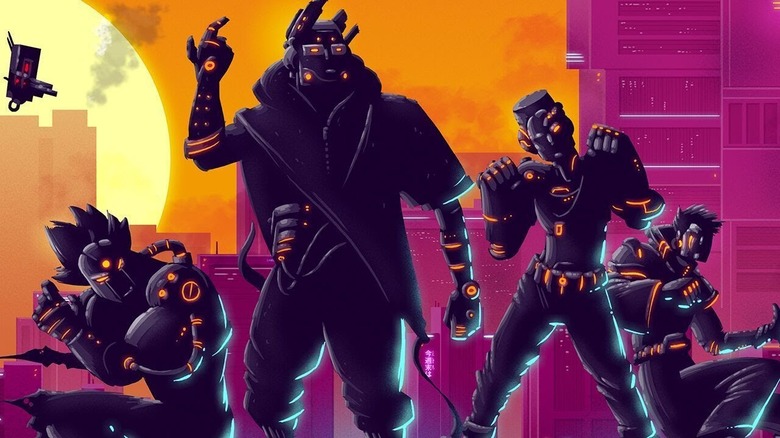 Black Future '88, the Synth-Punk roguelike 2D action shooter from SUPERSCARYSNAKES, has launched on Steam.
Set in an alternate version of the late 80s, Black Future '88 sends you on a mad climb up an ever-evolving procedural tower to take out the architect who unleashed a nuclear cataclysm on the world. You can play as one of five survivors, each with their own unique buffs and weaknesses, who have 18 minutes to reach the top of the tower before their heart explodes. Fight your way across five distinct zones, taking on a host of baddies, lasers, and boss fights using a selection of 50 weapons and 30 distinct buffs and curses.
"Vertically climb an always evolving procedural tower to reach the top and kill its insane owner ... before your heart explodes," says the official description. "Shoot, slash, dash and upgrade yourself to survive the endless waves of deadly traps, homicidal AI, crazed junkies and colossal Wardens standing in your way in a stylish alternative version of 1988."
To keep gameplay fresh, Black Future '88 comes with unique daily challenges, letting you test your mettle and face off against other players in a global Leaderboard. You can also take advantage of the title's couch co-op mode either in person or using Steam's new Remote Play option. This new feature lets you share your Steam local multi-player games with friends over the internet, streaming video, audio, and voice between players while using your own controllers.
You have until November 28 to grab Black Future '88 for $17.99 (10% off). The new release joins dozens of other discounted games in the Remote Play Together multi-player feature and sale event currently running on Steam. Other notable titles include: Overcooked, Cuphead, A Hat in Time, Goat Simulator, Enter the Gungeon, Children of Morta, Road Redemption, Pyre, and Divinity: Original Sin 2 – Definitive Edition.