Play Warhammer: Vermintide 2 For Free On Steam This Weekend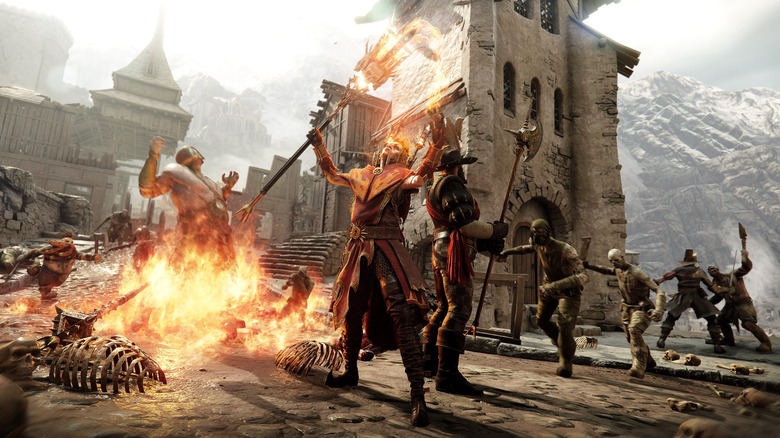 Those struck with a sudden desire to smash some Rodents Of Unusual Size should head over to Steam and checkout Warhammer: Vermintide 2, Fatshark's four-player rat-smashing co-op.
Described as a "fierce first-person co-op slaughter-fest," Vermintide 2 transports you and up to three friends to the apocalyptic end times of the Warhammer Fantasy Battles world. Defend the Empire as one of five heroes — Bright Wizard, Waywatcher, Witch Hunter, Dwarf Ranger, and Empire Soldier — from the combined threat of the Chaos army and Skaven horde. With 15 careers, 15 talent trees, and over 50 weapons to choose from, it's easy to customize your experience to fit your playstyle. You'll fight your way through several distinct areas, taking on more than 20 enemy types in a high-intensity fight for survival.
Vermintide 2 released to positive reviews in 2018. IGN awarded the sequel an 8/10, praising its weapons and level design. "Just about every one of the multitude of ways Warhammer Vermintide 2 gives you and your co-op team to kill your enemies is punchy, powerful, and a whole lot of fun," wrote Tom Marks. "It's a gorgeous game with tons of fun play styles and customization options to uncover, even if most of the loot you earn for your efforts is a letdown."
Warhammer: Vermintide 2 is free to play from now through Sunday, November 24. Anyone who has played during a previous free weekend can pick up where they left off. If you decide to make whack-a-rat a permanent part of your life, Fatshark is offering the base game for $7.49, a 75% discount. Alternatively, you can purchase Vermintide 2, the Winds of Magic expansion, Back to Ubersreik DLC, and Shadows over Bögenhafen DLC as part of a bundle for $32.56, 53% off the normal price.
For additional savings on co-op games, take a peak at Steam's Remote Play Together sale.