Rumor: Tony Hawk Pro Skater Remasters In The Works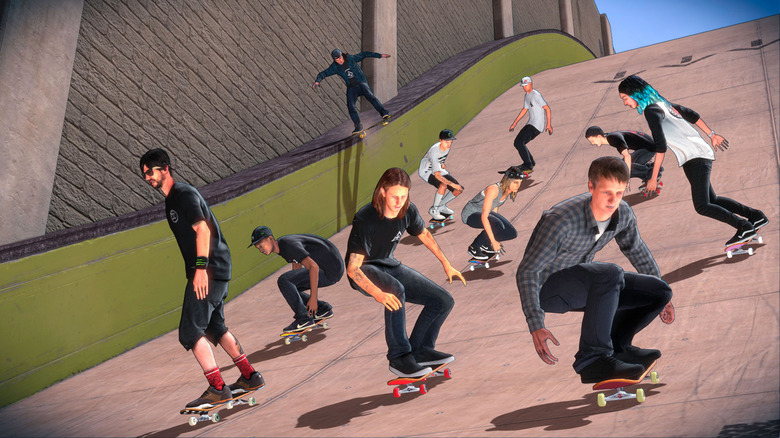 Rumor has it we'll soon be shredding up the rails (that's a thing, right?) in a remastered Tony Hawk Pro Skater game or two. While there is no official news from Activision or Mr. Hawk himself, the internet is abuzz with rumors that the addictive and surprisingly lucrative Pro Skater franchise will soon return to consoles. 
Sabi, an established industry insider, revealed on Twitter this weekend that "Tony Hawk Pro Skater 1 and 2 had demos/prototypes remade" inside Activision. Sabi had been sitting on this news, however, because they weren't "sure if they were being remade as full games, or just a test." There's no way to corroborate this officially but this rumor seems to have some traction. Back in October, pro skater Lizzie Armanto said Tony Hawk was "coming out with another one, and I'll be in that too" when asked about her appearance in the games on The Nine Club Podcast. 
Now, let's poke some holes in this rumor. Tony Hawk and Activision parted ways after the not-so-stunning release of Tony Hawk's Pro Skater 5. Earlier this year, Tony Hawk, perhaps a little exasperated, tweeted: "To anyone asking me to 'remaster' old games, or complaining about THPS servers being down: Activision owns the THPS license but I am no longer working with them. If I had the skills / authority to reboot servers or code games for newer systems on my own, I would be happy to..."
As always, approach this leak with restrained optimism. Tony Hawk may not be in the know about any remasters in the works but Lizzie Armanto seems to think a brand new game is on the way. We'll have to wait for an official confirmation from Activision before we can say for sure what's next in the Pro Skater series.