Fable 4 Concept Art May Have Appeared Online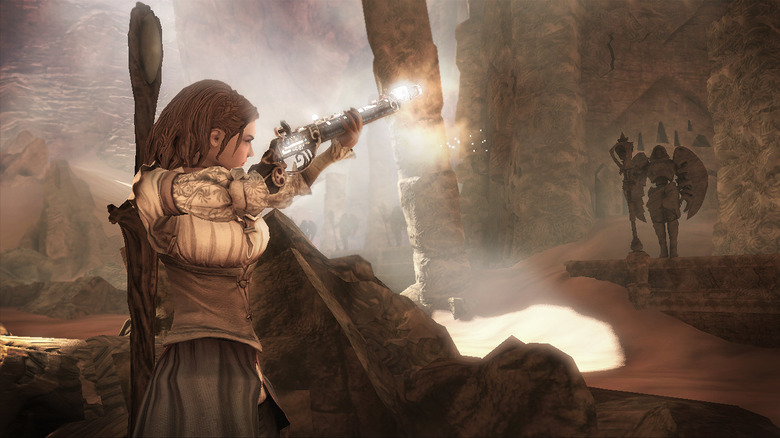 Possible concept art for the next game in the Fable series turned up online before disappearing.
Twitter user Klobrille discovered character artwork by a concept artist shared on ArtStation. Though the images have since been taken down, the style of the artwork — a fairy tale interpretation of 16th century Europe — reflects the Fable aesthetic.
Advertisement
Based on the accompanying sketches and mood boards, the artwork serves as a concept test for a new female character with "almost an assassin vibe, but not in disguise." It seems the artist used actress Anne Hathaway as a likeness reference. Additional captions reveal a "sociable/cheerful" personality and a nautical background based on her father teaching her to tie different types of knots. She also carries bags containing medicine to ward off sea sickness.
While the style vibes with the Fable series, the most telling aspect of this artwork comes from the Playground Games logo emblazoned in the bottom right corner. According to a Eurogamer report from last January, Microsoft has tasked the Forza Horizon developer Playground Games with creating Fable 4, a project that would receive a team of 200 people.
Advertisement
Though Microsoft has not officially announced the sequel, the artist's work is the latest sign in an ongoing stream of rumors pointing towards the return of the Fable series. Based on a video that leaked over the summer (also removed), Fable 4 will take place in a brand new setting following the destruction of Albion at the hands of a Mad King who seized control of the Tattered Spire from Fable 2. Allegedly, players will have the option to ignore the main quest, instead focusing on building their own towns in an open world or mastering the first multiplayer component to appear in the franchise. Oh, and no more guns!
[Note: The artist reached out after publication and asked that we remove their name and art.]