Valve Officially Runs Out Of Steam Controllers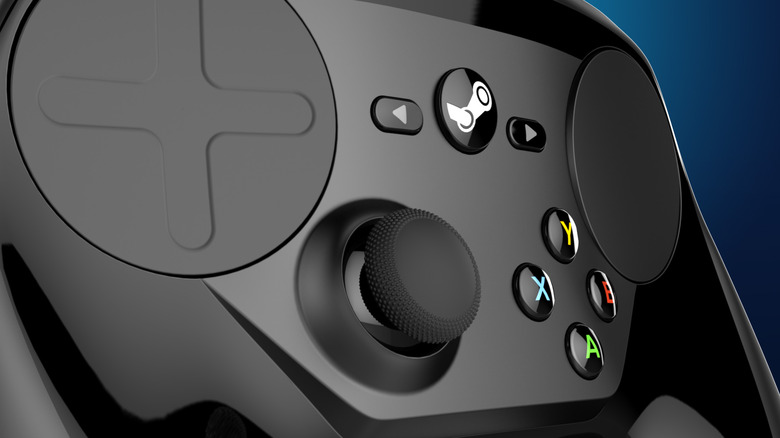 In 2019, we have no shortage of controllers to choose from. From high-end ones — like the Xbox Elite Wireless Controller and the Astro C40 — to the recently released Google Stadia Controller, the choices feel almost endless. Now, one controller has nobly bowed out of the race: Valve's very own Steam Controller.
At the start of Steam's Autumn Sale last week, many people jumped on the Steam Controller. After all, it was only $5 flat. Sure, shipping might have cost more, but one could get a controller on the cheap, and a unique one at that. Unfortunately, if you haven't put in your order by now, you'll probably never be able to again. Valve has announced that its controller stock has been emptied.
If you ordered one during the sale and still haven't received it, chances are, you have a refund sitting in your bank account. Customers have been contacted by Valve, who let them know the company oversold its remaining stock.
"During our recent sale, we mistakenly took more orders for the Steam Controller than we were able to fulfill," the statement reads. "We sincerely apologize for the confusion and inconvenience."
Valve doesn't plan on manufacturing any more of these controllers, so the ones that are out in the world are the last ones we'll see, at least for the foreseeable future.
The Steam Controller was initially meant to work with the Steam Link hardware, a little black box that streamed games from your PC to your TV over your local network. Of course, that piece of tech went the way of the dodo toward the end of 2018, so it's no surprise to see the Steam Controller follow suit.
The Steam Link still lives on, however, in the form of software. Now, it's an app on your phone or smart TV, and as long as those devices are internet-capable, they should function similarly to the old hardware. Unfortunately, it's hard to imagine a controller making the same software-only leap, so this could be the definitive end for the Steam Controller as we know it.