Star Wars Battlefront 2 Update Adds Rise Of Skywalker Content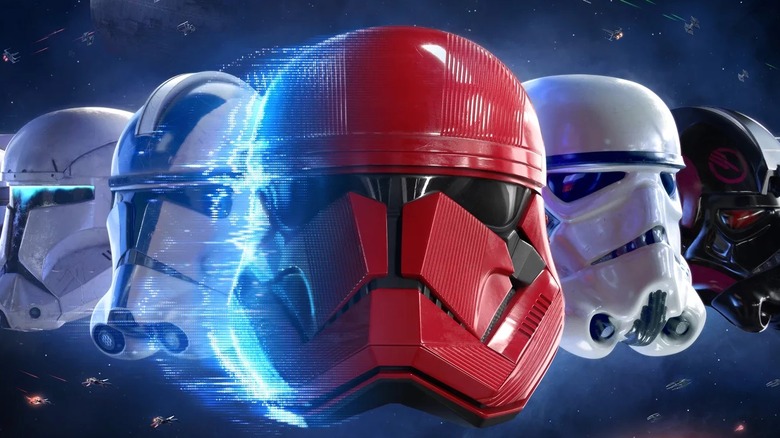 We're just weeks away from the theatrical release of Star Wars: The Rise of Skywalker. But if you can't wait, you've already finished that other Star Wars game, and you want to take another trip into that universe, an upcoming update to Star Wars Battlefront 2 might interest you.
Advertisement
The update is set to arrive on Dec. 17, and is called — unsurprisingly — The Rise of Skywalker. It'll add a "brand-new jungle planet" from the movie, a Sith Trooper, a First Order Jet Trooper, and two aliens that'll make an appearance in The Rise of Skywalker: the "Gunner and Spy unit."
But of course, what would an update like this be without major characters from the film? New looks for Rey, Finn, and Kylo Ren are inbound thanks to this new content drop, and as you might expect, they're based on how the characters appear in The Rise of Skywalker. Cool.
There is one teeny, tiny catch with regard to a promised piece of content in this update. You know that planet we told you about? The new jungle location from the movie? It appears EA and DICE aren't keen on spoiling it for everyone when the rest of the update comes, which is two days before The Rise of Skywalker hits theaters on Dec. 19. So the new planet won't be added until the day after the film's release. Why the entire update isn't being held until that point is anybody's guess.
Advertisement
Still, all of this sounds pretty cool! And it comes just in the nick of time, too, as EA and DICE are also releasing a Star Wars Battlefront 2 – Celebration Edition that rounds up all previous updates to the game in one tidy package. If you're a Star Wars fan, you should have plenty to keep you busy over the holidays.