Xbox Game Pass For Console Getting The Division, Overcooked 2, And More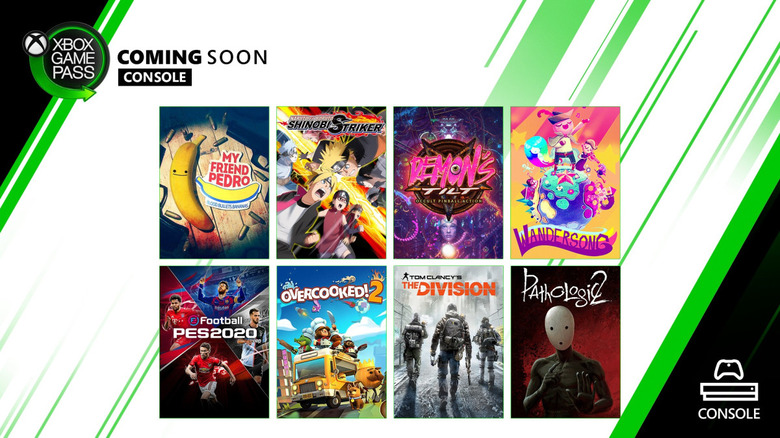 Xbox Game Pass continues to prove that it's one of the best deals in gaming right now. Microsoft revealed the games that are coming to the subscription service this month, and what we're seeing looks fairly solid in terms of quality and variety.
Of course, the big one — Halo: Reach — already hit the service on Dec. 3, although it's been dominating other platforms as well. Beyond that, there's still more to look forward to on the console version of Game Pass.
My Friend Pedro is available on Game Pass starting today. This indie game puts you in control of an extremely acrobatic and deadly man who twists and turns through stages in a ballet of bullets. Additionally, Naruto to Boruto: Shinobi Striker will make its way to Game Pass, pitting two teams of four ninjas together in classic anime showdowns. 
On Dec. 6, Demon's Tilt will launch on Game Pass. If you've been itching for a classic pinball-style video game, this game might satisfy that craving and much more, as it combines pinball action with elements from the shmup and hack n' slash genres. Wandersong also launches on the same day. In this platformer, you play as a bard who uses music to interact with the world around them, solving puzzles as you go.
When Dec. 12 arrives, we'll get four heavy hitters. Konami's eFootball PES 2020, for starters, will walk onto the Game Pass field. The sports game released back in September, so it's a fairly new face. The same day also serves up a fresh order of Overcooked! 2, the frantic party game that lets up to four players (horribly) manage some of the most chaotic kitchens. Pathologic 2 also hits Game Pass on that day. This narrative-focused thriller follows a viral outbreak in a small town, showcasing the struggle of surviving in the face of a collapsing society. Finally, Tom Clancy's The Division returns to Game Pass.
If you're interested in starting up an Xbox Game Pass subscription, you can still sign up for your first three months for $1, which also comes with a whole host of other benefits for the holidays.