Snoop Dogg Might Become A Guest Commentator In NHL 20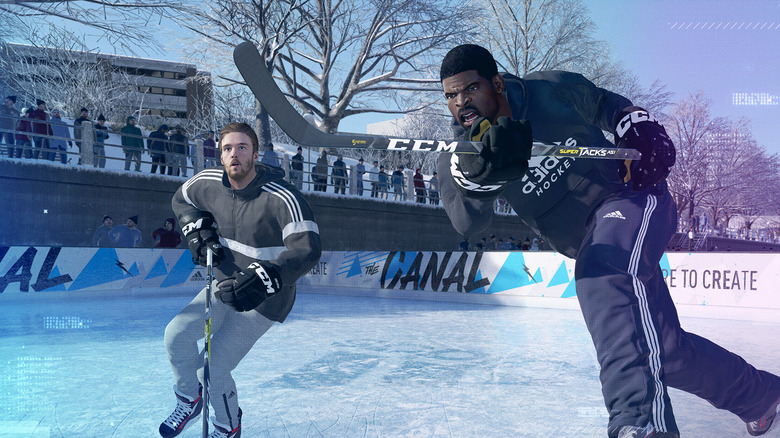 The official Twitter account for NHL 20, EA's annual take on hockey video games, recently tweeted out something most peculiar. The image shows off a silhouetted man holding a microphone on a purple backdrop with some smoke. The tweet comes with the caption, "It's about to go down, fo' shizzle."
We don't want to be presumptuous, but it looks like rapper and herb enthusiast Snoop Dogg could be coming to NHL 20.
This would fall in line with what EA said it would try to do with NHL 20 when it was first revealed in June. GameSpot reported that EA would push for celebrity guest appearances in the game, and though none were confirmed at the time, a slideshow presented to media teased celebrities like Will Ferrell, Drake, Wayne Gretzky, and Snoop Dogg.
It's about to go down, fo' shizzle. #NHL20 pic.twitter.com/8QSXMAjNR3

— #NHL20 (@EASPORTSNHL) December 4, 2019
Now, six months later, this could be the confirmation we've all been waiting for.
This wouldn't be the first time Snoop Dogg has intersected with the hockey community. Back in January, he appeared as a guest commentator during an L.A. Kings game. Amusingly enough, Ron Burgundy — aka Will Ferrell's iconic Anchorman character — has done the same. It wouldn't be a big leap to see both of them make their way to NHL 20. And Wayne Gretzky wouldn't be the biggest surprise either, considering he's one of the most famous hockey players in the world.
In early November, EA added Toronto Raptors point guard Kyle Lowery, Minnesota Vikings wide receiver Adam Thielen, and Pittsburgh Steelers wide receiver Juju Smith-Schuster to NHL 20. You've probably noticed that none of those people play hockey professionally. However, their influence was meant to create more visibility for NHL 20. Celebrity commentators would likely accomplish a similar goal.
We'll update you if more news surfaces about Snoop Dogg in NHL 20.