Bayonetta And Vanquish 10th Anniversary Bundle Celebrates In Style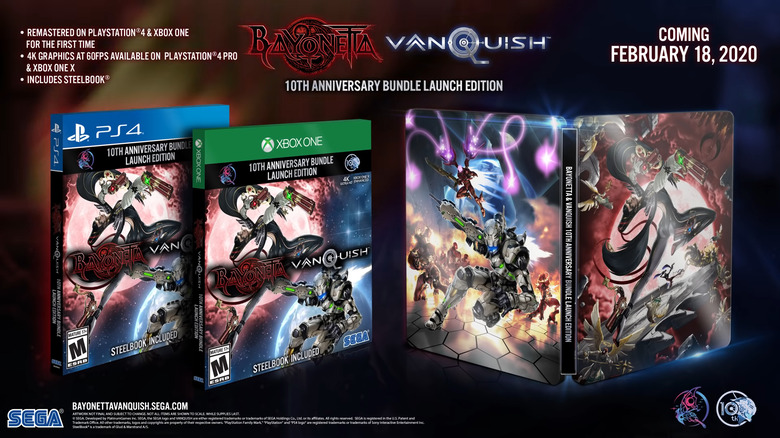 Last week, a Bayonetta and Vanquish remaster leaked, bringing the last-gen Platinum classics to the modern day. Now, Sega has confirmed the news with an extra cherry on top. Both games will launch on Feb. 18, 2020, and you can purchase both of them in a single 10th Anniversary Bundle that includes a steelbook. The games will also be available digitally, if the steelbook isn't important to you.
The Bayonetta and Vanquish bundle is available for pre-order now for both the PlayStation 4 and Xbox One. If you have the PS4 Pro or the Xbox One X, both games will run in 4K at 60fps, making both of these a true visual delight. Platinum Games has historically made hyper-active, engaging titles that shine brightest at higher frame rates, so Bayonetta and Vanquish should look and feel fantastic.
Bayonetta and Vanquish were some of Platinum's biggest titles back in the day. Bayonetta puts you in the shoes of the titular witch who deals with supernatural conflicts between heaven and hell. She's as comfortable with her sexuality as she is in combat, with her magical hair being her most terrifying weapon. Some players might recognize her more from her appearance in Super Smash Bros. Now, you can experience the magic where it all began.
Vanquish, on the other hand, is a third-person shooter in which you control Sam, a man in a futuristic Augmented Reaction Suit. He can boost-slide around while slowing down time, making you feel like an action hero as you take down giant robots and opposing enemies. It delivers on that high-octane action that puts you in shock and awe as you play.

Both Bayonetta and Vanquish also received PC ports in 2017, so if you don't want to wait for these remasters to drop next year, you can play them right now on PC.