How Long Does It Take To Beat Dragon Quest Builders 2?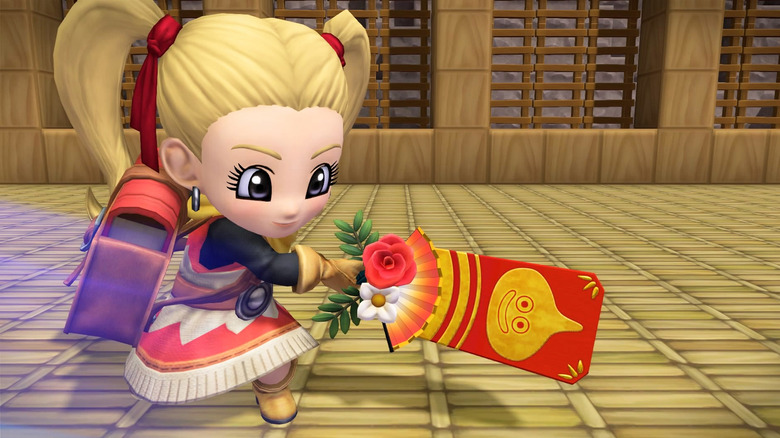 Dragon Quest is one of the longest-running JRPG franchises on the planet, often competing with other juggernauts like Final Fantasy and Monster Hunter. In 2016, Square Enix decided to shake the series up a bit by taking cues from Minecraft. Thus, Dragon Quest Builders was born, followed by a sequel three years later. Wondering if Dragon Quest Builders 2 is the worth the investment? You'll get plenty of bang for your buck.
All in all, Dragon Quest Builders 2 is a long game. Both Game Rant's Dalton Cooper and Pocket Gamer's Cameron Bald claim the game offers "dozens of hours" of gameplay. If you want a more specific number, GameSpot's Heidi Kemps spent 45 hours with the game to write her review. On average, HowLongToBeat says the main story will take roughly 55 hours to complete, while it'll take nearly double that time to achieve a 100%.
In Dragon Quest Builders 2, you visit more than a handful of islands. Four islands remain the same every time you visit them, as they're central to the story. For context, Emil Gunnarsson from Cultured Vultures claims to have spent 10 hours on the first island alone. Aside from these main locales, you'll find six other islands that randomly generate every time you visit them, sort of like a new Minecraft world.

In fact, that's where the beauty of Dragon Quest Builders 2 lies. Sure, you could focus purely on the story to understand why builders have been outlawed. At the same time, you can get lost in this vast voxel world, gathering resources to your heart's content. You can build structures and craft unique items whenever you want, with little standing in the way of making your own fun. So, while it could take more than 50 hours to complete the story, you can spend far more hours doing as you please.