Indie Title SuperMash Helps You Make Retro Video Games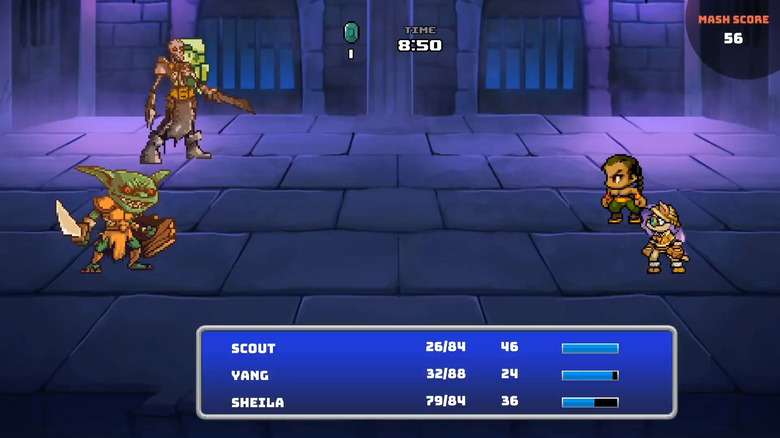 Have you ever wanted to make video games? Well, the developers at Digital Continue have made that dream a little bit easier for you to achieve. Keep an eye out for the studio's game, SuperMash, which was highlighted today during Nintendo's Indie World stream.
In SuperMash, you own a game shop, and in it, you find a game console no one has seen before. Using it, you're able to fuse old-school game cartridges together, creating brand new, procedurally generated titles. Based on the trailer, though, it seems like you're actually mashing together different classic genres.

The genres we've seen in the SuperMash trailer include shoot 'em up, platformer, stealth, action adventure, JRPG, and even metroidvania. You decide which two to put together, and that creates a new game for you to play. The system seems pretty robust, too, as we've seen Legend of Zelda-style games, SNES-style cutscenes, and even turn-based JRPG fights that evoke memories of Final Fantasy.
Generally speaking, the concept definitely has its sights set on nostalgic gamers, which is never a bad thing. The retro, pixel art aesthetic definitely reminds us of a simpler time, although there's definitely far more going on under the hood with SuperMash, considering how much work it's doing to mix two genres. Even better: When you make a new title, the game generates a unique code that you can send to your friends. If they put that code into their game, they'll be able to play what you made, putting a bit of a social spin on the experience.
SuperMash aims to release on the Nintendo Switch in May 2020, but if the idea of the game interests you, you don't have to wait that long to play it. If you have a PC and are comfortable with the Epic Games Store, SuperMash is available there as well, and it's already available for purchase.
The developers at Digital Continue are based out of New York, and SuperMash isn't their first rodeo. Previously, they launched games like Next Up Hero and Jumpstream.