Two Point Hospital Comes To Consoles In February 2020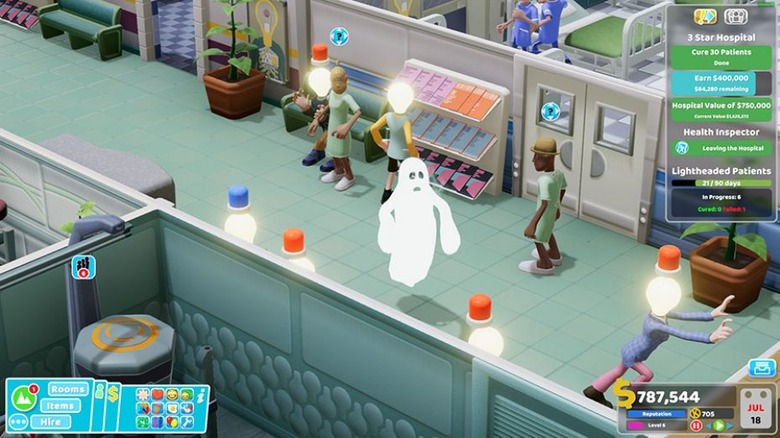 Since its release on Steam in 2018, players have been enjoying the unusual illnesses and downright addictive gameplay of critically acclaimed, hilarious hospital management sim Two Point Hospital. Come Feb. 25, 2020, console gamers will finally be able to get in on the fun.
Advertisement
What's so fun about managing a hospital? First of all, Two Point Hospital doesn't get into the nitty-gritty, gross diseases that regular hospital staff might have to deal with. Instead, players face bouts of lightheadedness (people with lightbulbs on their heads), Cubism (people who look like they lost a fight with Picasso), and Pandemics (people with pans on their heads) among other amusing maladies. In Two Point Hospital, players work to cure these illnesses, and expand and improve their facilities. Think of it as The Sims meets medicine. And you don't even need a doctorate to play.
Fans have been waiting a long time for this promised port. Come February, Two Point Hospital will be available on PlayStation 4, Nintendo Switch, and Xbox One. According to publisher Sega, the game will eventually be released on Xbox Game Pass, in case you needed another reason to opt in to the subscription service.
Advertisement
The trailer shows just how hectic and hilarious hospital management can be. Curing illnesses requires some... interesting machinery rather than popping pills. Like The Sims, there appears to be very few limits as to what players can build. You can even outfit your waiting room with Sega arcade machines, just in case you didn't know that Two Point Hospital was published by Sega. 
Two of the game's many expansions, Bigfoot and Pebberley Island, will be bundled in with Two Point Hospital's console release. The Bigfoot expansion puts players in the holiday spirit by transporting them to a winter wonderland while Pebberley Island is a might bit more tropical.
Console players will get to experience all this and more when Two Point Hospital releases Feb. 25, 2020.