Get This The Game Awards Nominated Title On Steam At A Discount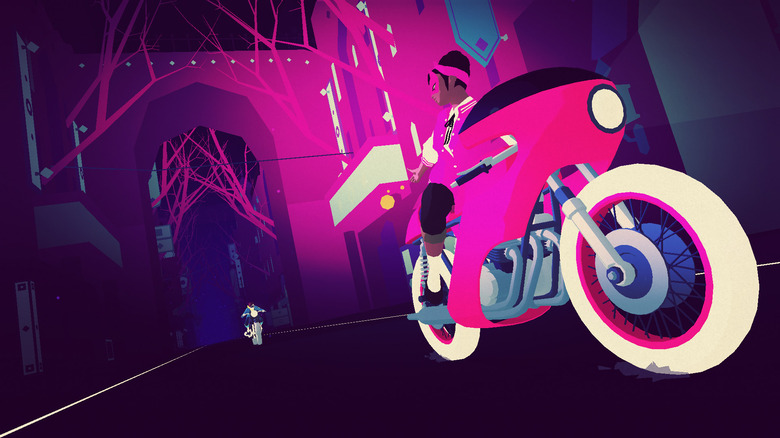 When you think of rhythm games, titles like Guitar Hero or Rock Band might come to mind. Sayonara Wild Hearts doesn't fit this mold, yet it bills itself as "A Pop Album Video Game." Featuring a high-octane soundtrack composed just for the adventure, the title embodies this concept perfectly. You can now experience it on PC thanks to a stealthy Steam launch.
Since it released in September, Sayonara Wild Hearts has earned a fair share of accolades. The Nintendo Switch version pulled in an 83 on Metacritic, while Apple crowned it the Apple Arcade Game of the Year. The indie title racked up three The Game Awards nominations for Art Direction, Mobile Game, and, as expected, Score & Music. Due to these nominations, you can pick up Sayonara Wild Hearts at a 20% discount on Steam, while the Soundtrack Edition has a 32% discount. It comes with the soundtrack, as the name suggests.
"The variety of ways that Sayonara Wild Hearts experiments with its two basic inputs is straight up magic. One minute the game is an on-rails runner that has you narrowly avoiding obstacles, the next, it's Rez, throwing enemies and projectiles at you that you need to highlight with a cursor and shoot," wrote Kotaku's Paul Tamayo. "Sayonara Wild Hearts keeps you guessing."
Overall, this level of praise feels deserved. If electronic pop music lights up your life, you could justify picking up Sayonara Wild Hearts for the soundtrack alone. Beyond that, its striking visuals turn the game into something worth experiencing, even once, as it all comes together to tell a story about finding motivation.
Though publisher Annapurna Interactive teased a Sayonara Wild Hearts PC port, today's Steam release comes as a welcome surprise. If you prefer consoles over PC, Sayonara Wild Hearts is also available on PlayStation 4 and Nintendo Switch. Both platforms have their own sales going on courtesy of The Game Awards. If you have an iPhone, you can also play the game via the App Store or Apple Arcade.