Tetris 99 Now Lets You Bring Backup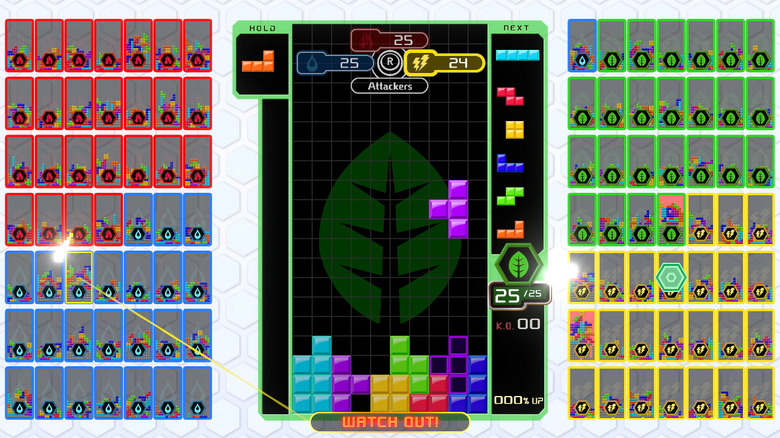 Nintendo rocked the world when it revealed that Tetris, of all games, would be revitalized in 2019 as a battle royale. And you know what? Tetris 99 holds its own. Nintendo continues to support it with all sorts of competitive cups and new features, and now, thanks to the latest update, players can officially squad up for the first time.
When you boot up Tetris 99, a new menu item shows up called Team Battle. This isn't exactly the Fortnite squads formula, as you won't be paired up with three other players. Instead, Tetris 99 splits the "battlefield" up into four, letting you choose your team before you do battle against all the others. The last team with players remaining is crowned the winner.

It'll be interesting to see how players take to the new team-based matches. We never thought battle royale Tetris would take off, yet here we are. So who knows.
In other news, this update will also let you earn some money by playing the game. When you take part in the Maximus Cup, you'll be ranked by how well you perform. The better you play, the higher the chance you'll earn Nintendo Gold Points, which can be redeemed at the eShop. If you get 1st place in the Maximus Cup, you'll earn 50 points. 2nd place nets you 25, while 3rd gets you 5 points. If you at least make it in the top ten in a round, you earn 1 point. Your total points are tracked on a leaderboard, and the top 999 players will receive 999 Nintendo Gold Points, which is almost equivalent to $10.
This Maximus Cup contest runs from Dec. 12 at 11 p.m. Pacific to Dec. 16 at 10:59 p.m. Pacific. So if you put your game face on this weekend, you could earn $10 from Nintendo itself to spend on your next digital purchase.
Lastly, the update adds some extra button configuration options and new user emblems, letting players really customize Tetris 99 to their own liking. Neato.
We'll have more for you on Tetris 99 as it comes.