Xbox Series X Reveal Finally Shows Its True Power
The Game Awards were bound to contain some surprises, but one we weren't expecting was a full-on reveal for the console we previously called Xbox Scarlett. Microsoft officially unveiled its next-generation machine during the ceremony, not only giving us a brand new name to use, but actually showing us what the hardware looks like.
Advertisement
And we have to say — the Xbox Series X, as it's now called, is doing away with the console designs of old. It looks really, really cool.
The Xbox Series X isn't the sort of set-top box we've seen in the past few generations. Microsoft didn't endeavor to create something that'll look at home next to your cable box, but seemingly took inspiration from other consumer electronics. Most will immediately compare the Series X to a PC tower, given its upright position. But it's not quite as beefy as a gaming computer; it actually looks more like an Amazon Echo on Microsoft-brand steroids. There's a disc drive — which we presume is Blu-Ray — but the system itself isn't much deeper than a disc. And it looks roughly as tall as three Xbox controllers.
Advertisement
We'd hesitate to call it an engineering marvel, but the power Microsoft is packing into this thing makes that description feel pretty justified.
Players can expect 4K visuals at 60 frames per second, "with possibility of up to 120FPS," according to Microsoft. "8K capability" is also being touted. The Series X will support Variable Refresh Rate, meaning those with VRR displays will enjoy smooth gameplay regardless of where the frame rate comes in. And a next-gen solid state drive will take load times down to almost nothing.
Games should look downright gorgeous on the Xbox Series X. And how will you control those next-gen titles? With the new Xbox Wireless Controller.
The new Xbox Wireless Controller is a step up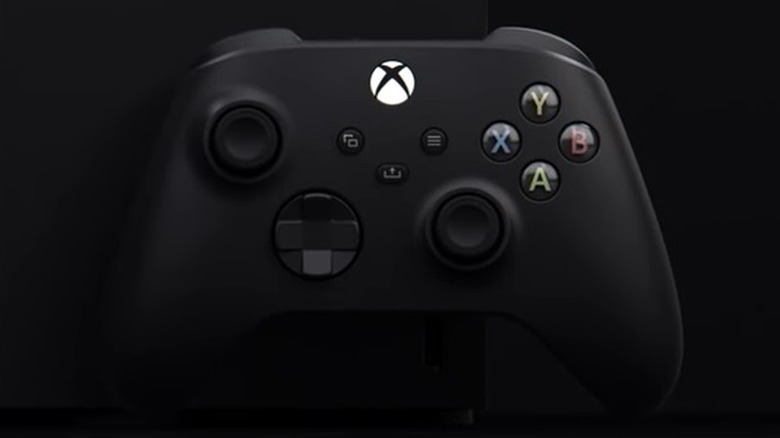 There's a good chance that you stared long and hard at the next-gen Xbox but didn't even notice the controller sitting next to it. We can't blame you for shrugging off the gamepad; it certainly looks like every other Xbox One controller you've ever seen before. After a closer look, however, you'll probably realize that this isn't the pad Microsoft has been selling since 2013. This is something entirely new.
Advertisement
Microsoft states that the "size and shape" of the new Xbox Wireless Controller "have been refined to accommodate an even wider range of people." There's a brand new button on the controller, as well: a "Share" button that'll make taking screenshots and videos of your gameplay even easier. And you might have noticed the d-pad got a bit of a rework. This new design comes straight from the Xbox Elite Series 2, so you'll be getting a tiny piece of Microsoft's premium pad when you purchase an Xbox Series X. People must really like that d-pad.
Otherwise, the new Xbox Wireless Controller isn't much of a departure from what we've seen on the Xbox One and even the Xbox 360. There's good reason for that; the Xbox controller is widely considered to be one of the best — if not the best — gamepads money can buy. If you're an Xbox die-hard, you'll likely feel right at home playing on the Xbox Series X. 
Advertisement
Hellblade 2 was shown running in-engine
And what about the games? Microsoft couldn't show us the Xbox Series X without giving us a taste of what to expect on the new console, and fortunately, we didn't have to wait very long to see the system in action. Even better still, we got an announcement for a brand new game from a very talented developer.
Advertisement
Senua's Saga: Hellblade 2 is officially in development over at Ninja Theory, and Microsoft was kind enough to show us footage of the game running in-engine. While we were slightly disturbed by Hellblade 2's trailer, we have to admit that the trailer was on brand for the Hellblade universe. Not only that: the game looked downright stunning.
Microsoft isn't a company to play tricks with game capture, opting to tell everyone very clearly when they're looking at CGI versus rendered graphics. If Hellblade 2 actually reaches this level of visual fidelity upon release, we're going to have a very hard time telling real people apart from their video game models in the next generation. And that's almost as exciting as seeing Microsoft's new console itself.

Advertisement
We'll undoubtedly have more to share on the Xbox Series X as we progress through the next year. Maybe we'll even get a look at Microsoft's other console, Lockhart. As soon as we have more news to share, we'll get it in front of you.