Surgeon Simulator 2 Trailer Hides A Horror Movie Easter Egg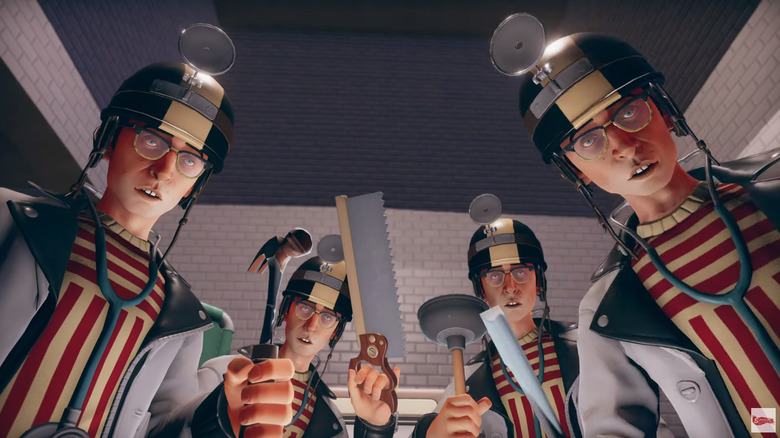 Surgeon Simulator is back and weirder than ever, thanks to a new trailer for a sequel that premiered during last night's Game Awards. At first, we weren't quite sure what we were looking at; then it became clear that the inept characters tossing around the trailer's POV were actually the clumsy surgeons we played as in the first hit game.
There's a whole lot more to this trailer than the usual, ham-fisted surgical antics we loved from the first Surgeon Simulator. We find ourselves in a mixed up factory of sorts filled with dull-faced clones. The only real hint that we have to their identity is one of those old-fashioned surgical lights on their heads. But what's more is that their factory — filled with bowling alleys and conveyor belts — has an iconic movie reference.
We first noticed, via a topsy-turvy view, that an iconic carpet made it into the trailer. This geometric pattern has become infamous thanks to Stanley Kubrick's horror masterpiece The Shining. The Overlook Hotel's halls are carpeted in this very '70s pattern, and so is the floor of the Surgeon Simulator 2 facilities. There is even a flood in the elevator, of sorts, when the clones all tumble in. Not quite the horrifying wave of crimson from Stephen King's horror story, but close enough.
As far as actual gameplay goes, Bossa Studios gave us just a taste of the usual surgical blunders from the first game at the end of the trailer. It turns out that the trailer's POV was actually the severed head of poor Bob, who needs pieced back together. The clones, armed with the usual tools — and a plunger — appear primed to take on the task. We're guessing that this probably isn't going to go well.
Surgeon Simulator 2 is set to release on PC sometime in 2020, much to the excitement of amateur surgeons everywhere. That's right kids, you don't need a medical degree to play... or a particularly steady hand, for that matter.