Disco Luigi Is About To Become A Thing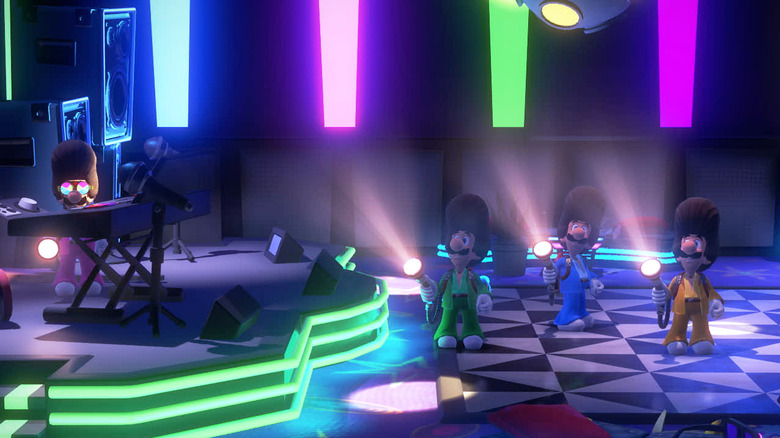 Good news for those of you who absolutely adored Luigi's Mansion 3: DLC is coming to the game in 2020 that'll include an assortment of new minigames, Themed Ghosts, and floors for ScareScraper. Do you know what's even better, though? The new outfits Luigi will be getting as part of the DLC; more specifically, his disco getup.
Luigi often gets shoved behind Mario in the Nintendo lineup, and look, we get it. Mario is the mascot of the company. He is Nintendo's Mickey Mouse, and that is never going to change. But there is no denying that Luigi is by far the more entertaining meme man of the two. Do you remember the infamous Luigi Death Stare? There were local news channels reporting on that phenomenon at the time. It sure feels like Luigi's disco attire — which features bell-bottoms and some crazy hair — could take off in a similar way.
Someone is going to capture Luigi in the perfect pose and slap an Impact-font caption on it. Mark our words.
The DLC for Luigi's Mansion 3 will come in two packs, bundled together at the low, low price of $9.99. Part 1 will arrive by April 30, 2020 and include all of the aforementioned goodies, as well as two more outfits: a mummy costume and a set of armor. Part 2 is scheduled to drop by July 31, 2020 and will add, according to Nintendo, "additional content and features for both ScreamPark and Scarescraper modes." People loved Luigi's Mansion 3, so it's great to see more content is on the way. And you can't really argue with the price: that's a decent package for not a lot of money.
We'll be looking forward to the disco outfit most of all, though. There is no way Nintendo puts that massive quiff on Luigi's head without the internet turning it into some kind of gag. No way.