Fallout 76 Has A Story For Why The NPCs Have Been Missing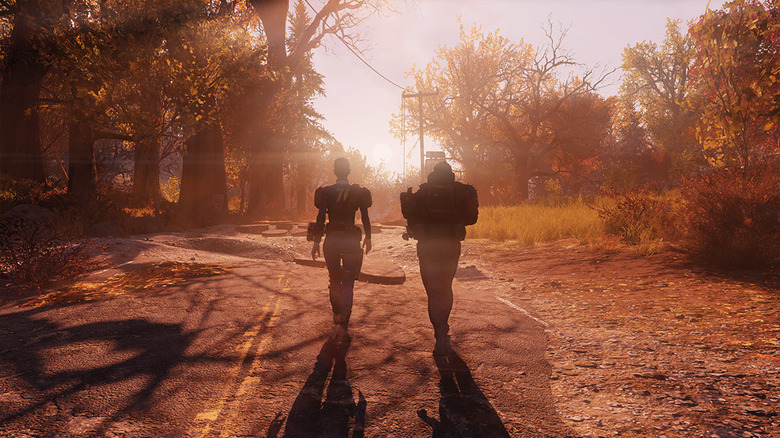 Was it poor planning on the part of Bethesda? Was it a sincere belief by the developers that players wouldn't miss them? Whatever the actual reason is for Fallout 76 not having human non-playable characters (NPCs) at launch, it seems the game itself has what it feels to be a very plausible explanation for all those missing people.
Advertisement
In the Wastelanders update, Fallout 76 players will encounter human NPCs for the very first time (officially). And we know what you're probably wondering: where have all these people been? Just out and about, apparently. They were trying to survive just like you, and now that West Virginia is becoming a little less dangerous thanks to your actions, they feel they can safely come back and settle down.
"The Wasteland has been evolving ever since people have begun to return," says a blog post on Bethesda's website. "As you explore, you will find many locations are now inhabited or have been built up as more arrivals seek new lives in Appalachia."
The blog highlights two characters in particular — Duchess and Mort — as some of the more important characters you'll meet when the Wastelanders update arrives. Duchess owns the local watering hole that'll spring to life in the update, and she'll likely have some missions for you if you're interested. And Mort? Well, Mort is just a guy who hangs out at the bar an awful lot. But it looks like he'll serve as a C.A.M.P. helper of sorts, if you need a tutorial on those.
Advertisement
At the very least, the world of Fallout 76 should feel a little less lonely for solo players.
"One of our main goals with this update isn't just to add NPCs to push your story forward, but to help Appalachia feel much more alive now that people are making their way back into the area," the blog post adds. "You will not only encounter new faces during the main story, but throughout the game in new encounters, in combat, encampments, and even as they go about their daily lives."
Yes, "now that people are making their way back into the area," wink-wink.
There's no word yet on when we can expect the Wastelanders update to launch. All we know is that it'll come sometime in 2020.