We'll Get To Play Mario Kart IRL At Universal Studios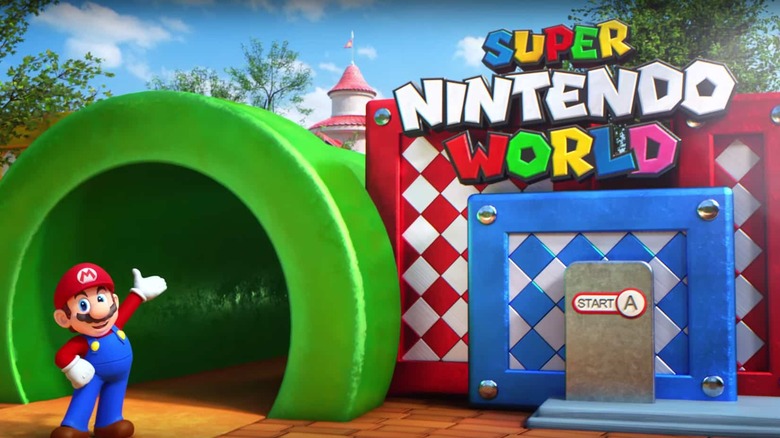 Nintendo took go kart racing to an all new level with Mario Kart, and now Universal Studios will be bringing that experience to life. In the coming years, the theme park's Japan, Hollywood, Orlando, and Singapore locations will be getting an all new Mario-themed world, complete with a ride based on Mario Kart.
The crown jewel of Super Nintendo World will be this Mario Kart ride, which is rumored to be "the most immersive and cutting edge technological attraction" ever attempted by Universal. Sources at orlandoparkstop.com, a leading resource in theme park rumors, claim that it will be a "bus bar dark ride." This means that riders will be kept on track by a bar set between the kart's wheels. (At least you won't be running off the side of Rainbow Road.)
The "dark ride" part means that the ride will be indoors, making use of screens, projections, and wind effects to give riders the impression that they are going mach speed on the track. There will be two lanes of traffic, proving that the ride really is a race of sorts.
The Mario Kart ride is rumored to tour through iconic locations and maps from the Mario Kart games. Prospective, and hopefully patient, riders will wait in line in a queue made to emulate Bowser's Castle. Finally, jumping in a kart will take riders down the Piranha Plant Pipeline, through Dolphin Shoals, into the Twisted Mansion, up to Cloudtop, and onto the Rainbow Road among other fan favorite scenes. These exotic locales will be created through a combination of practical and AR effects, if rumors about those augmented reality goggles are to be believed.
All this is based on early insights, so we're taking all this promise with a fat grain of salt. That said, we'll find out if all this is true once the parks open. Japan's Super Nintendo World will see a grand opening in summer 2020, followed by Hollywood in 2021 and then Orlando in 2023.