Cyberpunk 2077 Unveils Breathtaking New Action Figure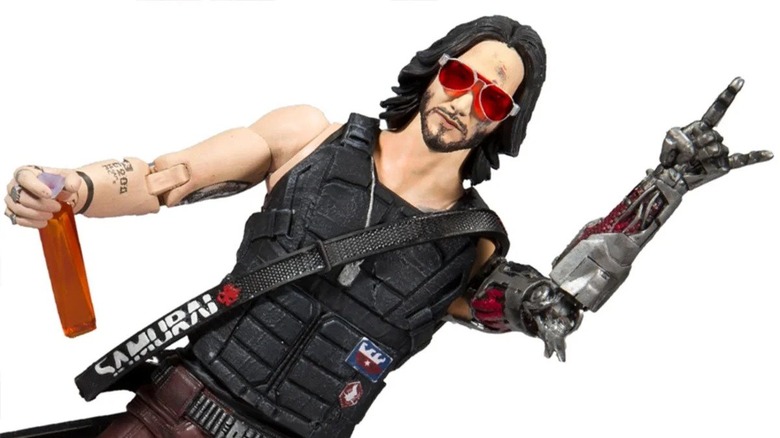 As part of a three-year agreement, McFarlane Toys has announced its first round of Cyberpunk 2077-themed action figures. You can now pre-order two varieties of Johnny Silverhand figurines, in addition to a male V.
The 7-inch Johnny Silverhand Action Figure features the character's iconic outfit from Cyberpunk 2077, and includes a base, Johnny's guitar complete with a Samurai emblazoned strap, a red bottle, and a bonus Rock-On hand. The figure retails for $29.99. For $39.99, you can take home the 12-inch Cyberpunk 2077 Johnny Silverhand Chrome Rock Concert Statue. The statue includes a base and shows Johnny rocking out on his guitar.
Keanu Reeves portrays Johnny Silverhand in the upcoming action adventure RPG. The Canadian actor melted the hearts of gamers everywhere with his "breathtaking" appearance at E3 this year, inspiring one of the best memes of the decade. The new figures allow you to recapture some of the magic of that moment, which has easily become one of the most uplifting encounters in gaming history.
You can also purchase the Male V Action Figure, which shows the Cyberpunk 2077 protagonist in the default male setting. The figure comes with a base, Katana, Kang Tao-Dian SMG and Militech Saratoga Pistol. It's unclear why McFarlane Toys chose to roll out the generic V without his female counterpart. The emphasis on gender also seems like an odd choice for a game that has supposedly eschewed strict binaries in favor of a more inclusive experience. Apparently that doesn't apply to the traditionally male-targeted action figure industry.
GameStop expects all three figures to ship on March 1, 2020. Cyberpunk 2077 comes to Xbox One, PC, PlayStation 4, and Google Stadia a little over a month later on April 16, 2020. CD Projekt Red revealed the release date back in April. As there hasn't been any talk of delays, the developer seems on track to meet the game's launch target.