This Lord Of The Rings Character Is Getting His Own Game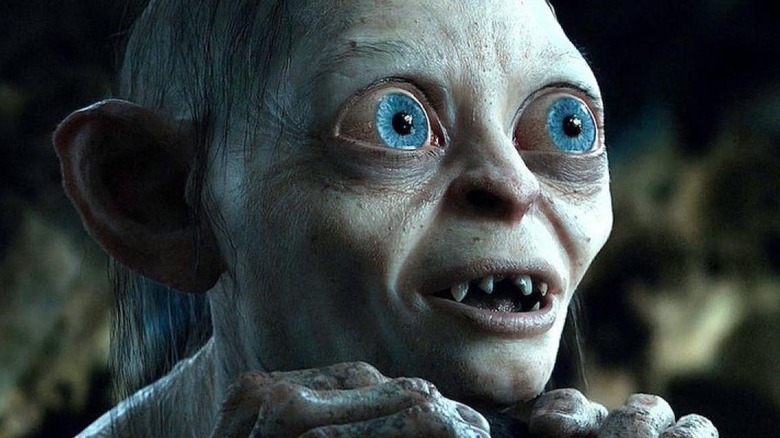 After the much-anticipated launch of the PlayStation 5, players will be able to go on a rather unexpected journey. There's a new Lord of the Rings game on the way, but it's no Shadow of Mordor. Lord of the Rings: Gollum tells the story of — you guessed it – Gollum.
Advertisement
What's there to tell? And who wants to tell it, for that matter? Apparently, publisher Daedalic Entertainment and Middle-earth Enterprises feel there is an interesting story behind everyone's least favorite former hobbit. They announced this project, and its 2021 release date, with the promise that the devs would try to stay true to the J.R.R. Tolkien canon.
"We tell Gollum's story from a perspective never seen before, in any storytelling medium, all the while staying true to the legendary books of J.R.R. Tolkien," Daedalic CEO Carsten Fichtelmann said to Pushsquare, "At a time when the games industry is undergoing structural changes and seeing new business models evolve, we are excited to realize a huge new production based on a story that has stayed fresh and relevant for more than 60 years."
Advertisement
Lord of the Rings is experiencing something of a renaissance, thanks to both the upcoming Amazon original series and this next-gen title. Gollum is evidently going to be something special, with Edge magazine calling it, "a stunning next generation adventure." The cover of the latest issue of Edge is rather stunning. It features an itty bitty Gollum sat before a dragon with a cloaked rider while a volcano smolders in the background.
Other than this teaser poster, we don't know much about Gollum's game. Fichtelmann told The Hollywood Reporter that players will have to contend with the voices inside of Gollum's head.
"You already have that big conflict in the character, two voices talking to you continuously, which means there is a good reason there are decisions to make in the game: the Smeagol decisions or the Gollum decision," Fichtelmann said.
Smeagol or Gollum? Xbox or PlayStation? If you have the latter in mind for your next gen console purchase, then you'll be ready to play Lord of the Rings: Gollum when it launches in 2021.