Resident Evil 3's Nemesis Gets A Major Upgrade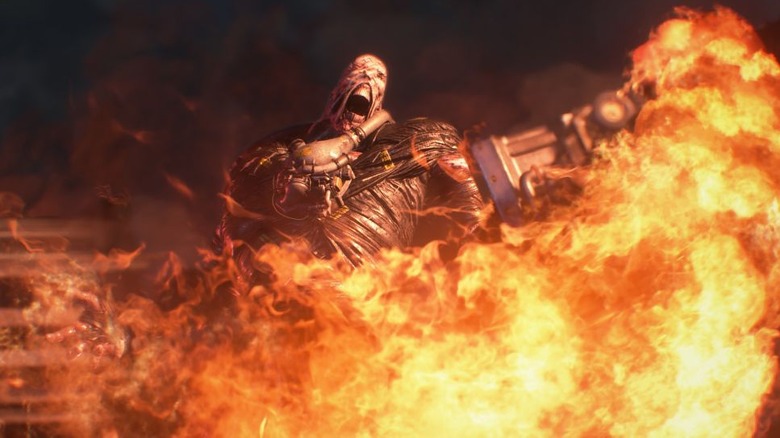 Since his first appearance in the original version of Resident Evil 3, Nemesis has long been considered one of the scariest video game enemies of all time. There has been quite a bit of speculation surrounding whether or not the RE3 remake can capture that same horrifying magic. 
Luckily for Resident Evil fans, the latest issue of PlayStation Magazine UK (via Reddit user Mates20970) featured an interview with Capcom's Peter Fabiano. Thanks to this chat, we have learned a few new juicy tidbits about Resident Evil 3's ultimate foe.
The Resident Evil 3 remake's take on Nemesis has been built using the same AI as the Tyrant, a.k.a. Mr. X, in 2019's Resident Evil 2. This will render him much more unpredictable than the methodical killing machine of the original game. Much like in the RE2 remake, players will find themselves sneaking around Raccoon City much more carefully. One wrong move or turn could bring Nemesis barreling down on poor Jill Valentine and company.
In other words, Nemesis himself may be even more frightening in the new version of the game. Giving him a similar attitude and methodology to Mr. X — one of the most intense aspects of the RE2 remake — may be the single most exciting prospect of checking out the new game. Fabiano was quick to point out, however, that Nemesis is definitely still a distinct character from Mr. X.
"We certainly took some elements that we learned putting together [Mr. X]," explained Fabiano, "but Nemesis is his own brand of terror, and a relentless pursuer who can use weapons." While Fabiano doesn't outright state that players will be able to use a Dodge function similar to the original RE3, it would certainly be a welcome addition to the move set in these situations. 
Resident Evil 3 Remake drops in April. Until then, if you hear a low voice growling out "STARSSS," just run.