Nintendo Is Gearing Up For Animal Crossing: New Horizons In The Cutest Way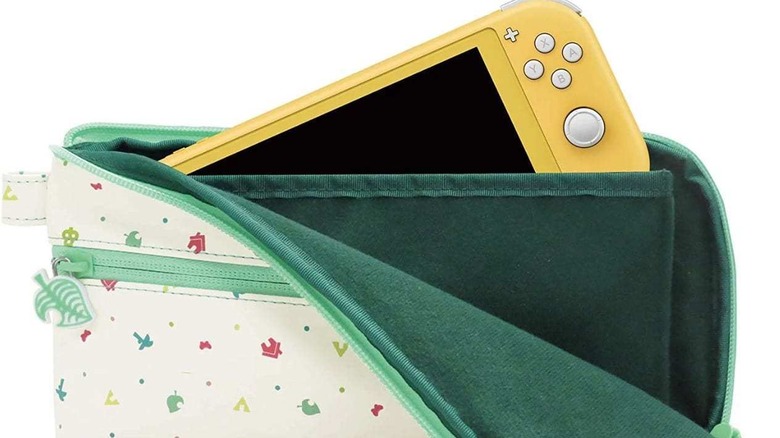 Animal Crossing: New Horizons is on the way, and Nintendo is fueling the hype train with some adorable Nintendo Switch accessories. Collecting cute stuff is the name of the Animal Crossing game, so it's fitting that the company is rolling out these new, officially-approved products.
These Switch accessories range from a Nintendo Switch Lite cover, a tote bag, a shoulder bag, a storage bag that fits your TV hookup, a handy-dandy playstand, and a soft hand pouch. Each and every one is decorated with a repeating pattern of palm trees, tents, houses, and leaves. We're totally ready to fork over our hard-earned Bells for this bonus surprise preceding the much-anticipated release of our next Animal Crossing adventure. That said, these are only available through preorder on Amazon Japan. Shipping may take a little while, so you might not have your new, New Horizon accessories in time for the game's March 20 release date.
Official Nintendo accessories are dominated by Mario, The Legend of Zelda, and Pokemon accessories, so this is welcome news for Animal Crossing fans. If you happen to pop by the official Nintendo site, you may notice that there's a big New Years sale currently underway. Certain digital titles, like Stardew Valley, are 30% off.
Animal Crossing: New Horizons will be 60 smackeroos on release, and the moment you enter the game, you'll find yourself in debt. As per usual, you'll be indebted to Tom Nook, whose newest business venture has landed you on a deserted island. It's here that you'll be crafting and creating your very own homestead, greeting new neighbors as they opt in for the island life too.
You can find those adorable Animal Crossing Switch accessories here on Amazon Japan, while the game is available for preorder just about anywhere. Until it releases, we'll be marveling over our new customization options.