Marvel's Avengers Was Just Given A Huge Delay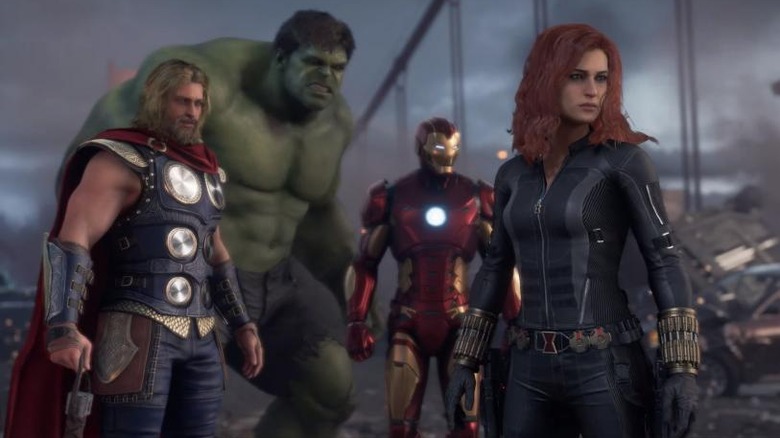 Fans hoping to see their favorite heroes assemble in the near future were just dealt a heavy blow. In a statement on its website, Crystal Dynamics announced that the release of its upcoming Marvel's Avengers game will be pushed back nearly a full four months.
Advertisement
"At Crystal Dynamics our ambition has always been to deliver the ultimate Avengers gaming experience," read the announcement. "In order to achieve that goal, we have made the difficult decision to move the release date of Marvel's Avengers to September 4, 2020." The game was originally slated to be released May 15, 2020.
While it's a bummer to see such a high-profile game pushed back like this, there could be a bright side. Since the game was announced, there have been concerns with the game's character models and storyline. Despite the presence of a cast featuring the likes of Nolan North, Laura Bailey, Travis Willingham, and Troy Baker, the game has seen its share of skeptics. There will certainly be a huge number of fans of the Marvel Cinematic Universe who will need to be won over by a new version of Earth's Mightiest Heroes.
Advertisement
On the other hand, the gameplay seen from the project has been enticing. Last summer, fans at San Diego Comic-Con had the opportunity to see the game's first mission play out in a thrilling 19-minute video. Each Avenger seems to have their own distinct fighting style, which should make strategic gamers very excited. 
Despite the mixed response to the game's marketing, this delay is certainly a disappointment for fans of the characters. However, hopefully this will give Crystal Dynamics the extra time needed to finish the game to its standards. In an optimistic note at the end of the studio's statement, it does mention it is "confident" the game "will be worth the wait."