Valve's New VR Headset Is Already Sold Out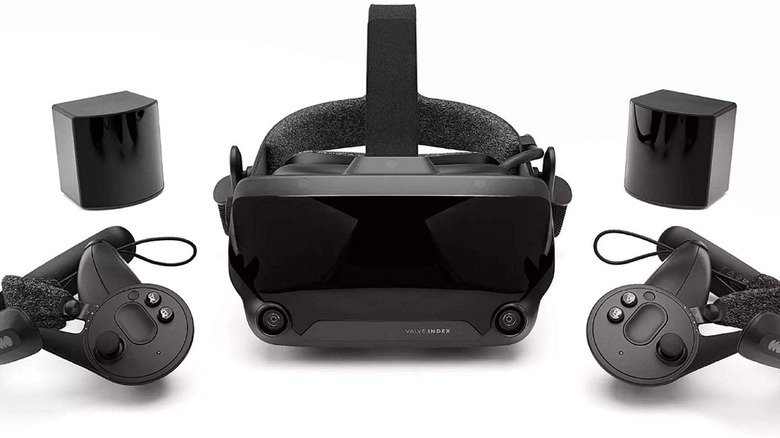 To say that people are excited for Half-Life: Alyx is a bit of an understatement. The third entry in the much beloved Half-Life franchise is coming out in March and to prepare, gamers everywhere are grabbing VR headsets. Perhaps due to all the excitement about Half-Life: Alyx, Valve's own Index VR headset has sold out everywhere.
The Index VR headset is currently unavailable in 31 countries, according to RoadtoVR. Japan is the only place where the Index didn't fly off the shelves like a cheap Black Friday deal. In a red-washed graphic, RoadtoVR shows that you can still get a headset and controllers package or a stand alone headset in Japan. Comprehensive full kits, controllers, and base stations have already been snatched up by Japanese gamers.
What's Valve going to do about this headset shortage?
"We are working hard to build more units and meet the high demand," a Valve spokesperson told RoadtoVR. "We are targeting to be back in stock before Half-Life: Alyx ships."
Valve had to give its Index page on the Steam store a quick redesign, complete with a message saying, "We're busy catching up with demand for Valve Index!"
If you were hoping to get your hands on a Valve Index VR setup before the release of the VR-only Half-Life: Alyx, then you can put in your email to get updated as soon as the Index becomes available. We're just not so sure when that will be.
You don't need an Index in order to play Half Life: Alyx, either. Any VR setup that can be linked via cable to your PC works, so even owners of the wireless Oculus Quest are in luck. That said, consider giving your PC an update before diving into Alyx's fight with the Combine. Half-Life: Alyx's minimum specs are pretty lofty. 
In the meantime, we'll be here to keep you posted on all Half-Life-related developments.