Mario Kart's Best Racers Are Ready To Smoke You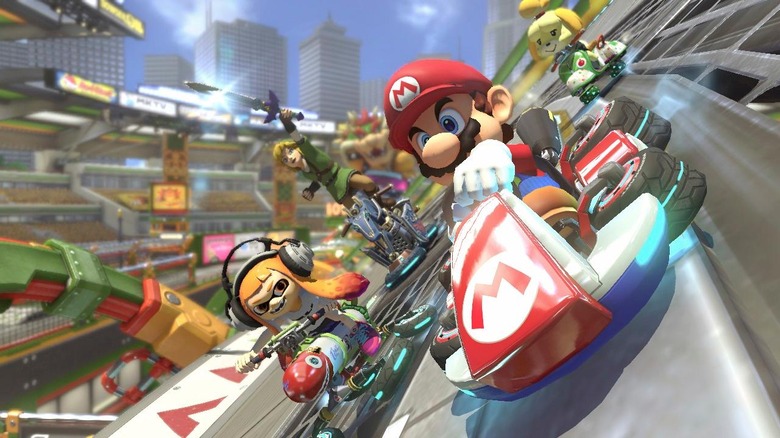 Do you think you're pretty good at Mario Kart 8 Deluxe? If so, you'll get a chance to prove it over the next two days, thanks to a new tournament Nintendo is about to launch that'll run through Sunday, Jan. 19.
The Mario Kart North American Open is set to kick off at 12 p.m. PT today, and the odds are good that you'll be seeing a lot of very skilled players take part. Much like the Tetris 99 tournaments it's been holding, Nintendo has put a bit of money on the line — if you consider Gold Points money. They can be converted to eShop currency; that's kind of like money, right?
In any event, the tournament works like this: you can compete in up to 24 races per day, and the top eight players in terms of points will each earn 2,500 Nintendo Gold Points. That's the equivalent of $25 in eShop cash for leaving your Mario Kart opponents in the dust, which is enough to offer a nice discount on a top-tier Switch title or cover the purchase of a few indies.
But if you've ever played Mario Kart online, you probably know that there are a lot of insanely talented racers out there, even when there aren't prizes to be won. If you're going to walk away with one of those daily awards, you'll have to bring your A-game. And not like the A-game you use to lap your little cousin — the kind that could potentially knock out the best the Mario Kart community has to offer.

The good news is that players can only win Gold Points once, so that might encourage them to drop out after they've grabbed a podium spot on one of the three days. But still, you're probably going to be fighting an uphill battle. If you plan to take part in the Mario Kart North American Open, which wraps up at 6 p.m PT on Sunday, you should prepare for a lot of very tough races.
And if you fail? You can always race that cousin of yours. That'll make you feel better.