Doom Eternal's Switch Port Is In Very Good Hands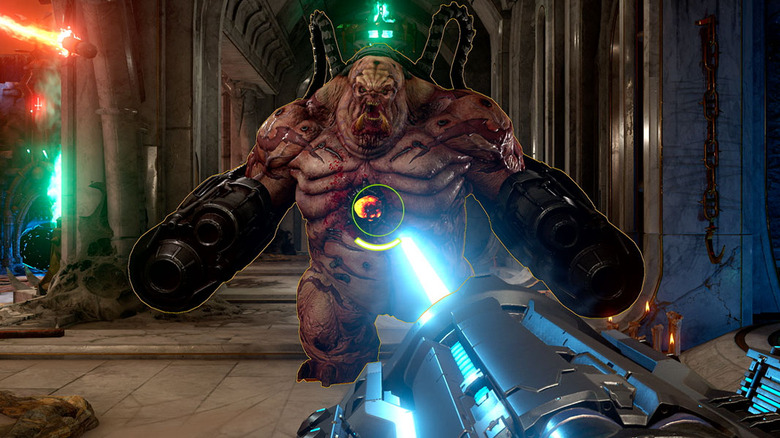 Are you worried about how Doom Eternal might turn out on the Nintendo Switch? If so, you shouldn't be. It seems the Switch port of this upcoming shooter is being worked on by a highly trusted studio — one with a knack for knocking this kind of project out of the park.
Panic Button is a studio with a reputation for making "impossible" Switch games a reality. If you're at all familiar with Panic Button, you're probably breathing a sigh of relief, and the Switch version of Doom Eternal is suddenly looking a whole lot more appealing. If you've never heard of Panic Button, though, it's because you quickly skipped through a game's intro screen on the way to having a surprisingly competent Switch experience.
Do you remember Doom on Nintendo Switch? Panic Button made that happen, halving the frame rate yet still managing to capture the look and feel of id's modern day classic. Doom may be Panic Button's crowning achievement when it comes to ports.
Or how about Wolfenstein 2, or Wolfenstein: Youngblood? Panic Button somehow worked that same magic, fitting these fantastically gory shooters onto the Switch while making as few sacrifices as possible.

Maybe you're a fan of Warframe? This shared-world shooter's Switch port owes its life to Panic Button, which got all the pieces in place to bring Nintendo fans as close to Destiny as they'll probably ever get.
And lastly, there's Rocket League. Panic Button brought Rocket League to the Switch and – to its credit — delivered the entire experience with only some downgraded visuals. You can dump dozens of hours into this Switch title and not miss a single thing you had on other platforms. It's that good.
In an interview with YouTube channel TiLMENDOMiNATiON, id's Marty Stratton confirmed that Panic Button got the nod for Doom Eternal on the Switch. So it looks like we'll be getting more of the same in terms of a game that somehow pulls it off despite running on very weak hardware. While it's unfortunate that we'll have to wait longer to get our hands on Doom Eternal for Switch — it won't hit the March 20 release date seen on other platforms — the delay should be worth it for Switch owners.
Barring some unforeseen calamity, Doom Eternal on Switch is going to be just fine.