Fortnite's Next Season Finally Has A Release Date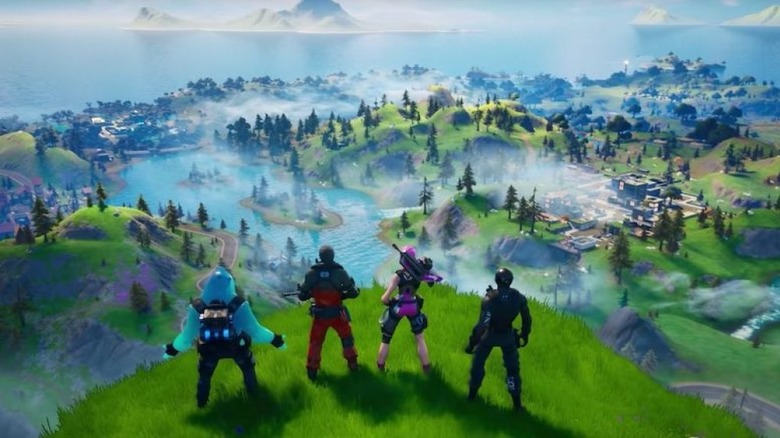 Are you growing bored of Fortnite: Chapter 2's inaugural season? We have some welcome news for you, then. Season 2 of the game's next chapter now has a release date, thanks to an update from Epic Games. And it appears there could be a few surprises in store.
According to Epic, the company is shooting for Thursday, Feb. 20 as the launch date for Fortnite: Chapter 2 — Season 2. We say "shooting for" because that's the date Epic said the new season is "expected to launch." If you're wondering why there'd be some uncertainty, it could stem from the fact that Fortnite: Chapter 2 is apparently moving to a new physics engine. If there are issues abound, it's entirely possible Epic could delay the new season to fix those up.
But what of Chapter 2 — Season 2? Epic states that "Season 2 will feature will feature [blank space] with multiple [blank space]." So it seems the company isn't too keen on sharing additional details just yet. You could have some fun with those blanks, though. We're not saying someone should run with that and come up with a list of hilarious new additions, but... actually, yeah, we are. Someone should do that.
In the meantime, it looks like Chapter 2 — Season 1 will be sticking around until the last third of February. Epic plans to put out more Overtime Challenges and is even teasing some kind of two-week event for the month ahead. So there should still be plenty to do in Fortnite, even if you've completely maxed out that battle pass, earned every cosmetic, and played the game to death.
We'll have more for you as new Fortnite content is announced in the future. Until then, we'll be wondering what Epic has up its sleeve for the new season. Those blank spaces are very intriguing.