NBA 2K20, Fans Memorialize Kobe Bryant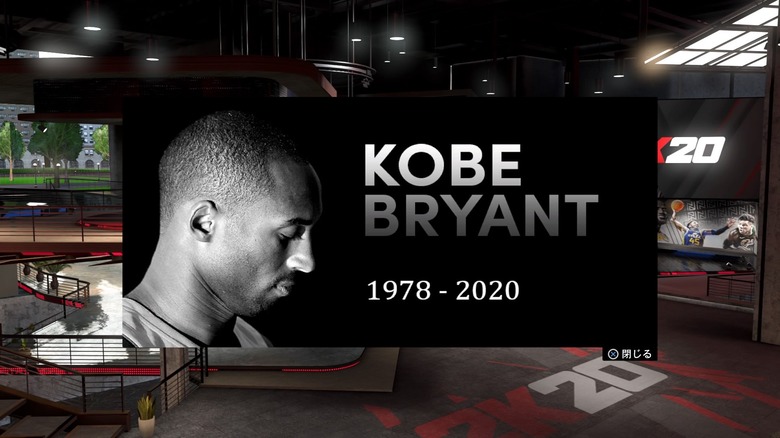 This weekend, the world received the shocking and sad news that basketball legend Kobe Bryant was killed in a helicopter crash. Basketball fans and gamers alike have moved to commemorate the player. Now there's a special tribute to the Black Mamba in NBA 2K20.
The team behind 2K's basketball title has added an in-game memorial to Bryant: a simple black and white photo feature his name and the years 1978 – 2020. Fans have tweeted their appreciation of the respectful tribute, but apparently want more. Some players have gathered outside the in-game store wearing Lakers gear, asking that the developers release Kobe gear and apparel, ideally for free, so as not to make an unseemly profit from this tragedy.
We'll have to wait and see whether or not NBA 2K will take this step to show respect for this unfortunate loss for the community. For now, the official NBA 2K account has tweeted, "RIP to a Legend. Thank you for your many contributions on and off the court. You are greatly missed."
Kobe Bryant was regarded as one of the best basketball players of all time. He was featured on the cover of NBA 2K10, and after his retirement in 2016, went on to grace the cover of the Legend Edition of NBA 2K17. It was a celebration and a send off.
"It's a great honor to partner with 2K on the NBA 2K17 Legend Edition," Bryant said at the time. "As I walk off the NBA court for the final time, it's exciting to know my fans can continue to celebrate my lifelong career as a Los Angeles Laker."
We're not sure how long developer 2K will keep this touching memorial to Bryant in the game. That said, it was a thoughtful way to say goodbye to one of the series' most iconic athletes.