Nintendo Wants Your Airport To Become A Little More Fun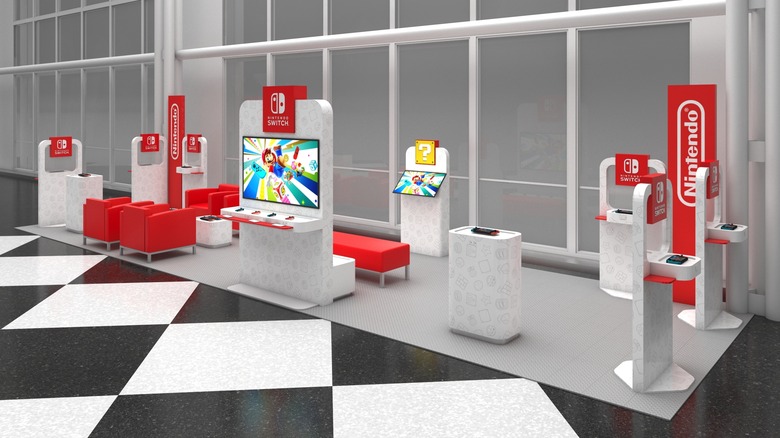 It's no secret that the Nintendo Switch makes traveling a little more bearable. Nintendo is ready to take things a step further, though, by ensuring more people get their hands on a Switch while traveling through select U.S. airports.
Four locations in the United States will soon get a Nintendo Switch Lounge — a pop-up area for hanging out, playing the best Switch games, and landing some cool Nintendo swag. As you can see in the photo above, there are Switches rigged up in both handheld and docked mode, along with some red furniture to match the Nintendo brand. 
The Lounges are part fun, part sales opportunity, as Nintendo plans to sell consoles to anyone interested. And those who are sold on buying a Switch at one of the Lounges will get a free carrying case with their new toy. You can likely expect these areas to be pretty packed with people when they open. 
Nintendo Switch Lounge locations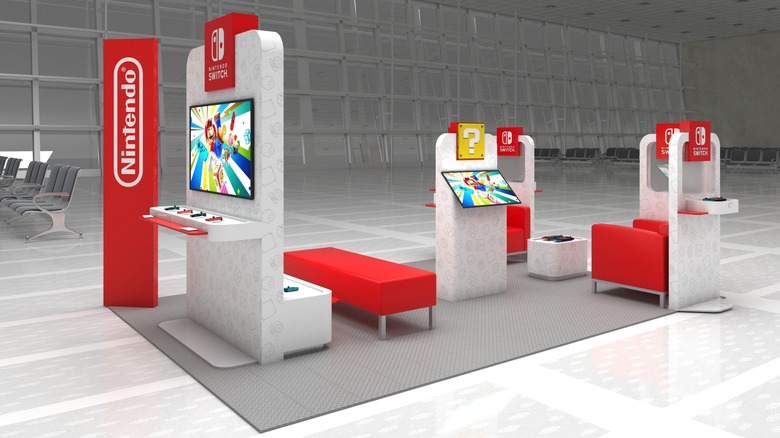 And where can you find a Nintendo Switch Lounge? As we stated, four airports in the United States will host these Nintendo-themed zones for about a month or so. Here they are, along with the dates the Switch Lounges will be open.
Dulles International Airport (Washington, D.C.) – Feb. 17 to March 29
Tacoma International Airport (Seattle) – Feb. 17 to March 29
O'Hare International Airport (Chicago) – Feb. 17 to March 29
Dallas Love Field Airport (Dallas) – Feb. 13 to March 26
According to Nintendo, "Passengers with flights booked at these airports are encouraged to swing by after passing TSA security to spend some time enjoying Nintendo Switch games while waiting for their flights." The company also states that those passing through the airport are "encouraged to wave hello if they spot Lakitu above the clouds!" Does that mean Lakitu will be hovering above the Nintendo Switch Lounges? Or will Lakitu be plastered onto a few airplanes? What a strange thing to say, Nintendo.
If you get a chance to visit one of these locations, feel free to snap some photos and send them our way. We'll definitely credit you for them. In the meantime, we'll be on the lookout for other Nintendo news stories.