Microsoft's Project xCloud Comes To A Brand New Platform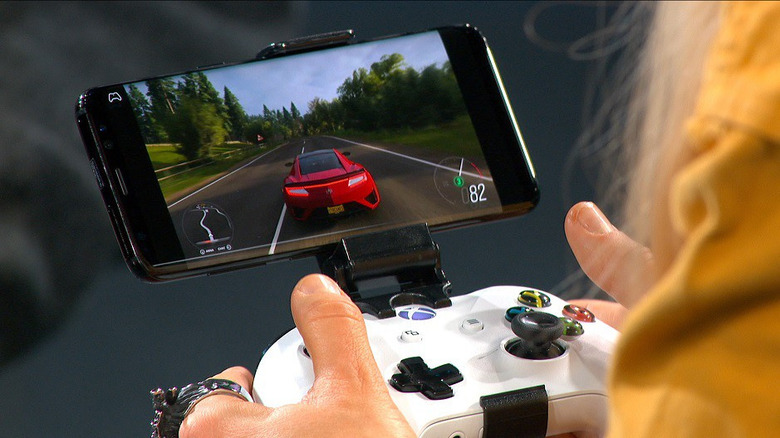 Project xCloud is still rolling along in "public preview," though it's only been available on Android devices up to this point. That changed today, as Microsoft officially announced a "limited" xCloud test period for iPhones and iPads.
"Ever since we launched the Project xCloud preview last year, we've continued to field requests for iOS support (I've seen your tweets)," wrote Microsoft's Larry Hyrb. "We've been testing an iOS client internally, and today, we're taking the next step by making the Project xCloud preview available for iOS users through the TestFlight program."
If you're an Apple devotee who's jealously watched Android users play Xbox games via the cloud, this is good news. iPhones and iPads are extremely popular and widely used. Why should those users be left out of the fun?
As with most things in testing, however, there's a little bit of bad news, too. And some of the blame may rest with Apple.
Project xCloud is very limited on iOS
According to Microsoft, the Project xCloud test on iOS will only start with one game. When you connect your iPhone or iPad to the service, you'll only see Halo: The Master Chief Collection. No Forza. No Sea of Thieves. Just Halo. That's a bit of a bummer, especially when you consider Android users have access to the entire Xbox Game Pass library.
This does not appear to be the fault of the app, however; instead, Microsoft cites "App Store policy." This is also the reason xCloud on iOS doesn't include Xbox Console Streaming.
It's unclear at this time which App Store policy might be violated by Microsoft offering the full xCloud experience. As one commenter on Thurrott noted, Sony has a similar streaming app for the PlayStation 4. Steam also has an app of its own — Steam Link — which enables players to stream games from their PC. We'll have to dig around a little more to solve this riddle. It's a bit unusual.
At any rate, xCloud testing is open for those with an iPhone or iPad. If you're interested in signing up, you can find the registration page here.