What Those Confirmed Xbox Specs Really Mean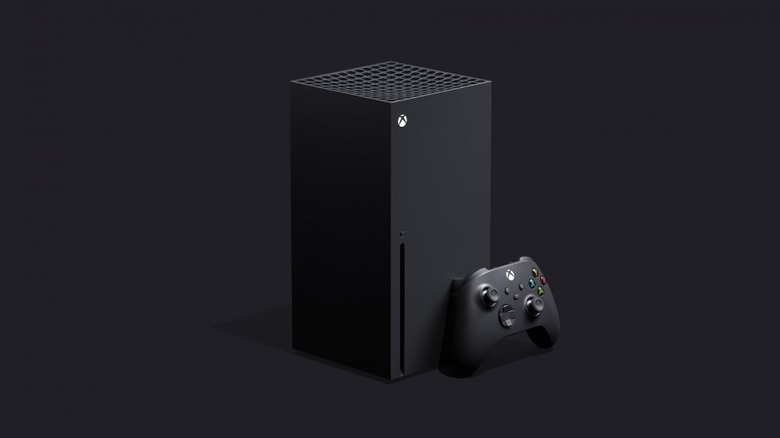 We're nearly two months into the new year, and as far as the next-gen console watch is concerned, we know very little about one machine and a whole lot about the other. Sony has remained relatively tight-lipped about the PlayStation 5, aside from magazine interviews and a logo reveal. Microsoft, on the other hand, seems keen to tell us almost everything we want to know about the Xbox Series X — with a few notable exceptions. We'll get to those later.
Advertisement
For now, let's discuss the specs and features we can expect the Xbox Series X to have when it drops later this year.
On Monday, Xbox head Phil Spencer published a blog post on the Xbox website called, "What You Can Expect From the Next Generation of Gaming." In it, Spencer touted a number of Xbox Series X specifications, including some that had previously been unconfirmed.
The processor, for instance, will make use of "AMD's latest Zen 2 and RDNA 2 architectures," and will boast speeds four times that of the original Xbox One. This means the Series X will not be as CPU-limited as previous models, which will make it a lot easier for games to hit 60 frames-per-second at higher resolutions. 
We've also been hearing a lot about teraflops ever since Microsoft first unveiled Project Scorpio, the console that eventually became the Xbox One X. That system is top-of-the-line at the moment, with its six teraflops of graphical computing power. That number will be doubled in the Xbox Series X, which Microsoft now states will come packing 12 teraflops of GPU power. If you thought Xbox One X games were pretty, titles on the Series X could be twice as stunning.
Advertisement
Spencer wasn't done diving into the weeds, though, as the next item he addressed in his post was Variable Rate Shading. Long story short, this feature enables developers to prioritize processing power for certain objects or effects on screen. It may not be a something you'll spot while in the thick of the action, but you'll definitely feel the effects of it working in, as Spencer put it, "more stable frame rates and higher resolution, with no impact on the final image quality."
And Microsoft, it seems, does plan to bring a once PC-only feature to its consoles for the first time. DirectX Raytracing will use hardware-accelerated technology to deliver "true-to-life lighting, accurate reflections and realistic acoustics in real time." If you saw how ray tracing looked in Control last year, this should have you very excited for what the Xbox Series X has in store.
Microsoft also talked up some lower-key specs and features, essentially re-confirming what's already been discussed previously. Solid state storage will indeed be used to speed up loading times. Xbox Series X will make use of HDMI 2.1 while offering support for Variable Refresh Rate and Auto Low Latency Mode. Though you might not have a TV or a monitor capable of displaying it just yet, Microsoft's new machine will support refresh rates up to 120 frames-per-second. And "Quick Resume" will enable players to suspend and restart "multiple games" almost instantly.
Advertisement
That "Quick Resume" feature, by the way, sounds far more capable than the standard resume we've come to know on the Xbox One. Microsoft's Larry Hryb stated on a Feb. 26 podcast that the feature works even after you reboot the Xbox Series X. That won't help you much with always-online games like Destiny 2, which rely on constant back-and-forth communication with a server. But if you're neck-deep in an open-world RPG and need to power your system down for some reason, it sounds like "Quick Resume" will get you back into the action quickly.
One more notable feature Spencer mentioned in the post is Smart Delivery. This will allow developers to offer cross-buy between Xbox One and Xbox Series X titles by delivering the correct software to the player's console. All upcoming releases from Xbox Game Studios will support this feature, and in a surprise announcement, CD Projekt Red confirmed yesterday that Cyberpunk 2077 will also be compatible with Smart Delivery. So you heard it here, ladies and gentlemen – Cyberpunk 2077 is also a next-gen game on the Xbox Series X.
With all that out of the way, what don't we know about the Xbox Series X so far? For one, we're still in the dark about the size of the solid state drive the system will utilize. Games are only getting bigger, so knowing we're getting an equally large storage drive would put some minds at ease. We also don't know how much the Xbox Series X will cost. The smart money is on $500, but if Microsoft is looking to undercut Sony in order to gain significant market share, it could dip below that line. Finally, we're still missing out on a release date. We know Holiday 2020 is the window at this point, but we likely won't get a more specific date until E3 2020 in June.
Advertisement
We'll definitely have more for you on the Xbox Series X as time goes on, so stay tuned.