Ex-Nintendo President Becomes A Board Member For GameStop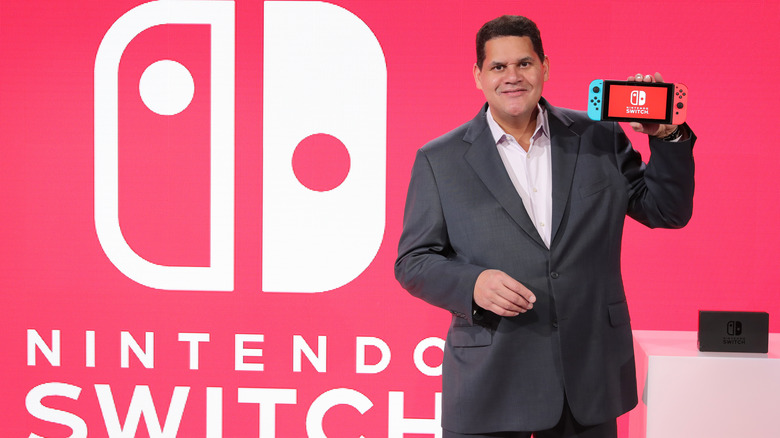 Neilson Barnard/Getty Images
GameStop is a company desperately in need of a boost. Revenue is down. The very industry it serves is changing in a way that could leave it behind. And several pivots haven't worked out in the retailer's favor. Who thinks of GameStop as the place they go to buy video game-related merch? Who doesn't just order that Pokemon t-shirt they want from Amazon?
Regardless, the once dominant game store is pressing on, and it appears it has at least one more trick up its sleeve. You might remember that Reggie Fils-Aime stepped down as Nintendo of America's president last year. He went on to become a professor of sorts at Cornell University, dropping all sorts of gems into his lectures. Fils-Aime will soon become a member of GameStop's board of directors, where he will help steer the company through the uncertain future that awaits.
The word is out, though, on whether Reggie will be all about kicking ass, taking names, and selling games.
"The gaming industry needs a healthy and vibrant @GameStop," Fils-Aime wrote on Twitter yesterday. "I look forward to being a part of @GameStopCorp board and helping to make this happen."
According to a press release from GameStop, Fils-Aime will serve on the "Nominating and Corporate Governance Committee." What will his responsibilities consist of in that committee? We're not quite sure. We do have to question, though, whether Fils-Aime's video game experience played any role whatsoever in his appointment to GameStop's board, or if he was just the most accomplished executive available to take the job.
Fils-Aime was not the only person added to GameStop's board. There were two others, in fact, touted for their "deep experience in retail, turnaround, consumer products, gaming and finance." The others were former Walmart CEO Bill Simon, and PetSmart CEO J.K. Symancyk. Perhaps GameStop is seeking advice on how to underpay its workers. Or maybe we'll see select stores shift toward video game-themed dog treats and cat toys. In any event, Fils-Aime won't be the only new guy in town when he joins the board April 20.
So why is GameStop in trouble, exactly? And what can be done to improve the company's situation? Those are the questions Fils-Aime and his new pals on the board will be tasked with answering.
To start, the retail games business isn't what it used to be. All three of the major console companies have robust digital storefronts now, which means players can pre-order or purchase the titles they want without leaving the couch. Less people are coming to GameStop's retail locations to buy games. So not only is GameStop missing out on the sale of new and used titles, it's also missing out of chances to upsell customers on other goods and services.
On the topic of used games, digital distribution means these simply do not exist for some buyers anymore. If you buy Luigi's Mansion 3 directly from the Nintendo eShop, for example, there is no way for you to sell that game to someone else. GameStop can't obtain that license from you for a little bit of cash. The store is cut out of the process entirely, eliminating another reason you might have paid the retailer a visit.
And with all other game-related products, GameStop is simply getting dunked on in terms of price. There is way too much competition online now for GameStop to survive on its insane markup. Used games that are a few months old are only being discounted by $5 most of the time. Head over to Amazon dot com, however, and you'll probably find a new version of that same game for a much cheaper price. That makes the decision of where to buy very easy for consumers.
We wish Reggie and his fellow board newbies the best of luck, because saving GameStop looks like it'll take a Herculean effort. We're sure at least one of them will bring some great ideas to the table, though. It was Fils-Aime, you might recall, who pushed for the Nintendo Wii to include a free copy of Wii Sports — a move that ultimately benefited the console in a big way. And Fils-Aime is truly one of gaming's good guys, as evidenced by his post-retirement commitment to teaching others, and his ever-present sense of humor on Twitter.
"Don't believe everything on Wikipedia," Fils-Aime wrote last month after a photo was shared of him posing with some students (including one rather tall man). "Real height is 6' 2.5". I was 6'3", but shrunk with the burden of all the Mother 3 questions."
We'll have more for you on GameStop and Fils-Aime's contributions to the board as news breaks.