Things Are Getting Worse For GameStop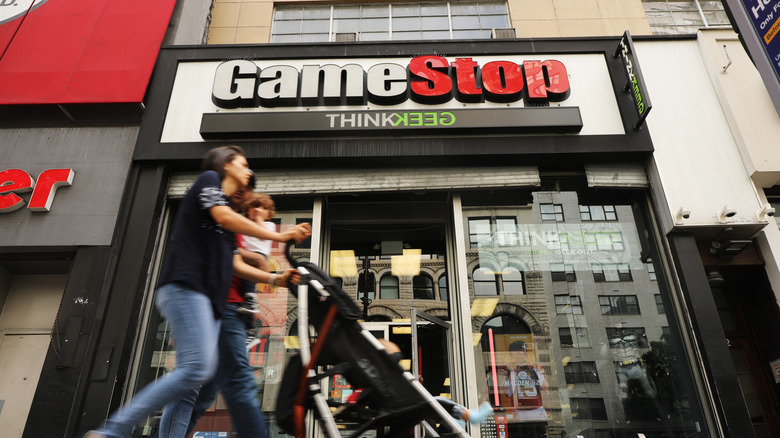 Spencer Platt/Getty Images
If you're currently confined to your home thanks to the coronavirus, you might view video games as an useful tool for retaining your sanity. Just like watching a movie or reading a book, games are a form of escapism. They let you experience other worlds, which is nice because the real world is pretty crappy at the moment.
Are video games "essential," though? In all seriousness, you probably wouldn't put Animal Crossing: New Horizons on the same level as the food that sustains you or the medicine that might keep you alive. Video games are a big deal to many people, but you can survive without them. Most people would agree. GameStop, however, does not.
In a report published by Kotaku yesterday, it was discovered that GameStop does not plan to close its retail locations, even when states order non-essential businesses to shut down.
"Due to the products we carry that enable and enhance our customers' experience in working from home, we believe GameStop is classified as essential retail and therefore is able to remain open during this time," GameStop wrote in a memo sent to employees.
This is unbelievable.
GameStop seems to think it's in the right here, as shortly after that story broke, the company published a document on Twitter listing all the ways it's trying to protect store employees. No more than 10 customers are allowed in a store, for instance. Customers in line must follow the new "six-foot" rule that's sweeping the nation. Stores will only be open from 12 p.m. until 8 p.m., though the shortened hours are only in effect until March 29. Something tells us we'll still be fighting a pandemic on March 29.
The company seems to be doing everything humanly possible to keep its doors open during this very trying time. But it's arguably doing so at great risk to its retail employees, and everyone who is able to shop at a GameStop while its stores remain open. Not only could a customer potentially infect others, but GameStop employees — now forced to work — could potentially contract COVID-19 and bring it into a store, spreading it to both customers and fellow staff members.
This seems like the exact opposite of what the company should be doing right now. It also raises questions about legal liability should an employee or a customer contract the coronavirus while visiting a GameStop, a store that — again — probably shouldn't be open while a deadly disease is flying around.
The U.S. is past the point of taking light precautions now, and by that, we mean it's really not enough to go about your daily routine while replacing handshakes with elbow bumps. One of the trickier things about the coronavirus is that some who carry the illness are asymptomatic — they show no signs of being sick. That's one of the reasons the virus has spread so rapidly. Isolation is meant to keep you from getting COVID-19, and also meant to keep you from infecting others if you don't know you're carrying the virus.
Tackling this crisis will taken an effort from all involved, and that effort will be both inconvenient and incredibly boring. It's understandable you may have to get food from the grocery store, or medications from the pharmacy. But the less you're out in the wild, the better it is for everyone.
That doesn't mean you have to stop buying video games, though. Thanks to the power of the internet, you can purchase and download games without ever having to leave home. PC gamers have a plethora of digital storefronts to choose from. PlayStation 4, Xbox One, and Nintendo Switch players all have digital shops built right into their consoles. If you want to pick up Doom Eternal today, all you need is a credit card and some hard drive space. If you're using a streaming service like Google Stadia, you don't even need to wait for a download.
All of the above options are far better ones than risking your own health, and risking the health of everyone else around you, including your loved ones. So for the love of all that is good and holy, please don't go anywhere unless you absolutely have to. GameStop, despite what it believes, is not essential. Video games are not essential. What is essential, though, is that we all do our part to keep this terrible illness from spreading. The more effective we are at doing that, the faster our lives can go back to normal.