Rocket League Pros Banned For Throwing Game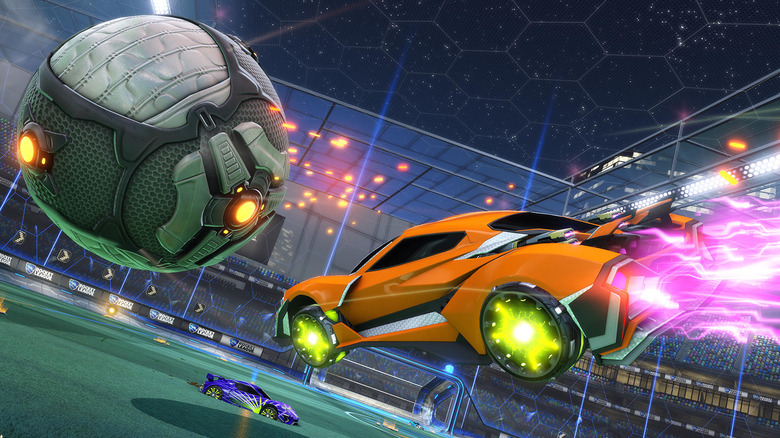 According to a report from Forbes, two professional Rocket League players from Australia have received a lengthy ban for intentionally throwing a Rocket League Oceanic Championship Series match. Though the rest of the series had seen the top teams evenly matched, things took a turn for the strange when Team Esper began its final game. 
Advertisement
Players delusioN and Frenzyy looked to be playing poorly on purpose. The team started the match by missing the kickoff, showing right off the bat that this match wasn't being taken seriously at all.
"Through the rest of the match, delusioN and Frenzyy can be seen dribbling the ball towards their own net, whiffing easy saves, scoring goals on themselves, and even sitting motionless during the match," wrote Forbes' Max Thielmeyer. "The bewildered commentators quickly caught on and chided Team Esper as the match reached 5-0 in favor of their opponents."
Almost immediately after the match, delusioN and Frenzyy were released from Team Esper's roster, which isn't much of a surprise. The team probably wanted to create some major distance between itself and the scandal. 
Advertisement
There were initially conflicting reports as to whether or not the other Team Esper member present for the match, SSteve, left Team Esper of his own volition. However, SSteve confirmed as much on Twitter, writing, "I am truly sorry the way [the match] ended. As of yesterday, I decided that I am no longer a part of the Ex-Esper roster." He also reiterated that he did not participate in throwing the match.
The organizers of the Oceanic Series, Psyonix and LPL, launched an investigation into the incident, combing through each players' gameplay videos and footage of the players themselves. According to a statement from LPL, there was no doubt as to whether or not the match was thrown intentionally, and decisive action was taken as a result.
"After a thorough investigation, we have determined that Oceanic RLCS players delusioN and Frenzyy (formerly of Team Esper) deliberately compromised competitive integrity in order to lose Game 5 of their team's series against Team Fury," read the statement. "This is in direct violation of the Rocket League Championship Series (RLCS) Player Code of Conduct." 
Not only will the players have all of their prize money from the match taken away from them, but they are also banned from all Psyonix and LPL-operated tournaments until April 2021.
Advertisement
The investigation also found that "Team Esper's third Player, SSteve, did not intentionally compromise competitive integrity and will not be subject to disciplinary action." It has been noted that SSteve seemed to be giving the game his all during the match, so this seems like a fair move. Whether or not SSteve will be reinstated as a member of Team Esper after this ruling is unclear.
No one is sure why delusioN and Frenzyy decided to throw the game. However, there are a few different theories surrounding this intentional loss. The main theory seems to be that this was a bit of a petty attempt to keep a rival team from placing in the top four of the Oceanic Regional Tournament.
Basically, because of the number of games won by each team, there were a few ways this match could have gone. According to Daily eSports, "If [Team Esper] won, their rivals Renegades would finish fourth. If they lost, direct opponents Fury would."
The prevailing theory is that Team Esper threw the match specifically to push Renegades out of the fourth place spot. Naturally, people aren't too wild about this unsportsmanlike behavior. In fact, some people seem to feel that the one year ban isn't long enough. However, this scandal is likely to follow delusioN and Frenzyy well after next year. Considering they've been released from their team, it may be a bit before we see them on the competitive scene again, if ever.
Advertisement
As far is SSteve is concerned, fans seem to be very pleased with the findings of the investigation. One user tweeted, "Was afraid SSteve would be caught under the crossfire, but great to see that the one who was actually trying to play didn't get banned."
SSteve himself is apparently ready to get back to playing competitive Rocket League as soon as possible, even without Team Esper. 
"Thank you so much for @PsyonixStudios [and] @LetsPlayLiveHQ for taking their time to evaluate the situation and allowing me stay in the competition!" he tweeted. "Thanks to everyone who have supported me since Sunday. I will hopefully be back for the Spring Series qualifiers later this month."
There have been so many cheating scandals in the world of esports. It's nice to see someone innocent is not getting punished for someone else's misdeeds.