Did Modern Warfare Add A Tiger King Skin?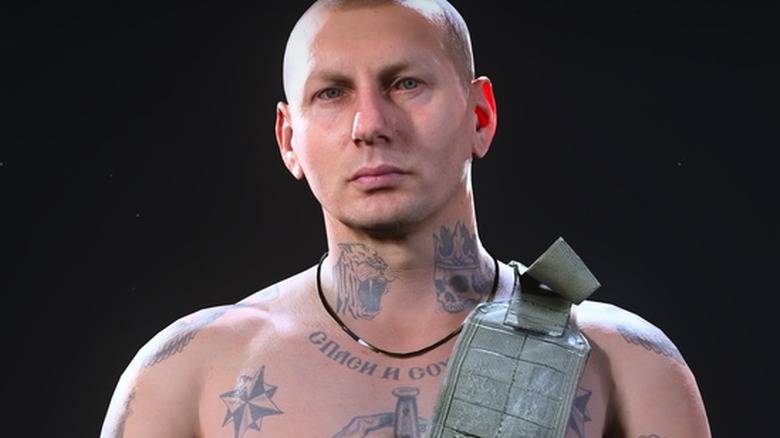 The Call of Duty franchise has provided fans with plenty of surprises in the last month or so, including the launch of battle royale game Call of Duty: Warzone and the release of Modern Warfare 2 Remastered. However, Call of Duty: Modern Warfare players are currently obsessing over a new character skin in the game that seems to resemble a recent Netflix celebrity: John Finlay from Tiger King: Murder, Mayhem, and Madness. One Call of Duty fan pointed out the resemblance in a tweet showing a side-by-side comparison between the two.
Love the new John Finlay skin on @CallofDuty #TigerKing pic.twitter.com/NMTlEKkzId

— Caleb (@CalebFrancis69) April 8, 2020
For those of you who haven't had the specifically bizarre pleasure of watching Tiger King, let's back up a bit. It's a Netflix documentary series that has captured the nation's imagination in the most unexpected way. Tiger King follows the years of drama and betrayal that unfolded between American big cat owners and zookeepers. The titular Tiger King is a man by the name of Joe Exotic, an eccentric big cat owner, political candidate, and polygamist who is currently serving a prison sentence for his involvement in a murder-for-hire plot. Basically, it gets completely bonkers and all of America seems to be obsessed with it.
With more people staying indoors due to the ongoing COVID-19 outbreak, Tiger King became the internet equivalent of a water cooler conversation. The Boston Globe's Lauren Daley has posited that Tiger King became essential viewing because people needed an escape and something wild to talk about in a stressful time.
This brings us back to John Finlay, of course. Finlay was one of Joe Exotic's many husbands that viewers get the chance to meet during the course of the series. Finlay also recently participated in Netflix's after-show special hosted by Joel McHale, reminiscing on his years with Joe Exotic and sharing his thoughts on the documentary's success. Finlay became something of an unexpected favorite of viewers as he shared his honest opinions of the crazy life he's led. 
That may be why people are seeing Finlay's likeness reflected in this new skin for Modern Warfare and Warzone. Sure enough, the character, "Hard Labor" Yegor, does bear more than a passing resemblance to Joe Exotic's former husband. Obviously, there's the character's buzzed off hair and even the option of a gold chain around its neck. The character even has tattoos all over his body, much like the real life John Finlay. But the most telling piece of evidence for folks who think this is an intentional homage would be the giant tiger tattoo on the character's neck. That seems to push it just outside the realm of "almost" to "uncanny."
The facial structure is slightly different, though, leading to at least one fan assuming that the skin is meant to resemble Russian President Vladimir Putin. There's also no word on what the CoD character's teeth look like, though it's worth mentioning that Finlay has gotten a nice new set of teeth since the show finished filming.
As hilarious as it is to think that Infinity Ward quickly busted out a John Finlay skin to cash in on the popularity of Tiger King, the odds of that happening are extremely thin. For one thing, the show is pretty new. Tiger King has only been out for a few weeks, premiering near the end of March 2020. 
Despite how invested with the show people have become, that would be a pretty exceptional turnaround for a gag that Infinity Ward seems to not even be acknowledging. Then again, maybe Infinity Ward isn't weighing in because it doesn't have the rights to use Finlay's likeness. Infinity Ward could land in some rough legal waters if it confirmed the connection in any meaningful way.
It totally makes sense that people made this connection. After all, the resemblance is definitely there, and Tiger King is on a whole lot of brains. But it's highly unlikely that the similarities between this new character skin and John Finlay exist on purpose. As one fan on Twitter wrote, "It just looks like someone with Russian mafia tats is all, I think it's purely coincidental."
Nobody is going to squash your dreams if you want to pretend you're cutting down enemies as John Finlay, the Tiger Avenger. Some fans don't seem to care if Infinity Ward intended the resemblance or not. So let's not contradict folks having a bit of fun. The real test of just how intentional this will be if Infinity Ward listens to the folks clamoring for a Joe Exotic character skin. In the meantime, we'll be on the lookout for a Tiger King-themed emote.