Selena Gomez Sues Game Company For $10 Million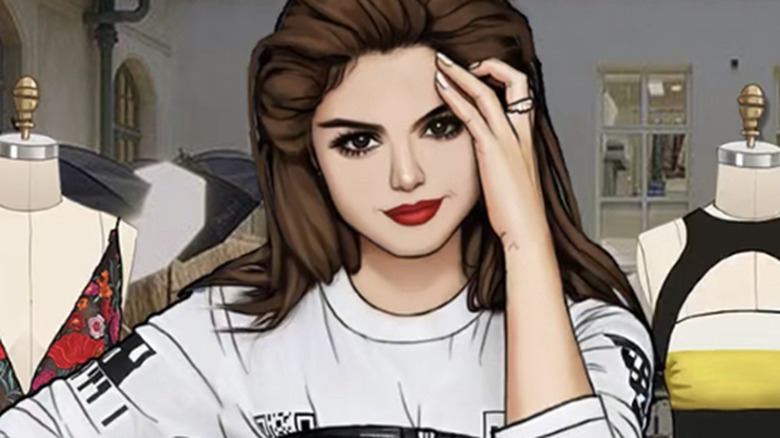 Variety has reported that Singer and actress Selena Gomez has filed a lawsuit against a mobile game for allegedly using her likeness. According to the lawsuit, Gomez believes that her likeness and that of many other celebrities have been used by mobile game Clothes Forever without their express permission. To that end, the suit is seeking a whopping $10 million dollars from the companies behind the game, Guangzhou Feidong Software Technology Co. and MutantBox Interactive Limited.
Advertisement
Clothes Forever is a dress-up game that allows players to go on imaginary shopping trips with their favorite celebs and pick out new outfits for them. It's basically the mobile app version of the shopping montage you see in every rom-com, only now with limited animation and celebrity likenesses. Though the game promises you'll be hanging out with "the most beautiful models and celebrities; the likes of Kardashian, Gigi, Beyonce, Taylor, and more," its developers seemingly didn't bother to contact Gomez or her representation about her appearance here. 
There's no word just yet on whether or not these other celebs approved the use of their likenesses in the virtual malls of Clothes Forever. However, considering the fact that the Gomez lookalike is just standing there without an actual identifying title card, it seems that the developers thought this was sufficient wiggle room. It will be interesting to see whether or not some of the other celebrities represented in the game decide to pursue similar suits now that it has been brought to public attention.
Advertisement
As mentioned in Gomez's suit, the game uses a character model that looks strikingly similar to a photo of Gomez that was taken for the cover of Flare magazine. The facial expression, outfit, and pose appear to be pretty much identical, just with the image mirrored to have the character facing the other way from the photo. 
The suit states that Gomez was never in contact with the developers behind the game at any point, which makes the alleged use of her likeness even more egregious. The wording of the suit also manages to seemingly throw a bit of shade on the game and its extensive use of microtransactions, reading, "Defendants never requested, consulted, or informed Gomez regarding the use of any of her publicity rights in connection with the Game. Nor, if asked, would Gomez have consented to such use for the Game, which apparently relies on the unsavory practice of luring its users to make in-game purchases in amounts as much as $99.99 to fund imaginary spending in the Game and unlock features."
Like many games of its type, Clothes Forever is free to download, but the app relies heavily on microtransactions to make its money back. In Clothes Forever, players can pay real-world money in exchange for in-game diamonds that can be spent to redeem new outfits and the like.
Advertisement
This isn't the first time that a celebrity has taken a video game developer to task for infringing on their likeness. Actress Lindsay Lohan spent a few years pursuing a lawsuit against Rockstar Games over a character in Grand Theft Auto 5. Lohan alleged that the character of Lacey Jones was based off of her, featuring a similar look and voice, as well as wearing clothing that resembled Lohan's fashion line. In 2018, a judge ruled that the Lacey Jones character "is not recognisable as [Lindsay Lohan]" and the case was dismissed.
The band No Doubt sued over the fact that players of Band Hero could use their members' likenesses to sing any song in the game. This was an interesting case because, although the band had given permission for Band Hero to use the individual members within the game, some of the members of the band did not like that their digital counterparts could be manipulated to sing other songs. For instance, someone could make Gwen Stefani sing a Rolling Stones song in Mick Jagger's unmistakably male voice. This didn't particularly sit well with the vocalist and resulted in what the band called a "virtual karaoke circus act" (which honestly sounds like a perfect title for a No Doubt album). That case was settled out of court.
Advertisement
During a Reddit AMA years ago, actress Ellen Page confessed that she felt like her likeness had been used by Naughty Dog for the character of Ellie in The Last of Us. Despite feeling like Naughty Dog was "ripping off" her appearance, Page didn't seem like it bothered her very much. However, it was another example of how protective people can be over their identity and any apparent attempts at using it for unauthorized purposes.