The Untold Truth Of Ninja's Brothers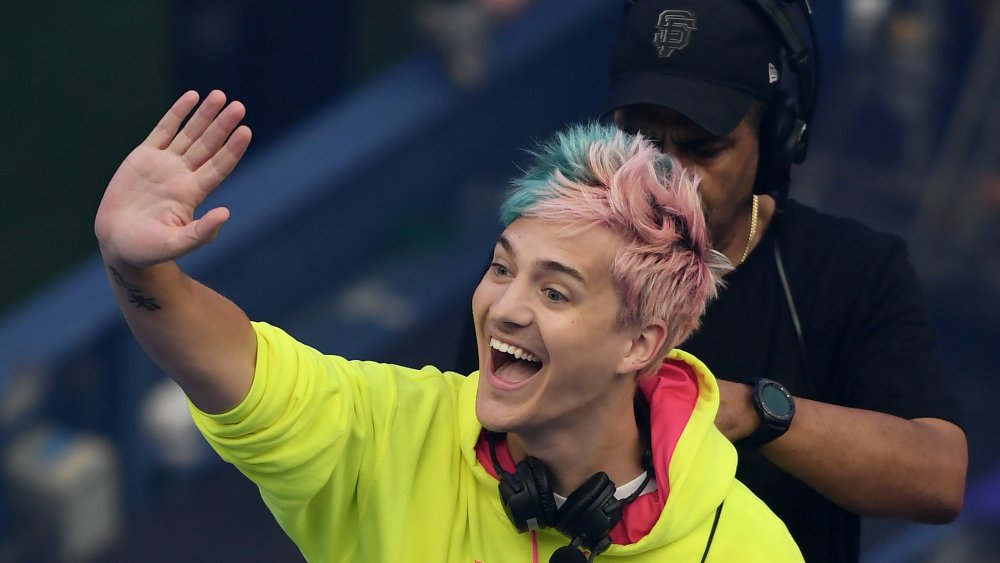 Sarah Stier/Getty Images
There's no doubt that Ninja is one of the most famous internet celebrities worldwide. Just ask a 13-year-old who he is, and you'll get an idea of how much the younger generations love him. But did you know the iconic streamer has two older brothers, Jonathan and Chris? Ninja seems to get all the attention these days, but he wasn't even the first Blevins boy in the family — he was the third.
Ninja talks about his family often, both on his social media pages and during streams or interviews. But the streamer also loves to spend time with his brothers in real life; when his hectic work schedule allows it, anyway. Whether it's having some beers, attending a football match or simply hanging out, Ninja, Jonathan and Chris enjoy spending time together.
You may not know a whole lot about Ninja's older brothers. Many people don't. Hopefully the following bits of information will shed some light on Ninja's siblings and what they have going on.
Both of Ninja's brothers are Twitch streamers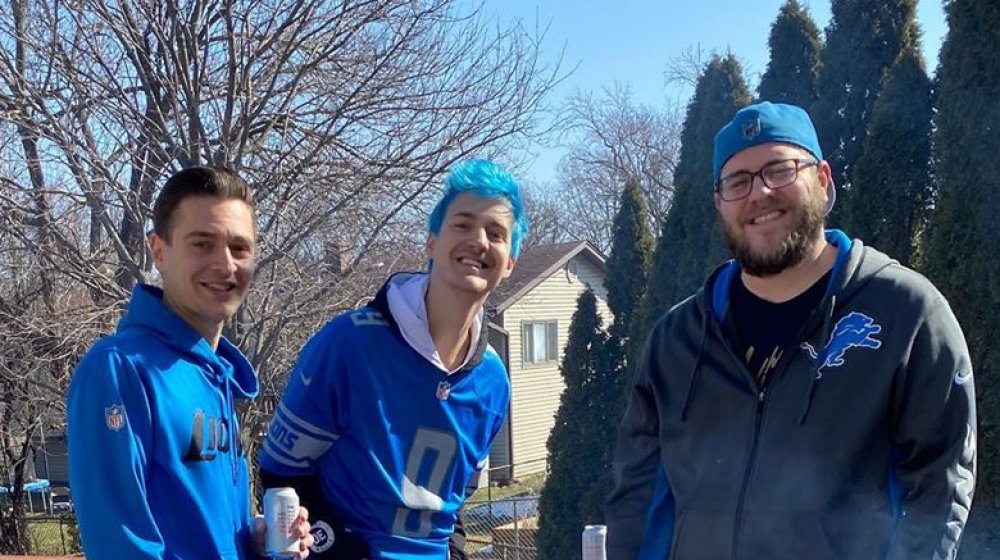 Instagram: @beardedblevins
Jonathan Blevins, the eldest brother, goes by the pseudonym BeardedBlevins on Twitch. He mostly streams Fortnite and, at the time of this writing, has over 38,000 followers on the popular streaming platform.
According to TwitchTracker, Jonathan streamed for a total of 667 hours in 2019, reaching 88,000 views in the process. His peak viewer count was 5,190. On April 5, 2020, BeardedBlevins celebrated his two-year streaming anniversary by playing a Fortnite duos match with Ninja.
Chris, on the other hand, streams with the nickname Invictus. He seems to be playing a lot of Animal Crossing: New Horizons lately, but also streams other games like Fortnite, Pokémon Sun & Moon and Super Mario Odyssey. At the time of writing, he has over 24,000 followers.
Stats from the online tool TwitchTracker say that Chris streamed for a total of 23 hours in 2019. The same year, he had 2,500 total views and his peak viewer count was 64. His fans watched his streams for a total of 523 hours.
Jonathan creates Catholic Twitch streams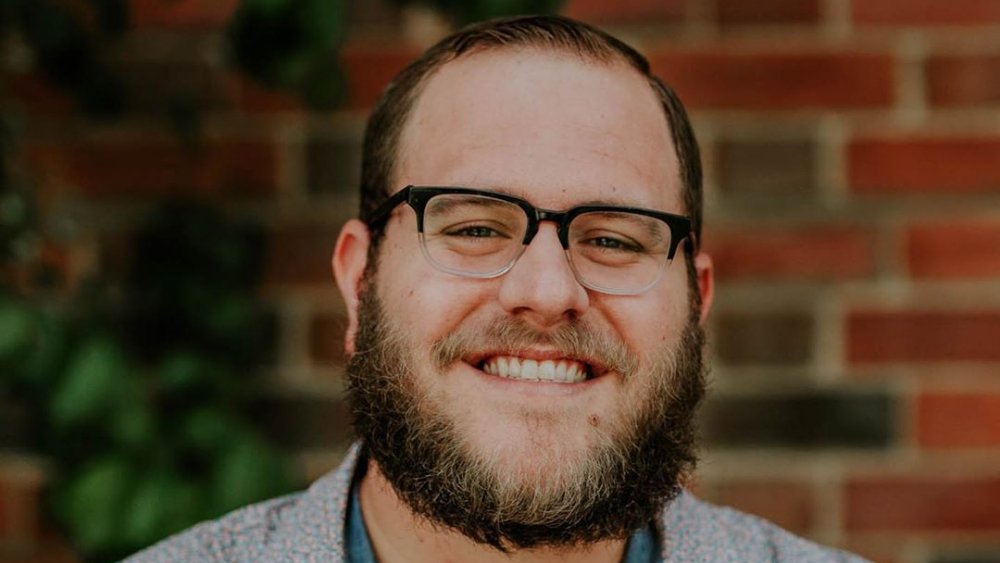 Instagram: @beardedblevins
According to his Twitter bio, Jonathan is Catholic Director of Evangelization at St. James' Church. During an interview with the Christian publication Grotto, he explained that he sees streaming as an opportunity to spread the gospel to young people.
"Jesus — what did He do when He walked around? He went to where people were spending their time," he said. "He met people where they were at."
One of the most popular Twitch streams from BeardedBlevins is "FaithNite", where he combines Fortnite gameplay with talks about the Christian faith. However, he's aware that sharing faith in the gaming community isn't always easy. In one of his FaithNite streams, Jonathan said "It's weird 'cause you have this whole community and so you can teach them, but it's hard to, like, get new people in to the community who are like 'Hey, I don't even believe in Jesus!'"
Kudos to Jonathan for using Twitch in a positive way.
Chris is a teacher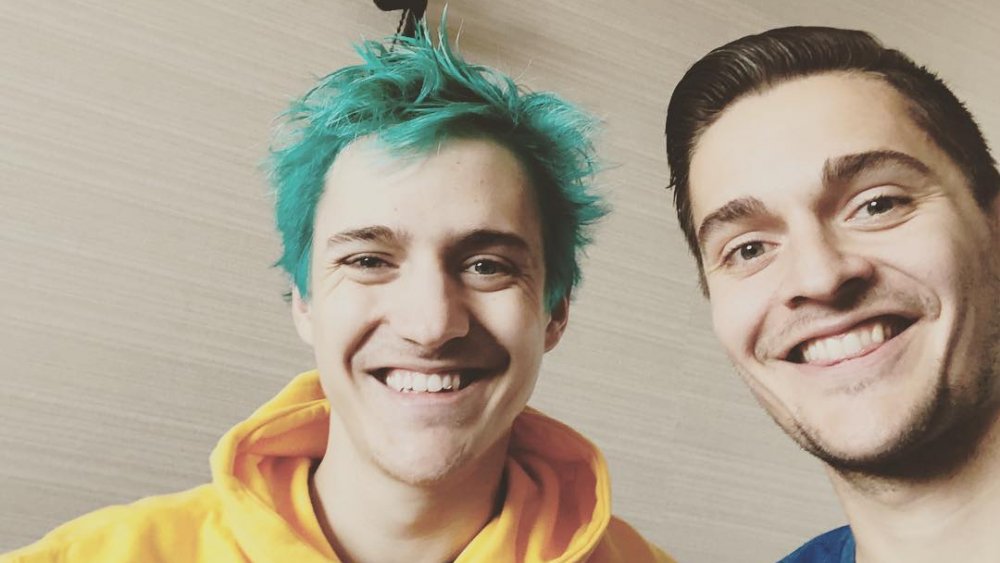 Instagram: @ninja_invictus
Ninja may spend his days schooling people in Fortnite, but his brother Chris? He's an actual teacher. His Twitter bio reads "educator, lover of games," and also mentions the fact that Chris is a partner with Twitch — just like Ninja used to be. Chris has commented a lot on Twitter about the use of e-learning during the COVID-19 pandemic, which has caused many schools to close down and forced students to rely on videoconferencing and other internet tools.
"Science is so hands on, especially physics it will be tough to learn without the visuals," he wrote in one tweet. "Nothing beats labs though."
Another one of his Twitter photos shows Chris preparing an online lesson about the anatomy of the kidney in collaboration with Will Barbanera, a cancer researcher who is apparently a friend of the Blevins family. Chris seems just as devoted to his students as Ninja is to his streams, which means he's probably a fantastic teacher.
Jonathan and Chris didn't like playing games with Ninja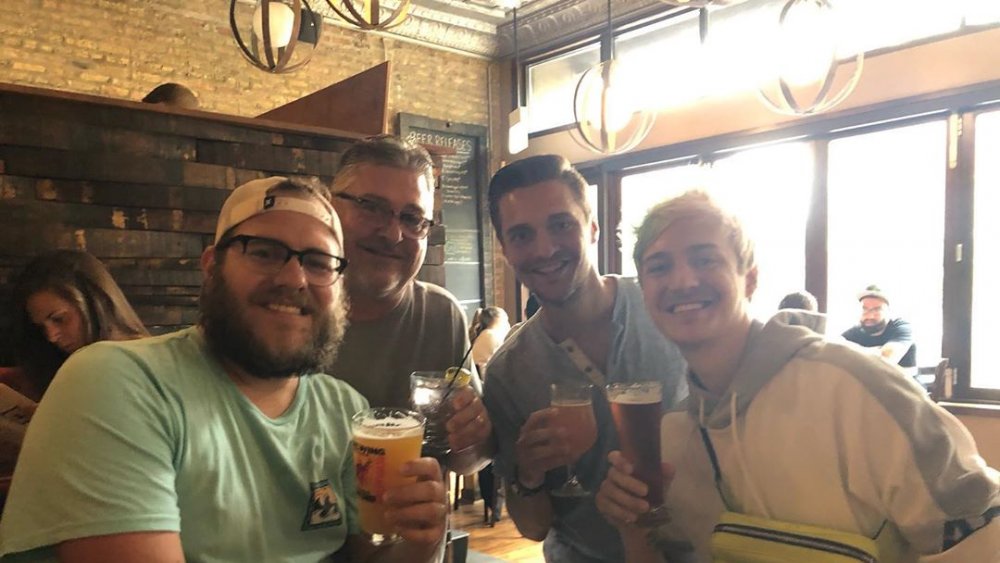 Instagram: @beardedblevins
According to Jonathan, the young boy who would eventually become Ninja was 9 or 10 years old when he asked to play Halo with his older brothers. Both Jonathan and Chris believed he was too young for the shooting game, but eventually relented. Medium reports that, since Tyler was the youngest one, "he would always have to play last."
When Ninja finally got his chance, however, his older brothers were floored. "He just destroyed us," Jonathan recalled. For this reason, Jonathan and Chris didn't want to play with Tyler anymore.
The Blevins brothers inherited their passion for video games from their father, as Ninja himself recounted during an interview on the Twitch stream "Walshy's Halo History." The notorious streamer said that his father loved video games and purchased them for his sons. He'd often play with them until 2 or 3 in the morning.
The Blevins boys had several consoles growing up, including the Sega Genesis, Super Nintendo, Sony PlayStation, and Microsoft Xbox. No wonder they're all still gaming to this day.
The Blevins brothers were on Family Feud before Ninja became famous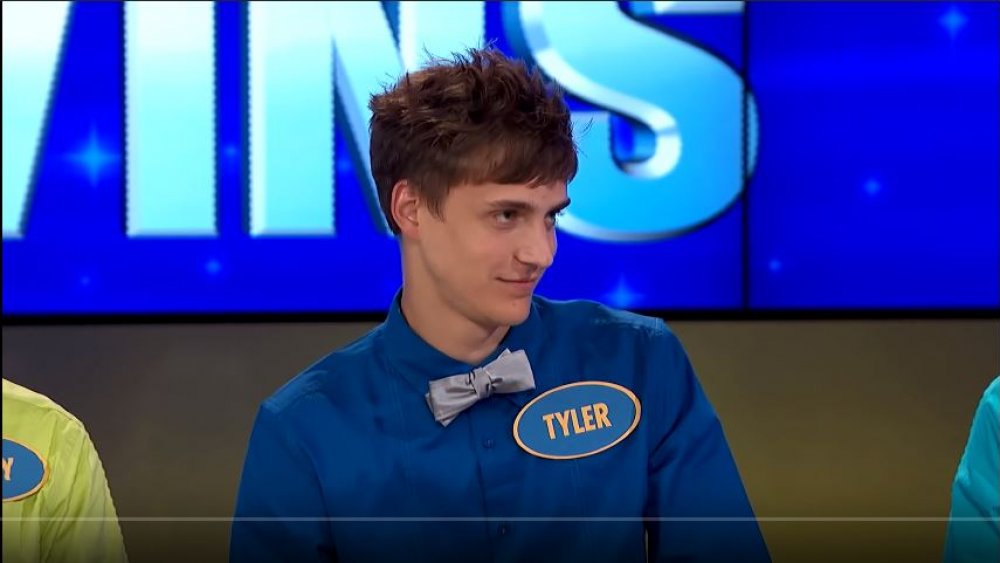 YouTube: FamilyFeud
As Polygon reports, the Blevins brothers appeared on Family Feud in 2015. That was back when Ninja was better known as "Tyler" — back before Fortnite was a thing. The Blevins family defeated the Blounts from Atlanta, and played for three consecutive episodes. The third day, the Beams family from Hendersonville, Tenn. beat Ninja and his family. That's not to say the Blevinses didn't make out with some serious cash, though; they won over $40,000.
When Tyler introduced himself as a professional video game player, the host Steve Harvey reacted in a hilarious way. "So like, you get paid to play Atari?" he asked. Atari, Steve? It's the 21st century, man.
In August 2019, after rising to fame, Tyler appeared with his family on Family Feud Celebrity. In a clip published on Family Feud's official YouTube channel, Chris was the star of the show with his smart answers. Ninja's team included his brothers, his wife Jessica and Jonathan's wife, Jodi.
During the show, the Blevins family raised $25,000 for Stack Up, a charity that uses video games to help veterans improve their mental health.
Jonathan gave a heartwarming speech at Ninja's wedding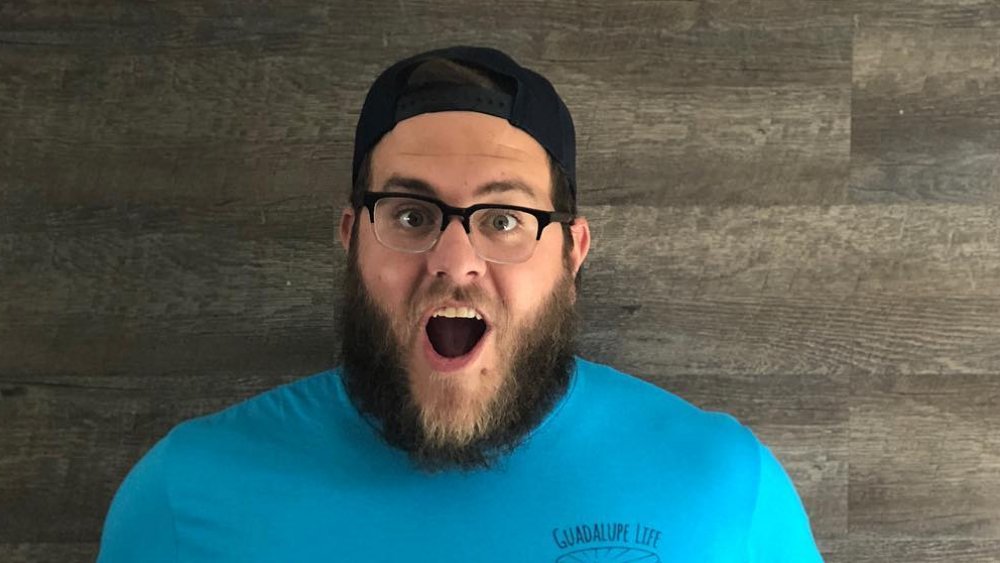 Instagram: @beardedblevins
Ninja got married on Aug. 12, 2017 at the Lehmann Mansion in Lake Villa, Ill. The wedding was quite intimate for an internet celebrity, as there were only 90 guests in attendance. It seems the guest list mostly consisted of close family and friends. Unsurprisingly, that included Ninja's two older brothers, Jonathan and Chris.
Jonathan stepped up during the event to deliver a heartwarming speech for Ninja and his new bride, stating, "Thank you for being an incredible, amazing younger brother and for always loving me. Thank you for your giant heart and being willing to give all you have at any point in life." Jonathan also expressed his affection for Jessica, saying he loved her as if she was his sister.
As the older sibling of a popular streamer, however, Jonathan couldn't help but sneak in a video game-related joke.
"In marriage you need to die to yourself," he said. "Tyler, judging by your Halo stats, that shouldn't be a problem for you!"
Jonathan sells Christian merch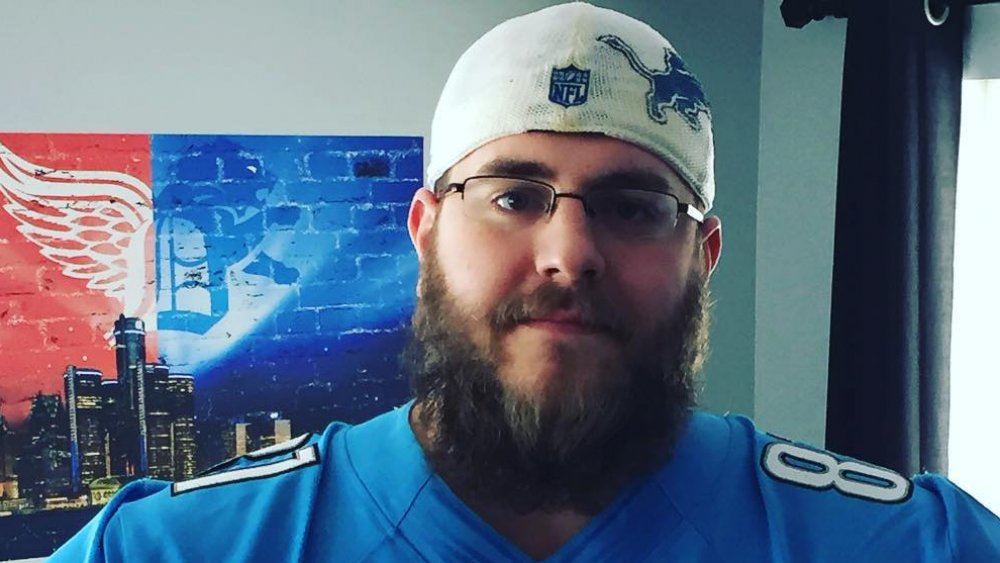 Instagram: @beardedblevins
The online Christian shop Libertas exists to reconnect people with God through casual apparel targeted at youngsters and kids. As it just so happens, Jonathan has sold his merch primarily through this website, as well as through his own page. The BeardedBlevins merch line includes tees, hoodies, and phone covers.
All items feature the BeardedBlevins logo: a male face with a beard. Most clothing pieces are blue, like the streamer's logo on Twitch, though the color palette of the collection does include other fashionable hues like pink, gray and white. There are some interesting products for sale, too. Now you can have breakfast with BeardedBlevins thanks to the mug with his logo. You can also show your appreciation for him by wearing some BeardedBlevins socks. 
Jonathan's merch can help keep you warm. It can also help you strike up a conversation with fellow gamers from all walks of life. Not a bad way to support a good guy streamer (who just happens to be Ninja's older brother).
Jonathan is married with three kids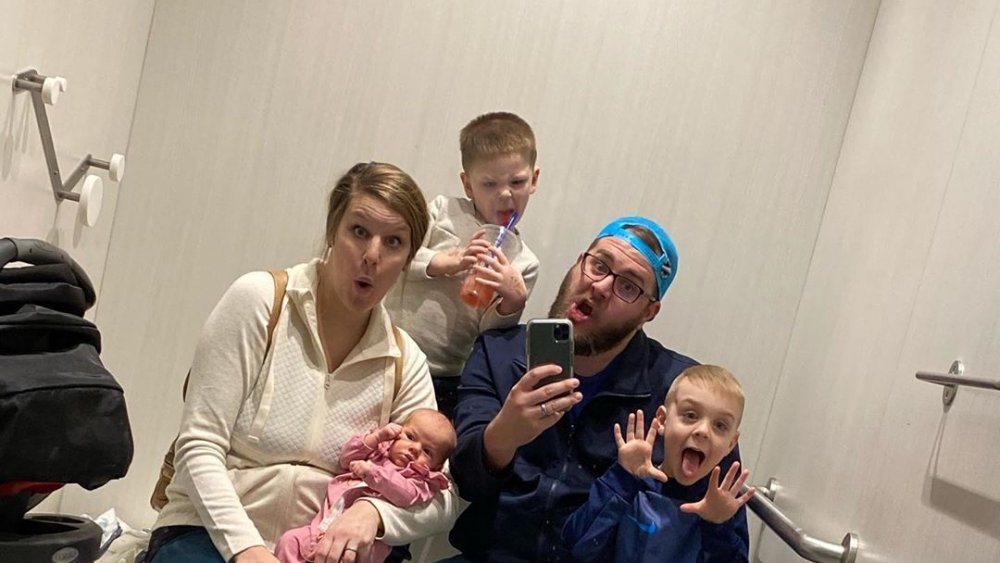 Instagram: @beardedblevins
Jonathan and his wife Jodi have two young boys, Caleb and Zachary, and a baby girl, Chiara. That is a very big family.
According to one of his Instagram posts, Caleb was born in February 2015, shortly before the couple bought a house in Gurnee, Ill. That was some good timing on the house purchase, as Jodi and Jonathan would definitely need the extra room later on. A little more than a year later in June 2016, Zachary was born. Jonathan posted a photo of the baby at the hospital on Instagram. "So thankful that my little boy is ok," he wrote in the post.
The two boys are apparently very close to their uncles. In an Instagram post, you can see Caleb and Zachary hanging out with Ninja and Chris. "They kind of like their uncles. #family," commented Jonathan.
In July 2019, BeardedBlevins announced that he and Jodi were going to have another child. He posted a photo of Caleb and Zachary preparing their baby sister's room and commented "IT'S A GIRL!" The boys looked incredibly happy about welcoming a new little sister into the world.
That little sister, Chiara, was born in January 2020. Jonathan posted a photo of the baby with the caption "Chiara Marie Blevins. Mama @jodi_blevins and baby are doing great! Welcome to the world my amazing daughter!"
Chris has a wife, Julia, and a corgi, Oliver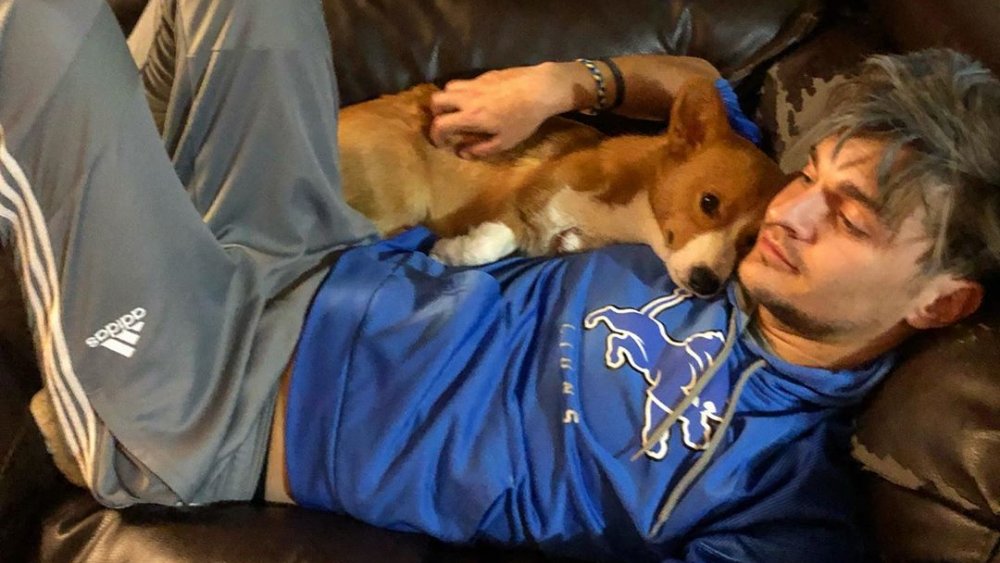 Instagram: @ollie.the.corgs
In May 2018, Chris announced his wedding with Julia on Instagram. "Getting married in an hour and a half!!" he wrote. The post showed him with one of his groomsmen, undoubtedly anxious about the life-changing moment he was about to experience. The wedding reportedly went off without a hitch, and both Julia and Chris managed to share some beautiful shots from the event afterward.
As far as Julia's career goes, she's a nurse. In one Twitter post, she expressed pride in being a part of the nursing community. In another post, she filled her followers in on what life was like working during the COVID-19 pandemic — and how Chris had her back through it all.
"Today, I had six patients," she said. "I was busy non-stop for thirteen hours straight, did not get to break for lunch, and had my first sip of water at 630 PM. Taking my post-work shower and my husband hands me a beer over the top, unsolicited."
If anything is true love, it's that.
Chris and Julia also have a corgi dog named Oliver, who is apparently a big enough star to have his own Instagram page. Is Oliver photogenic? Yes. All evidence seems to suggest he may not be the best roommate, though.
"Made my first Screencastify for my physics students to explain the virtual lab tomorrow and Oliver LITERALLY barked during the entire recording," Chris wrote on Twitter.
No treats for you, Oliver.
Ninja generously supports his brothers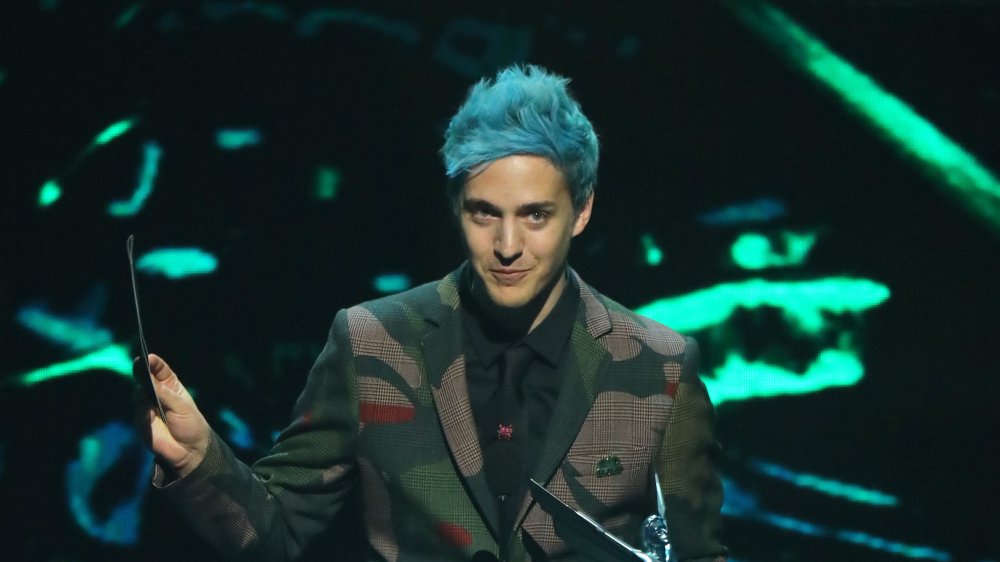 Jc Olivera/Getty Images
It's clear that Ninja really loves his brothers. For example, Ninja tried to help Chris get his Twitch channel off the ground in 2015, writing, "Lets (sic) get my brother to 300 viewers on Twitch for his first time ever!" Ninja also donated his old streaming computer to Jonathan, which — if you build PCs at all — you'll recognize as a pretty awesome move.
Ninja's even paid Chris a visit at his school, dropping in to say hi to the kids in Chris's computer club. The famous streamer was, unsurprisingly, a hit.
"Love him so much and he was great with the students!!" Chris wrote.
One of the students posted a photo of himself with Ninja in the r/FortniteBattleRoyale subreddit. Another Redditor commented that Ninja had already organized a fundraising stream for the school's gaming club, and donated $7,000 to the cause.
"Ninja is a very nice guy," said one user, "and it's really awesome how the recent success has not changed his behavior and friendliness at all."