Xbox Explains The 'Soul' Of The Series X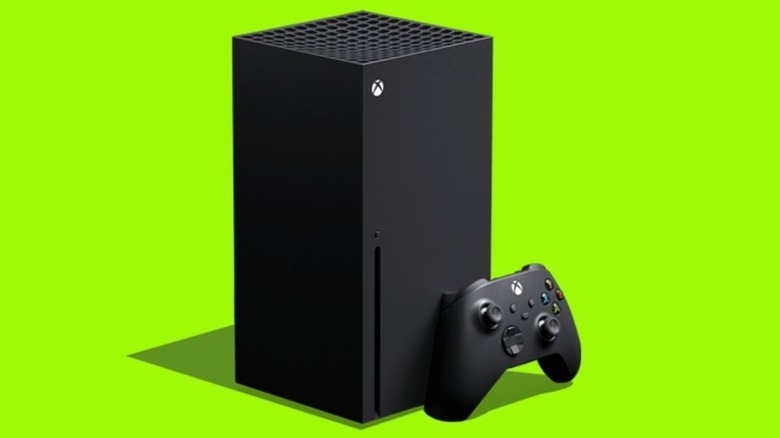 We've heard a lot about the processing power of the Xbox Series X, but it turns out that there's a whole lot more under the next-gen console's hood. In a recent post to Xbox Wire, Xbox Series X director of program management, Jason Ronald, told gamers about the Xbox Series X's Velocity Architecture, as well as what to expect from it. All in all, it sounds incredibly promising.
Advertisement
As Ronald put it, "If our custom designed processor is at the heart of the Xbox Series X, the Xbox Velocity Architecture is the soul."
Velocity Architecture is made up of four main pieces. First is the Xbox's new custom NVMe solid-state drive, which is designed for consistent information processing at a rate 40 times that of the Xbox One. Next are the hardware accelerated decompression blocks, which will help minimize both download times and the size of game files (and which could be good news for games that have ballooning file sizes like Modern Warfare).
The third piece of the Velocity Architecture puzzle is a new DirectStorage API layer. This is specifically designed to give developers unfettered access to the console's input/output performance, virtually eliminating load times in even the most complex games. 
Advertisement
Lastly, we have Sampler Feedback Streaming (SFS), which is very interesting in how it goes about freeing up extra memory. SFS will only load the necessary textures within a particular scene or environment, rather than loading everything in the background when it's not entirely necessary. This effectively boosts the input/output and the memory performance of the Xbox Series X.
Ronald also explained that Velocity Architecture has led to new leaps in how developers are designing their game worlds. This has led to some truly expansive experiences that players will be excited to explore when the Xbox Series X finally drops.
According to Ronald, this has led to the Xbox Series X displaying "a superior balance of power, speed and performance while ensuring no component would constrain the creative ambition of the world's best creators, empowering them to deliver truly transformative next-gen gaming experiences not possible in prior console generations."
Velocity Architecture is also the key component that has made it possible for the Xbox Series X to offer such innovations as Quick Resume. The Quick Resume feature allows players to close a game, install an update, boot it back up, and resume from the exact moment they left off. Gamers can also switch between games on the fly, leaving other games loaded and ready to go in the background without missing a step. This is another way in which Xbox plans to cut out the kinds of wait times usually associated with gaming.
Advertisement
Jason Ronald summed up Velocity Architecture pretty nicely by writing, "The Xbox Velocity Architecture fundamentally rethinks how a developer can take advantage of the hardware provided by the Xbox Series X. From entirely new rendering techniques to the virtual elimination of loading times ... we can't be more excited by the early results we are already seeing."
It appears as though both the Xbox Series X and the PlayStation 5 will be on the cutting edge of load times. Since the beginning, both Sony and Microsoft have seemingly made a goal out of reducing load times to next to nothing. Both systems seem to be on the verge of making that a reality, especially considering what we've seen from the consoles in action.
This is an exciting prospect for fans who want more immediacy in their gaming experiences. So much of the next console generation appears to be built around processing information at a higher clip than previous systems were capable of. The Xbox Series X controller will be using dynamic latency input to make button inputs smoother and more intuitive than ever before, processing your commands without lag. Meanwhile, the PlayStation 5 has reportedly made huge strides in the realm of storage latency, which means assets and information are being processed at a rate previously only seen in PCs. This is what led to the revelation that the PlayStation 5 was actually too fast for Epic Games' new Unreal Engine 5.
Advertisement
With new games running at a rate never before seen, we may be on the verge of seeing loading tricks like those pesky Mass Effect elevators disappearing forever. Don't act like you'll miss them.
We still don't have an official release date for the Xbox Series X, but hopefully that will be coming sooner rather than later. Microsoft is hosting a big Xbox Series X event on July 23 that is poised to show off its slate of upcoming games. Hopefully we will get a release date reveal at that time. Even if we don't, it should be a good opportunity to see what Velocity Architecture brings to the table.