We Know The Truth About Nintendo's Villain Ban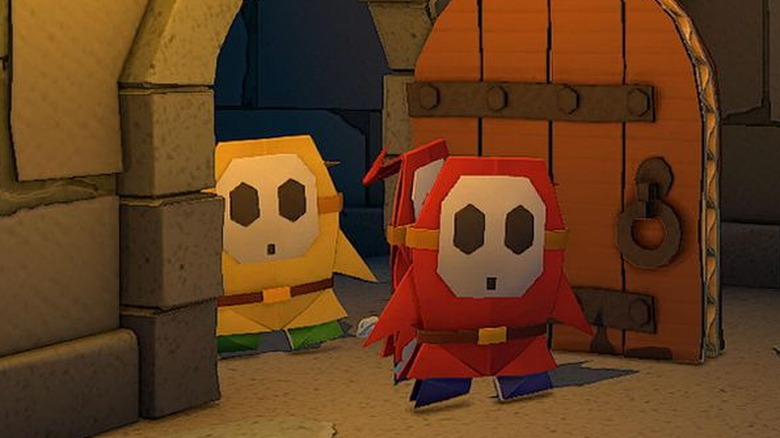 Fans of two-dimensional plumbers/adventurers rejoice! Paper Mario: The Origami King, the newest entry in the Paper Mario series, has finally arrived. The Origami King has brought plenty of new challenges and new villains for our favorite mustachioed hero to tackle. In fact, there's a reason why so many of the characters in the Paper Mario series are brand new. That reason may surprise longtime fans of the Super Mario Bros. franchise.
Paper Mario: The Origami King sees Mario and company going up against the wicked King Olly, who has a plan to use 100 magic paper cranes to fold up the entire world. In the process, Mario has to face a new type of enemy known as Folded Soldiers. These enemies are certainly visually interesting and feel like a stylistic departure from even the other Paper Mario games. According to Nintendo senior officer Kensuke Tanabe, these villains were not only done to fit in with the new game's origami aesthetic, but to also follow Nintendo's specific rules regarding the Paper Mario series of games.
In an interview with Video Games Chronicle, Kensuke Tanabe explained that the wild new enemies in the last few Paper Mario entries were created as the result of a mandate from Nintendo. Specifically, Tanabe was asked how the Paper Mario team goes about creating enemies that are as memorable as Bowser or some of the other iconic bad guys from the main Super Mario Bros. franchise. This is why bigger characters like Bowser or Kamek have been relegated to supporting roles and original villains like King Olly and his army have risen to prominence.
"Since Paper Mario: Sticker Star, it's no longer possible to modify Mario characters or to create original characters that touch on the Mario universe," explained Tanabe. "That means that if we aren't using Mario characters for bosses, we need to create original characters with designs that don't involve the Mario universe at all, like we've done with Olly and the stationery bosses."
In other words, Nintendo wants the Paper Mario and Super Mario Bros. series to feel distinct from one another. This mandate means that the games have to have different characters — outside of sharing a few protagonists like Mario himself and Princess Peach. According to Tanabe, this has made it somewhat more difficult for any of the original characters in the Paper Mario series to become breakout stars. They have to stand on their own merits, rather than gain popularity based on similarities or ties to other Super Mario Bros. characters. 
As Tanabe explained, "Whether a character becomes an all-time hit or not isn't up to us on the development side; I think it's more the case that characters that fans truly accept naturally end up that way. I hope that the origami siblings in Paper Mario: The Origami King will stay in players' memories, even if they do only end up appearing in this title." 
In other words, it is up to the fans to celebrate a particular character if they end up liking them.The developer can't exactly predict which characters will be mega-popular and which ones will not. All they can do is put their best efforts in to make these original characters memorable.
Luckily for Tanabe and company, the Paper Mario series has been truly memorable ever since the beginning. One of the reasons for this is the series' ability to reimagine different elements of the franchise for new players. For instance, while older Paper Mario games have leaned heavily into RPG territory, The Origami King has a much stronger emphasis on puzzle solving. Making changes like this over the years has kept the franchise fresh and likely lured in plenty of new fans.
For the most part, it appears as though this out of the box thinking has benefitted the latest entry of the Paper Mario series. As of this writing, the game is sitting at an "81" on Metacritic, showing "generally favorable reviews" for the title.
The Telegraph said in its review that Paper Mario: The Origami King was "a handsome, clever and genuinely funny game that is likely to confound expectations, for better or worse. Veterans expecting a return to classic RPG Paper Mario may be disappointed and not everyone will buy into the puzzle elements. But those who take to its charms will find a game that folds in both smarts and heart."
In other words, Nintendo may not allow the Paper Mario team to alter its classic villains, but the series seems to be doing just fine without that element. As Tanabe told Video Games Chronicle, the team specifically set out to create characters that players would be happy to have come along with them for the journey. Paper Mario: The Origami King is available now for the Nintendo Switch.