The Sad Truth About Sony's Ready For PS5 TVs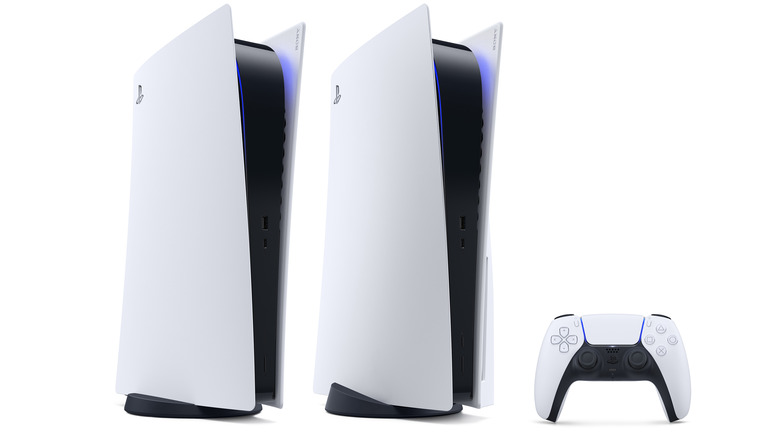 We may receive a commission on purchases made from links.
Just last week, we got a look at a new line of televisions from Sony that bear the banner "Ready for PlayStation 5." Much in the same way that "Optimized for Xbox Series X" is meant to signify that a game has been designed with the new console generation in mind, these new Sony BRAVIA TVs are branded to give one the impression that they're the best way to experience PlayStation 5 titles. Unfortunately, the newest reports concerning these televisions have indicated that just because something is "Ready for the PlayStation 5," it doesn't mean that it's the ideal choice.
The two televisions that Sony has given the "Ready for PlayStation 5" branding to are the X900H and the Sony Z8H models, but it should be noted there are apparently more to come. If that's truly the case, then Sony may have a bit of work to do in order to make this TV line live up to its title.
Polygon recently broke down the specs of these two TV models and found them severely wanting when it came to actually being ready to handle the power of the PlayStation 5. Describing the TVs as "a huge missed opportunity," the breakdown listed a few of the reasons why these TVs aren't exactly what some gamers may be expecting. 
For one thing, the X900H doesn't currently support 4K120 inputs, with that functionality apparently coming at a later date. Sony didn't clarify if the necessary firmware update would be available before the PS5 is released this holiday season, so anyone who is dead-set on displaying 4K120 content or utilizing any HDMI 2.1-related features may want to hold off on buying this one for the time being. While the Z8H does support 4K120 and HDMI 2.1, it only does so through one of its HDMI ports. In other words, if you're one of those folks who wants to run both a PlayStation 5 and an Xbox Series X through the same TV, get ready to swap some cables back and forth whenever you're switching consoles.
Adding to the frustration is the fact that the two TVs have vastly different specs that don't seem to match up to their price points. Just as a reminder, the X900H retails for $999 USD, while the Sony Z8H model is currently priced at $5,998 USD. That's why it's extra confusing that the X900H will eventually receive updates to allow it to support gamer-friendly features like auto-low latency mode (ALLM) and variable refresh rate (VRR), but the Z8H apparently will not. Considering the fact that both of those features would reduce lag and produce a picture that responds seamlessly to inputs from both the user and the console itself, this inconsistency between the TV models seems particularly bizarre.
When Polygon reached out to Sony for a list of gaming-friendly features that earn the "Ready for PlayStation 5" label, Sony declined to provide one. Instead, a spokesperson for Sony listed a few features that the TVs have that are not directly related to gaming performance.
To sum it all up, Polygon's Samit Sarkar wrote, "'Ready for PlayStation 5' is a mere marketing tagline — nothing more than an attempt by Sony to hawk its own TVs." However, it has been pointed out that Sony has been pretty upfront with the tagline being exactly that. Still, it's hard not to be kind of put off by the somewhat mixed messaging brought about by the phrase "Ready for PlayStation 5." It ends up feeling like this tagline was thrown into the world without much to back it up.
This all seems to line up rather well with what Forbes' John Archer had suspected last week. As Archer pointed out shortly after Sony announced its "Ready for PS5" campaign, the two main TVs being pushed in this initiative actually fall short of the gamer-friendly features seen in TVs that are already available on the market. As Archer wrote, "a much wider range of sets from Samsung and LG ... carry not only all the really important 'Ready for PlayStation 5' features, but quite a few more game-friendly tricks besides."
These "tricks" include LG's motion processing options that decrease input lag and Samsung's Dynamic Black Equalizer that makes for a more defined picture in even the darkest settings. Archer concluded that it didn't seem like the console and TV branches of Sony had actually developed these new "Ready for PlayStation 5" units together. Instead Archer believed that "the two groups only really started talking together and finding common ground in earnest AFTER the technical specification of Sony's 2020 TV range had already been defined."
This doesn't at all mean that these televisions won't still be impressive when they hit the market. The upcoming PlayStation 5 exclusive games are still intended to blow fans away, no matter what they're playing them on. However, it may be advisable for prospective PS5 owners to look around at all of their options before plunking down a truly bonkers amount of money on one of these "Ready for PlayStation 5" televisions.