The Real Reason Fortnite Was Kicked Off The App Store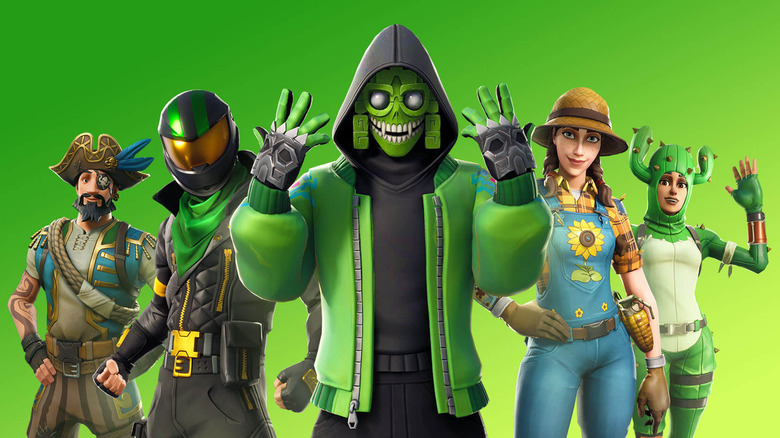 Epic Games
On Aug. 13, Epic Games implemented Epic direct payment on iOS and Google Play, a new feature that bypasses the payment processing fee charged by these platforms. Within hours of unveiling the service, Apple removed Fortnite from the App Store, a reaction some believe Epic may have intentionally provoked.
Epic direct payment utilizes the same payment system already in place for processing transactions on PC and Mac. The update rolled out on iOS and Android, and Epic made it clear it intended to pass on the benefits of cutting out the middle man to consumers, saving buyers up to 20% on direct purchases. 
"Currently, when using Apple and Google payment options, Apple and Google collect a 30% fee, and the up to 20% price drop does not apply," the company said in the official announcement. "If Apple or Google lower their fees on payments in the future, Epic will pass along the savings to you." The post even included images and a table that clearly demonstrated the price difference when purchasing $1,000 V-Bucks.
In response, Apple removed Fortnite from the App Store, and accused Epic of pushing for a "special arrangement" in a statement to The Verge. "Today, Epic Games took the unfortunate step of violating the App Store guidelines that are applied equally to every developer and designed to keep the store safe for our users," asserted the company. "As a result their Fortnite app has been removed from the store."
While Apple committed to working with Epic to resolve the alleged violation of its App Store guidelines, the Fortnite creator threw down the gauntlet. In retaliation for "blocking Fortnite from a billion devices," Epic released a short video titled "Nineteen Eighty-Fortnite" as part of its new #FreeFortnite campaign. The video parodies Apple's well-known "1984" commercial, which introduced the Macintosh personal computer. To further drive the point home, Epic placed "Nineteen Eighty-Fortnite" on loop on both the Fortnite Twitch and YouTube channels.
Beyond this call to arms, Epic had another surprise in store for Apple: a civil antitrust lawsuit. Filed in the US District Court for the Northern District of California, the complaint accuses Apple of monopolizing the mobile app and in-app iOS payment markets. "Apple has become what it once railed against: the behemoth seeking to control markets, block competition, and stifle innovation," reads the complaint. "Apple is bigger, more powerful, more entrenched, and more pernicious than the monopolists of yesteryear."
Epic asserts that it's not aiming for monetary compensation or preferential treatment, but to level the playing field for app developers "coerced into using In-App Purchase by virtue of wanting to use the App Store." This sentiment might sound familiar to those who have followed the ongoing conflict between Steam and the Epic Games Store. Valve takes a similar cut of sales made through Steam as Apple does on the App store. Steam dominated the PC game distribution market, which Epic disrupted when it introduced its own platform and much lower 12% take.
Beyond its history with Steam, Epic's move against Apple should not come as a surprise. Epic CEO Tim Sweeney has openly criticized how app stores are run for years. "It's time for change," Sweeney told The Verge in 2018. "Apple, Google, and Android manufacturers make vast, vast profits from the sale of their devices and do not in any way justify the 30 percent cut."
Surprise or not, individuals like Joanna Nelius of Gizmodo believe Epic may have set a trap for Apple — one the company fell for. As Nelius laid out, Apple may have violated its own policy by removing Fortnite from the App store. The guideline in question states: "If your app enables people to purchase goods or services that will be consumed outside of the app, you must use purchase methods other than in-app purchase to collect those payments." As Fortnite players can purchase V-Bucks via the iOS app, then use those same V-Bucks on a different platform, this could be interpreted as purchasing "goods or services" and then consuming them "outside of the app."
The timing of Epic's lawsuit and #FreeFortnite campaign also raises some interesting questions. Apple came under fire in early August when it revealed it would not allow cloud gaming apps and game subscription services such as xCloud on the App Store. The reason? It cannot individually review the games included with these platforms. Sweeney claimed Apple had "outlawed the metaverse" in a tweet, and that the decision would hobble games and ecosystems with a cross-platform element.
Though Apple insists it made these decisions, including booting Fortnite off the App Store, for the safety of its customers, it's clear that Sweeney and Epic Games believe the company has more self-serving motivations.