Red Dead Online Has A Serious Hacker Issue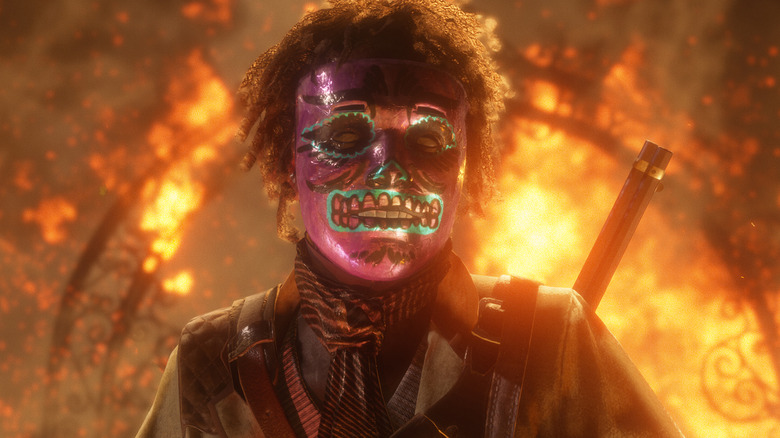 Ever since Red Dead Online launched, players have noted that the game has been infested with hackers. These hackers have caused all sorts of frustrations for Red Dead fans, from creating spooky monsters to attack players to spawning illegal treasure chests and getting innocent accounts banned. 
Advertisement
Unfortunately for Red Dead Online players, it seems that there is yet another danger to the game's already fragile ecosystem. Streamers are now reporting that hackers have found a way to blame them for their own misdeeds, seemingly in an attempt at getting more innocent players banned. 
Reaching out to PCGamesN, Twitch streamer HazardousHDTV explained that some hackers have taken to spoofing other streamers. In other words, these hackers are able to appear to be logged in as the streamer they are targeting. According to HazardousHDTV, however, he didn't notice that particular part of the hack until it was too late.
Instead, when HazardousHDTV logged in to his Red Dead Online account, he was quickly killed by a hacker who was using some kind of mod to make HazardousHDTV self-destruct. As described by HazardousHDTV, this modder pulled him from the event he was playing and into their own lobby. Once there, they used HazardousHDTV as a "human dynamite stick," blowing up several other players who had also been pulled into that lobby right on top of HazardousHDTV's character.
Advertisement
Though this was annoying, HazardousHDTV simply decided to try again in another lobby. Unfortunately, the same user repeated this exact feat, only this time they were impersonating HazardousHDTV's IP address and account name. Because of this, every user that was killed by this mod was alerted to the fact that "HazardousHDTV" had apparently killed them. Not only that, but HazardousHDTV was awarded XP for killing those players, which almost immediately caused him to be labeled as a hostile player. In an effort to curb the destruction, HazardousHDTV force quit the game. However, the damage to HazardousHDTV's reputation had already been done.
That hacker then went after another streamer, SwolTV, using a similar trick. This time, the hacker was impersonating a streamer named ThatDevilJames. SwolTV told PCGamesN, "He had cloned James's social club name and was using that in the lobby. After a while, the hacker began spawning the entire lobby on top of me and then blowing everyone up. It showed that I was the one killing everyone, and they were blaming me for the hacks."
In other words, multiple streamers were targeted with the same tricks. Unfortunately for those streamers, it appeared to bystanders as though they were the ones responsible for the chaos. Things got worse for SwolTV when he decided to switch from PC to PS4. Now that the hacker couldn't get into his lobby, they instead decided to attack his internet connection directly. This caused huge slowdowns for his Twitch stream and ultimately led to him signing off early.
Advertisement
Since then, both streamers have had the same issues repeatedly affecting their streams. Unfortunately, it doesn't appear as though Rockstar has been able to figure out how to stop this. As HazardousHDTV explained to PCGamesN, "There are videos on YouTube and Reddit of this cheater dating back to March, with players sending tweets and Discord messages of hackers to me, all of which turned out to be this same individual."
It's not just these two streamers who have been affected by this type of hack. Users on Twitter have complained of similar attacks being perpetrated on them, causing them to close their Red Dead Online accounts and start all over again. These types of hacks are the very reason why many Red Dead Online players have demanded that Rockstar add private lobbies in a future update for the game.
The worst part about all of this is that there is apparently no time table for when a fix may be available for this issue. This has kind of been a running problem when it comes to Red Dead Online. Even the most diehard fans of the game have gotten fed up with waiting for Rockstar to address the game's many issues. 
Ever since Red Dead Online's most recent update, players have been besieged with game-breaking bugs at just about every turn. Bounties are impossible to collect, animals and NPCs aren't spawning, and guns are refusing to fire. While Rockstar has said that there is a fix coming for these bugs, it has seriously put a damper in the community's confidence in the game's issues being fixed in a timely manner.
Advertisement
For the sake of the streamers who have had their income impacted by these hackers, hopefully Rockstar can find a way of dealing with them in the near future. After all, if Rockstar can troll GTA hackers by blowing them up, surely there must be a way to detonate some of these particularly fiendish Red Dead hackers.