What's The Song In The Suicide Squad: Kill The Justice League Trailer?
Every good reveal trailer comes with an accompanying music track, and the one for Suicide Squad: Kill the Justice League wasn't about to break that rule. The first look at the game introduced Harley Quinn, Deadshot, King Shark and Captain Boomerang as the new playable characters in Suicide Squad, all while letting them bash heads to an infectiously funky beat. And some DC fans — particularly those on the younger side — undoubtedly hit Google immediately after the trailer ended to try and figure out what the song was, and where they could buy the CD.
What's that? People don't play CDs anymore? Well, they did when this song first dropped. That's right — this track is practically an oldie at this point. Here's what it's called, and here's where you can find it on more modern music distribution platforms.
OutKast's 'B.O.B.' is now a superhero-killing anthem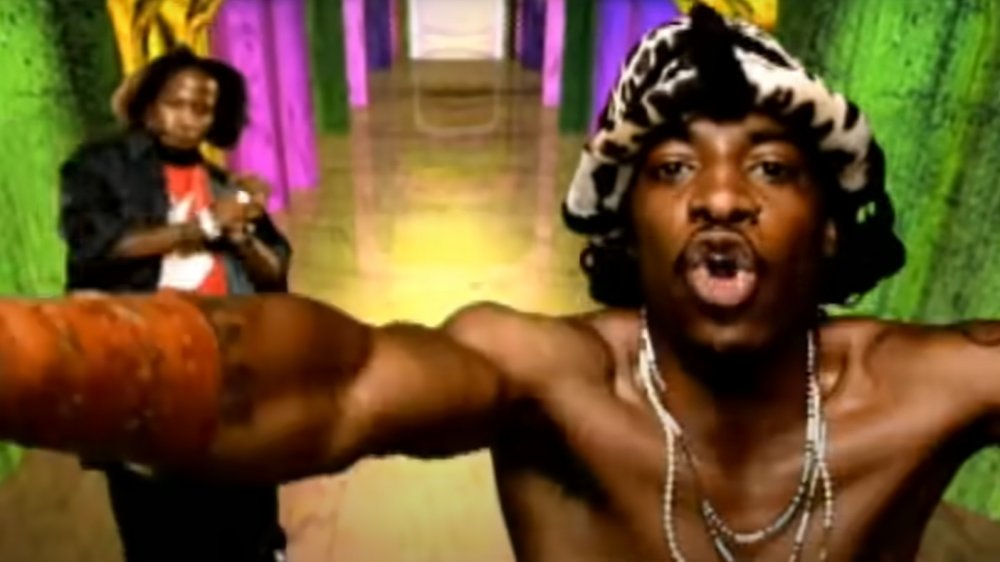 YouTube/OutKast
The song "B.O.B" — an acronym for part of its hook, which shouts, "Bombs over Baghdad!" — is the 11th track from OutKast's 2000 album, Stankonia. Yes, the same album that had you singing "I'm sorry, Ms. Jackson" also brought you this song, which is often viewed as a war anthem, of sorts, but was never intended to be one.
In a story about the track published by The Log Angeles Times, OutKast rapper Big Boi explained, "There were lots of people making music, but there was nothing real about it. We were like saying, make music that has something to say or just get out of the way." Thus the song used, as The Times put it, "half-hearted U.S. bombing raids on Iraq in the 1990s as an analogy for a lack of dedication among many artists in the music business."
In a prescient piece of writing, The Times also wrote, "You can feel movie producers getting in line to license the song — which was co-written by OutKast and David Sheats — for war-related films and soundtracks." It seems Rocksteady and Warner Bros. have fulfilled the prophecy.
You can find "B.O.B" on Spotify, Apple Music, and YouTube.