The Heartwarming Way Fortnite Fans Are Honoring Chadwick Boseman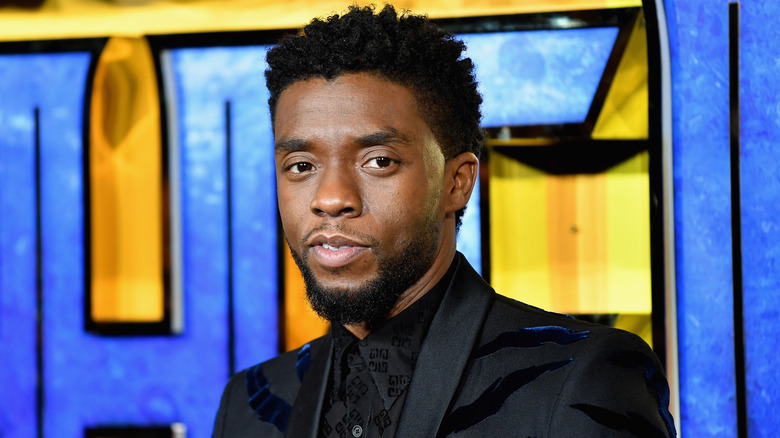 Gareth Cattermole/Getty Images
Movie fans around the world were stunned at the passing of Chadwick Boseman, who recently lost a battle with colon cancer at the age of 43. The talented actor was well known for starring in a number of films, including 42, Get on Up, and Marshall. He also played T'Challa in several Marvel movies, including 2018's Black Panther. Those appearances enshrined him in the hearts of Marvel fans everywhere, and some are now paying their respects to the actor in a game that's in the midst of a Marvel crossover event: Fortnite.
As GameSpot reports, a Black Panther statue was recently added to the game in an update, though it's important to note that, according to GamesRadar, the statue was "pre-planned" and was not added as a result of Boseman's passing. The site notes that you can find this statue "right outside Misty Meadows, floating above the ground with multiple loot drops and chest spawns." Once you're in the area, it seems pretty hard to miss. The statue is quite large, and it appears a glowing loot chest can appear in the Panther's mouth from time to time. If you head toward Misty Meadows and starting scouring the outer regions of that space, you should have no trouble finding the statue.
While the in-game monument for Black Panther is itself making headlines, players in Fortnite are also gaining some attention for what they're doing at the statue. As that GameSpot piece notes, it seems fans are flocking to the Black Panther in order to honor Boseman and his legacy. Some are even putting their fights on pause in order to let others mourn the star peacefully, a sign that — along with the movie showings, concerts, and more – Fortnite can be far more than a battle royale shooter at times.
There's no word yet on how long the Black Panther statue will remain situated inside Fortnite, though some fans hope it's not a temporary addition. "I hope these stay next season instead of just disappearing," wrote Reddit user IOnlyPlayAsTomato.
Other Fortnite players have also shared some ideas for how the game can honor Boseman. One suggested a "Wakanda Forever" emote for players to purchase, with another commenter suggesting the proceeds go to charity. Others have talked about a potential Black Panther character skin, though there is some debate about whether such a skin could be released now. To some, it might look like Epic Games is trying to profit from Boseman's passing. Perhaps tying the sale of that skin to a charitable cause would make the concept more palatable.
Regardless, it looks as though the Black Panther statue will become a makeshift memorial of sorts for the time being. Some players have even requested that Epic turn off combat in that particular area, just so they can remember Boseman without the fear of being shot at or otherwise harassed by others. The player base seems split on this idea, with some suggesting others go into another game mode so their battle royale experience is unchanged. It's unclear whether or not Epic Games is considering this feedback.
The Fortnite and Marvel crossover, which kicked off a few days back, still has a ways to go before it comes to a close. As it stands now, players can jump into the so-called "Nexus War" and help fight back against Galactus' attempt to feed on Fortnite's Chapter 2 map. A number of Marvel players can be unlocked through this season's battle pass, including Thor, Iron Man, She-Hulk, and Wolverine. Each unlockable character has his or her own emote that can be obtained via a quest. And it seems the superpowers of some Marvel characters are even available to use during combat.
It's possible other Marvel characters will make appearances throughout the season — or will at least be represented in the game as Black Panther is now with his statue. Epic could be keeping a tight lid on those details, however, so any new content that pops up serves as a surprise to fans.
Fortnite players will undoubtedly be keeping a close eye on any new additions in the weeks and months ahead. Though the movie business isn't exactly operating at full capacity right now, it seems games like Fortnite are still pumping out new content. Epic's battle royale shooter may be the prime way to get your Marvel fix for the time being, so keep checking back for more updates. We'll be sure to let you know if anything new or noteworthy comes along in Marvel's latest foray into the world of Fortnite.