Video Game Records That Are Probably Unbreakable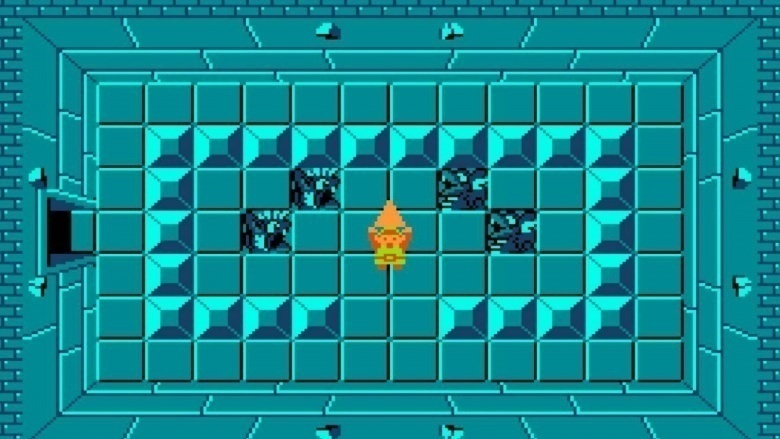 The King of Kong documentary proves that video game scores, and mullets, are a very serious business. Everyone is out to set a new speedrun or some other video game-related record, so it's hard to keep up sometimes. You can play Kickle Cubicle until your thumbs are as thick as your neck and never come close to the masters' scores, but at least you'll have a good time doing it. If getting your name etched into the annals of gaming history is your thing, you can aim really high... but there are some video game records that will probably never be broken.
Pac-Man (Arcade) - Turbo Mode Kill Screen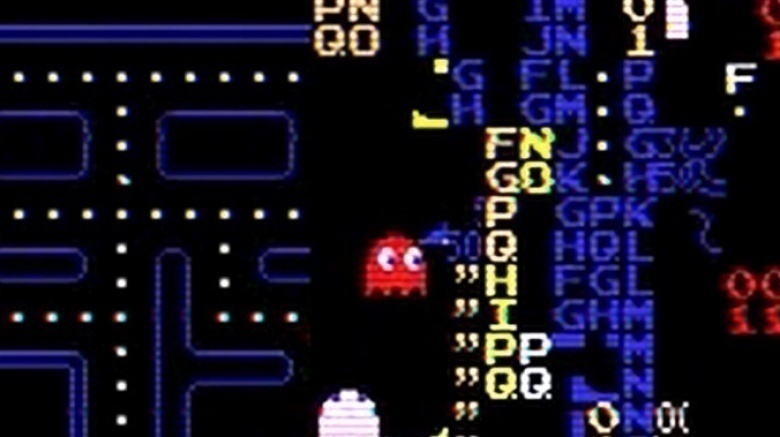 Pac-Man perfection is a combination of robotic timing, relentlessness, and adult diapers. Pro players aim to break the game by reaching the "Kill Screen," a point in the game's code in which the screen decays into random symbols due to a memory shortage after level 256. Glitching out Pac-Man is the Grail of competitive retro gaming, officially reached by only a handful of people. There are a few modded games and apps floating around online that can start you off with the kill screen, but it's not the same as earning it the hard way. Good luck trying to hit the Kill Screen in Turbo Mode, which has Pac-Man and the ghosts moving at nearly three times their usual speeds—only two people in history ever reached it that way.
Why you'll never beat the Turbo Mode Kill Screen: You simply don't have enough quarters for the arcade.
Mega Man X-X3 (SNES) – Beaten simultaneously with the same input
Elite Mega Man player agwawaf was able to beat Mega Man X, X2, and X3 with 100 percent completion on each game in just 43 minutes and 51 seconds. We know what you're thinking, "44 minutes? But Mega Man X was previously beaten in 32 minutes, X2 in 33 minutes, and X3 in 42 minutes." This was a tool-assisted speedrun that had agwawaf playing all three games at once. On top of that, his controller's inputs were used across all three games simultaneously. Sure, the runs weren't perfect and he took damage along the way, but just think of how incredible it is to beat three games at the same time in just under 44 minutes. Heck, all three final bosses, endings, and credits sequences all happen during his playthrough at the same time.
Why you'll never beat these times: Most people can't even beat one of these games in under an hour, let alone all three.
The Legend of Zelda (NES) - Extreme Challenge
The rules of the Zelda Extreme Challenge are harsh, and it opens with leaving your sword behind as the quest begins. You cannot collect most treasures, you can't accidentally kill overworld enemies, and you can only use bombs and fire on bosses. Your quest ends when you encounter the final boss, who cannot be defeated without the treasures you've skipped. While you've certainly accomplished something, you'll never know sweet victory. Only four people have completed the challenge in both the first and second quest modes. They didn't save Hyrule, but they earned our respect.
Why you'll never beat Zelda Extreme Challenge: It's like Ganon created it to ensure he ultimately wins.
Call of Duty (PlayStation 3) - Longest gameplay marathon with a controller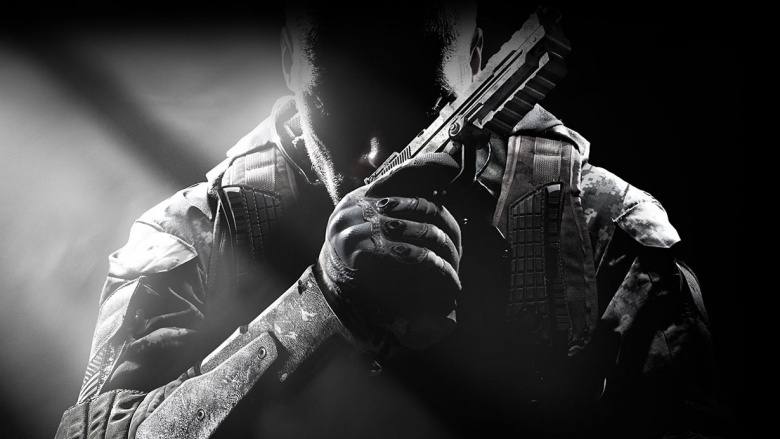 The Guinness Book of World Records marks 135 hours as the longest gameplay session of Call of Duty, but it comes with a caveat: the record holder was allowed to take a 10-minute break for every hour of play, netting himself some much-needed naptimes once these breaks accumulated. Guinness allowed these rests after a teenager died while in his 40th consecutive hour of Diablo 3 in a separate record attempt. Indeed, spending six days in a nonstop warzone would destroy anyone's psyche. Mind you, this is the record for gameplay marathons with a controller in your hand, but you won't believe what surpassed this astounding accomplishment.
Why you'll never beat this score: The number of tweens cursing you out for no reason over your headset.
Just Dance 4 (Xbox 360) - Longest gameplay marathon
This California school teacher's video game record will exhaust you just hearing about it. You know that Call of Duty record we just mentioned? It used to be the longest gameplay marathon record ever, until Carrie Swidecki broke it playing Just Dance 4—let that sink in for a moment. Swidecki set three world records at the same time while playing a dance game where you're up and moving around the entire time. By dancing until the 138 hour mark, she set the world records for longest video game marathon of all time, longest marathon playing a dance game, and longest marathon with a motion-sensing game. Through her fondness for Just Dance 4, Swidecki dropped 80 lbs and raised over $7,000 to support children's health-related charities.
Why you'll never break her records: Kinect and motion-based games are starting to fade out, and we feel exhausted playing Just Dance 4 for 13 minutes, let alone 138 hours.
Longest Halo marathon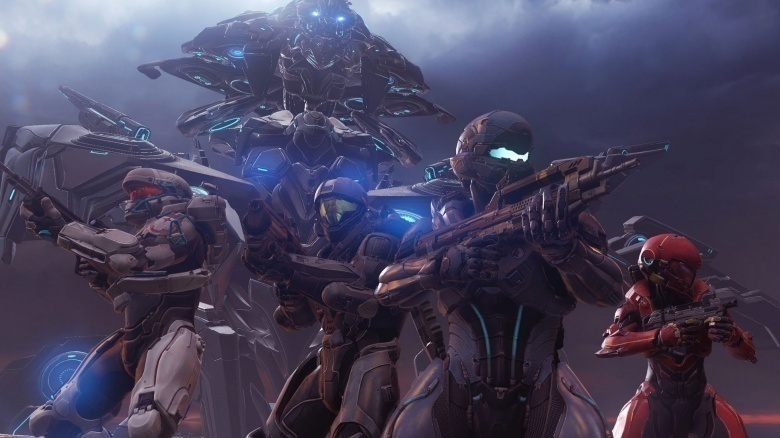 The Halo franchise has a long-standing history with Microsoft, having been one of the top launch titles for the original Xbox console. Ever since, Halo has remained a prominent series in the first-person shooter genre, and it's one of those games that people can play for hours on end without feeling even an ounce of boredom.
This notion is evidenced by a world record set in 2011, when four Irish gamers—Mark Gethings, Tony Flynn, Lorcan McKenna, and Pierce McKenna—played Bungie's Halo: Reach for exactly 42 hours in Athlone's Golden Island Shopping Centre, thus breaking the record for the longest first-person shooter marathon. "I looked at the record," Gethings said. "Three girls had won ... for playing Rainbow Six Vegas 2, so I rang Pierce McKenna and said we couldn't have that!"
Advertisement
Although an impressive feat, their record would later be broken by Finnish gamer Paavo Niskala. Celebrating the release of 343 Industries' Halo 5: Guardians on October 27, 2015, Niskala played Halo 1-3 on Heroic, Halo 4 and 5 on Legendary, and then Halo 5 multiplayer, bringing his total playing time to a whopping 50 hours, 4 minutes, and 17 seconds. "I could have continued for gaming," Niskala said. "The ball is now a contender—at least until the next Halo's release."
Longest Super Smash Bros. tournament winning streak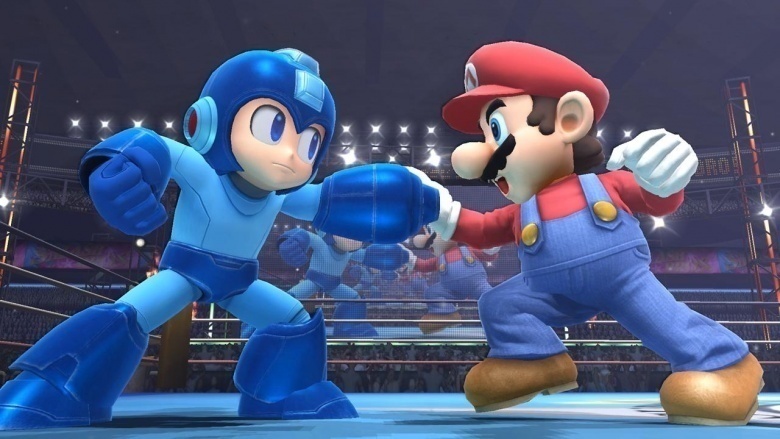 It should be no surprise that competitive gaming is getting bigger and bigger, with organizations like Major League Gaming expanding their footprint and being acquired by Activision Blizzard. As long as the competitive community grows, more and more gamers will continue to be recognized for their efforts as well as their accomplishments.
One such gamer is Gonzalo "ZeRo" Barrios, who appears in the Guinness World Records 2017 Gamer's Edition for setting the record for the longest tournament winning streak in Super Smash Bros. Playing on the Wii U, Barrios won 53 consecutive tournaments (not just single matches) between November 2014 and October 2015.
Advertisement
Barrios' streak came to an unfortunate end when he lost to Nairoby "Nairo" Quezada during the MLG World Finals on October 18, 2015. Despite the high-setting number, Barrios does not hold the record for most tournament wins—that record belongs to Jason "Mew2King" Zimmerman, who has won 339 eSports tournaments in his professional gaming career and also appears in the 2017 Gamer's Edition.
World's largest arcade machine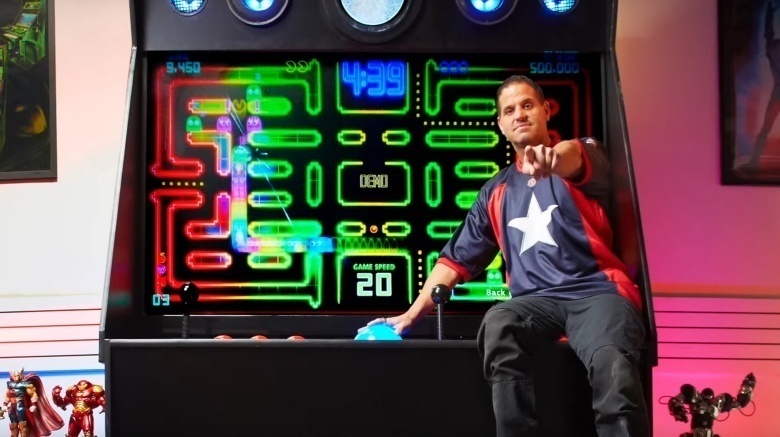 Years before the advent of console gaming, there was the arcade—and an entire culture of arcade gamers. People may not go to arcades as much as they did before, but that doesn't mean companies have stopped manufacturing arcade machines. In fact, some people have even installed them in their homes. One person, though, took things a step further and not only built his own arcade machine, but built the world's largest.
In 2015, 44-year-old network engineer Jason Camberis from Chicago, IL, finished construction on the world's largest arcade machine, measuring 4.41 meters tall and 1.06 meters deep. To put that size into perspective, according to the Guinness World Records, the machine is larger than a fully grown African elephant and can even occupy the equivalent of 112 bathtubs of water. It also has the ability to play over 200 classic arcade games.
Advertisement
Camberis said he wanted to recapture that joy he felt playing at an arcade when he was younger—it inspired him to pursue a living of building custom arcade machines as a side job, while he continues to install security systems during the day. "I wanted to bring joy and happiness to people, and my arcade machine certainly makes people smile," Camberis said of the impetus behind the project. "My wife wonders what I will do next, but I already have a plan!"
Highest score on NES Tetris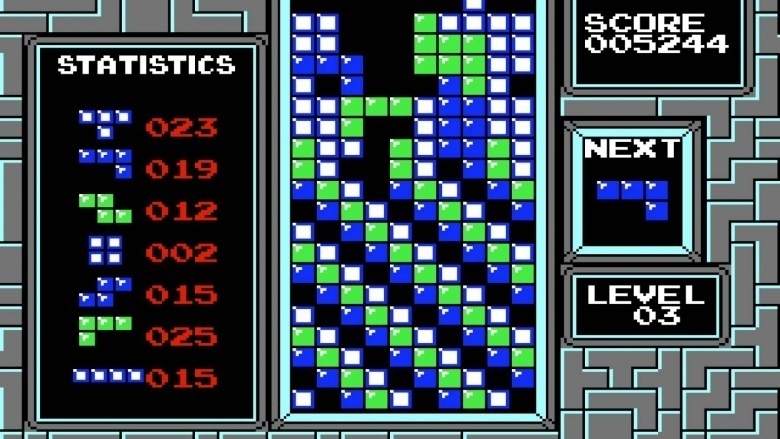 Tetris is undoubtedly one of the biggest video games the world has ever seen. In fact, it currently holds the record for being the most ported video game in history—on 65 platforms since its initial release in 1984. It stands to reason that almost everyone with access to a computer or video game platform has played the game at least once in their lifetime, but how many of those people are Tetris Masters?
When a player crosses the 10,000-point mark, a message appears declaring them a Tetris Master. It wasn't until a few years ago, however, that someone became the ultimate Master by reaching the highest score possible: 999,999 points.
Advertisement
In April 2009, Harry Hong became the first person in the world to reach 999,999 points on Tetris, and he did so by playing until Level 29. His record astonished the Tetris community, which is what drove Adam Cornelius to direct a short documentary on Hong's achievement. Unfortunately, Hong's record would be short-lived. Just a few years later, in January 2012, New York gamer Matthew Buco beat Hong's record by reaching 999,999 points by Level 26, not Level 29. It took him awhile, but he finally did it—and his record remains standing to this day.
"I had three games within one Tetris (four line score) of the max-out. I had a 983,000 game this past June," Buco said in an interview. "A month later I got a 976,000 and a week before my max-out I had a 990,000 game. It was getting rough getting close so many times, but I knew I could get a max score. It was just a matter of getting the right pieces at the right time and playing well at the max speed."
Advertisement
Youngest professional video game player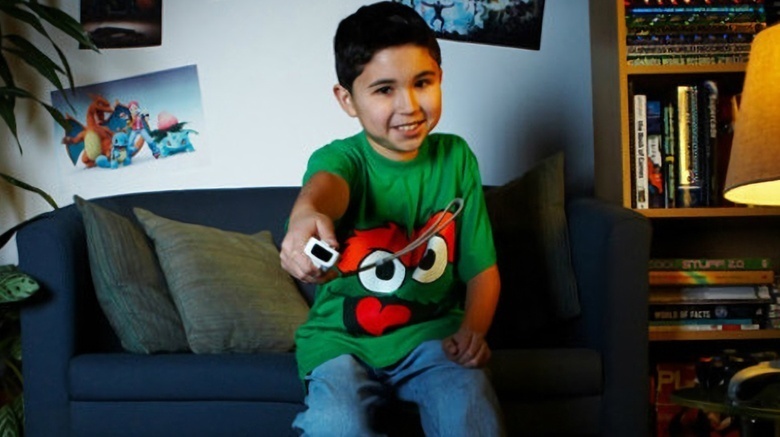 Guinness World Records
As previously mentioned, competitive video gaming is getting bigger and bigger, and unlike most competitive fields, there is no minimum age requirement to be a professional gamer. In 2005, Victor De Leon III, aka LiL Poison, became the youngest professional video gamer at age seven, shortly after signing an exclusive deal with the Major League Gaming organization. But that's not the beginning of his story.
According to the biography on his website, LiL Poison began competing professionally at age four, when he participated in a local Halo tournament in New York. Two years later, MLG signed the aforementioned contract with him—but he only cemented his status as a professional gamer when he placed second in MLG's free-for-all Halo tournament in 2005.
Advertisement
It's unclear if LiL Poison still competes professionally today, but although professional video gamers appear to be getting younger and younger, his record seems like it'll be awfully hard to break.
Oldest video game record holder
At the other end of the spectrum from Victor De Leon III sits John S. Bates, the oldest video gamer in the world to hold a Guinness World Record.
Starting in April 2008, Bates started recording every perfect game—300 points—he played in Wii Sports Bowling at his home in Onalaska, WI. By June 2012, Bates, who was 85 years old at the time, had amassed a record-setting 14,000 perfect matches. But he didn't stop playing just because he set a record. Over the course of the next three years, Bates accumulated another 6,000 perfect matches, thus bringing his grand total to 20,000 perfect bowling matches by April 2015.
Advertisement
Although his record hasn't been updated since, we can't imagine he stopped playing—or that anyone has beaten his record.
World's largest video game collection
Everybody collects things—mugs, coins, even Pokémon (and not the digital kind)—and every gamer has his or her own video game collection, however small. It can be one, two, three, or a hundred games. The fact is, when gamers buy a title they like, they tend to hold on to it in case they want to play it again in the future, and before you know it, you have a closet full of cartridges and discs on your hands.
Advertisement
There are people, though, who collect video games for the sake of collecting them—like Joel Hopkins, the Australian-born gamer who, as of October 2015, had managed to amass a collection of 18,000. It's impressive, to say the least, and recognized by the Guinness Book of World Records as the largest video game collection in the world.
It took Hopkins over 20 years to collect all the games, and he only began taking his hobby seriously in 2010, when he started actively searching for older releases around the world, even documented his journey on YouTube to his then-14,000 subscribers along the way. Of course, collecting that many games (as well as 200 consoles) cost a lot of money—over $2 million, to be exact. Unless someone buys his collection, it's doubtful a record like this will ever be broken.
Advertisement
Gamer beats Dark Souls using nine different controllers
In the gaming community, it's no longer just about beating a game; it's about how you win. We've seen Twitch users play Pokémon and a player beat Bloodborne using a Guitar Hero guitar. Clearly that wasn't enough, for in March 2016, a gamer used a Rock Band guitar, a Rock Band drum kit, a Rock Band piano, a Donkey Kong bongo, and an assortment of other controllers to beat one of the toughest games in history: Dark Souls.
Advertisement
Canadian gamer Benjamin Gwin (a.k.a. bearzly) earned the distinct Guinness World Record for "most alternative control methods used to complete Dark Souls." In total, he used nine different peripherals to beat the game. Gwin must have loved taking on this challenge, because he plans to do it again. This time, we want to see him go a step further and use an Xbox Kinect, a Powerglove, and a couple of bananas.