What's The Song In The Immortals: Fenyx Rising Trailer?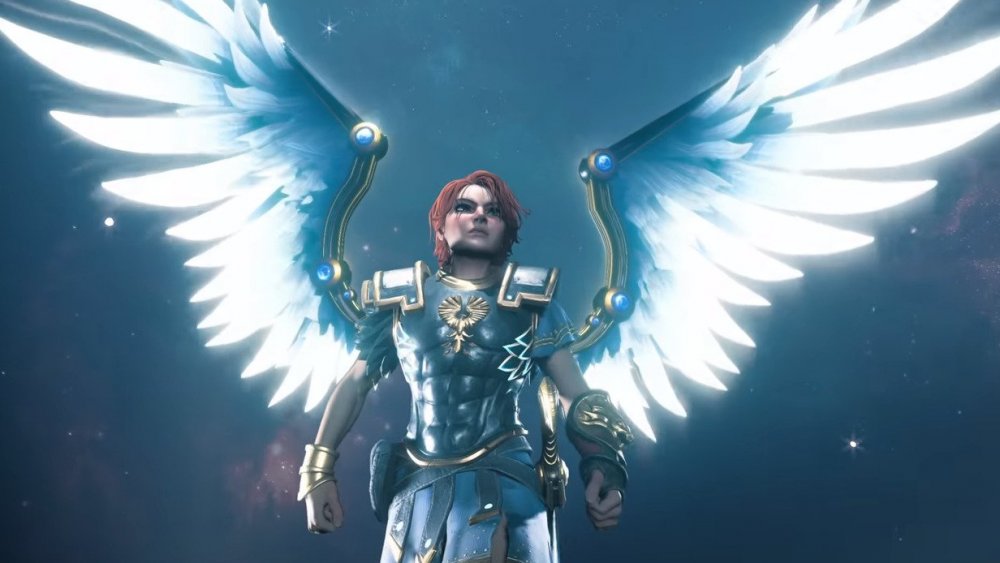 Ubisoft
Since Ubisoft re-announced Gods and Monsters as Immortals: Fenyx Rising, the open-world game with a customizable hero has drawn comparisons to The Legend of Zelda: Breath of the Wild. This is a comparison game director Scott Phillips welcomes, as Breath of the Wild is — in his view — a "fantastic game," as he told Games Radar.
Phillips also said certain other games inspired the look, feel and gameplay for Immortals: Fenyx Rising. These include Ratchet & Clank, Super Mario Odyssey and Ubisoft's own work on Assassin's Creed: Odyssey. Studio Ghibli even served as a major influence for its painterly, realistic-yet-stylized animated style, too.
Given its influences and setting, the song choice Ubisoft made for the Fenyx Rising World Premier Trailer took many viewers by surprise. It seems a bit at odds with a sweeping epic that features a flying protagonist exploring a mythical and magical world. Some have found the track jarring, and the decision has drawn questions and criticism from industry insiders. Others think the more modern vibe gives the trailer some added fun and swagger. What is that song, anyway?
James Brown brings in the funk
In the Immortals: Fenyx Rising trailer, you get a hint of orchestral mood music at the start that seems fitting for a title of this type. Then, Fenyx lands on the ground and looks around, and James Brown's "I Got Ants in My Pants (And I Want to Dance)" begins to play. This song, released as a two-part single in the early 1970s, provides the soundtrack as the main character battles a minotaur with a hammer, attacks dragon-like creatures and other mythical monsters with a sword, and encounters what appears to be a Medusa-inspired boss. The music goes back to a heroic classical score as Fenyx sprouts wings.
So, what does Ubisoft's choice of track mean? It may signify that Fenyx Rising will be less faithful to history and more focused on fun. Maybe Ubisoft wanted to move away from a calmer symphonic sound to create a specific, soulful feel around the battles that Fenyx encounters. In that way, it diverges from the Breath of the Wild formula, and that's not necessarily a bad strategy.
Immortals: Fenyx Rising releases Dec. 3, 2020 for Xbox Series X, Xbox One, PlayStation 5, PlayStation 4, Nintendo Switch, Google Stadia, and PC via the Epic Games Store and Uplay.