Xbox Is Still Using This Delayed Game To Sell The Series X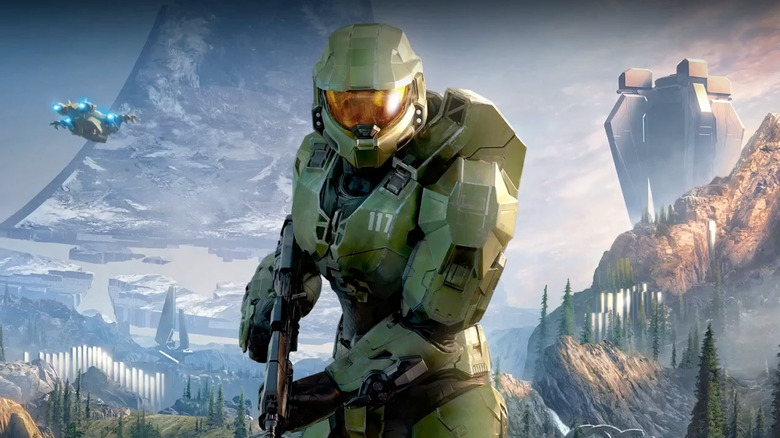 Xbox Game Studios
With less than a month to go until launch, Reddit user u/thejasonng spotted Xbox Series X packages in a warehouse. Though an exciting find for many, you'll note that Master Chief, and, by extension, Halo Infinite, remain a central facet of the console's marketing. Halo Infinite, 343 Industries' next installment in the first-person shooter franchise, was originally designated as a Series X launch title before getting delayed to 2021.
Advertisement
It's clear Microsoft was counting on Halo Infinite to support its new system with marketing beats heavily focused on the console exclusive. The Series X packaging features Master Chief looking over a horizon with the words: "Power Your Dreams" prominently displayed. The Series X|S Launch Trailer, which featured actor Daniel Kaluuya being transported through Xbox worlds, also shined the spotlight on the Halo franchise. Kaluuya even donned the Master Chief armor.
Halo remains the dominant Xbox exclusive and the series played a large role in the Xbox's initial success according to Shane Kim, former vice president of Microsoft Game Studios. Given this, it makes sense that Halo would be the center of marketing for the Series X. Besides Xbox Game Pass, Halo Infinite initially served as the console's biggest draw, and it looks as though much of the marketing was centered around the title's original release date. 
Advertisement
Unfortunately, Master Chief's status as the icon of the Series X is a constant reminder that Microsoft's premier game was delayed and further highlights the Series X's lack of exclusives. Thanks to several outlets offering previews of the upcoming console, gamers have a good sense of how third party titles and backward compatibility will work. The load times and quick resume features are impressive but there's little insight on Xbox's next-generation exclusives. 
Back in July, the reveal of the Halo Infinite box art excited fans, mostly due to its similarities to Halo: Combat Evolved. This teased a return to form — a sort of reboot for the Halo franchise. The internet fervor for Halo Infinite quickly turned to criticism after the first gameplay was revealed during the Xbox Games Showcase the following day. 
Though Infinite's gameplay bears some resemblance to that of the original entry in the series, many fans were displeased as they felt the game didn't look next-generation. Some said it looked like an Xbox One X game and a zoomed-in shot of a Brute quickly turned into a meme and the unofficial mascot for the title. Microsoft delayed Infinite not long after, moving it to an ambiguous 2021 launch window and offering up COVID-19 and the desire to meet fan expectations as the reasoning behind the decision. 
Advertisement
"We know this will be disappointing to many of you and we all share in that sentiment," said Halo Infinite Studio Head Chris Lee. "The passion and support the community has shown over the years has been incredible and inspiring. We wanted nothing more than to play our game with the community this holiday. The extra time will let us finish the critical work necessary to deliver the most ambitious Halo game ever at the quality we know our fans expect.
Shortly after the delay, the official Halo Twitter account shared much desired multiplayer details. Halo Infinite multiplayer will be free-to-play, as "Halo is for everyone." It will also run at 120 FPS, which should deliver a smooth experience. These details are promising, but Series X owners will have to wait until next year to get their hands on it. 
Xbox head Phil Spencer addressed the delay during Animal Talking, a talk show within the game of Animal Crossing: New Horizons. It's evident that he is saddened by the delay but he is confident in the team at 343 Industries. He mentioned Infinite potentially being released in segments, likely an attempt to release it closer to the Series X launch, but that strategy has yet to be confirmed.
Advertisement
Because Microsoft lost one of its major launch titles, the Xbox Series X's future potential may be its biggest selling point. The Halo Infinite marketing strategy tells gamers that Halo won't be there on release day but Xbox is still committed to the franchise. Microsoft exclusives may look dire now but that could change soon. It has developers like Obsidian working on Avowed and recently acquired Bethesda, known for Skyrim and Fallout. With over 20 first party studios, Xbox will likely get the titles it needs but it may take some patience. In the meantime, gamers have Xbox Game Pass's massive library to hold them over.