PewDiePie Breaks His Silence On Big Ed's Critique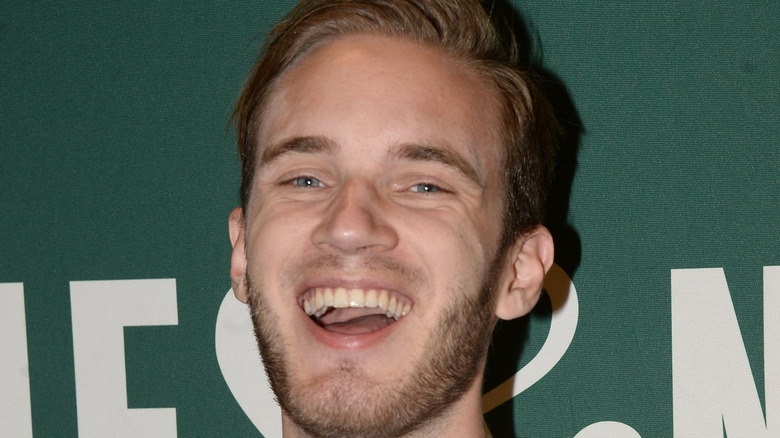 Matt Winkelmeyer/Getty Images
YouTubers and reality TV stars: what do they have in common? Honestly, not much. Sure, they both put their lives on camera for the sake of entertainment, but ultimately their similarities are few. A celeb on YouTube has total control of what their demographic sees, while a reality star is at the mercy of the show's producers and editors. Creators on YouTube tend to cater to a very specific niche, while reality TV is meant to appeal to the masses.
Being that they come from two very different worlds, you don't see reality stars and YouTubers interacting much. Well, the exception came when Big Ed, the 4-foot-11, "no neck" 90 Day Fiance star, posted a video on YouTube calling out video game streamer PewDiePie for his reaction videos to the popular TLC show.
For those who are unfamiliar with the reality series, 90 Day Fiance is a show about engaged couples who file for K-1 visas, the application required for a non-U.S. citizen to come to the States, after which they have 90 days to tie the knot. Big Ed (his real name is Edward Brown) is one of the stars from the series spinoff, 90 Day Fiance: Before the 90 Days. His short stature and squat appearance is due to a rare disorder called Klippel Feil syndrome, and in the show he was engaged to a woman he met online — Rosemarie from the Philippines, who is less than half his age.
Big Ed has become a staple of the show for his good humor and sweet disposition, although his methods can be a bit questionable — including the fact that he was not honest with Rosemarie about his appearance, and he also hid his desire to get a vasectomy. Big Ed also has a number of peculiar quirks.
PewDiePie has been one of the most popular video game streamers on YouTube for nearly a decade with record-breaking numbers. While he started out posting mainly Minecraft gameplay videos, PewDiePie has branched out over the years, from gaming to anime and other pop and internet culture topics. In April of 2020, PewDiePie decided to give 90 Day Fiance: Before the 90 Days a try — specifically clips related to Big Ed and Rose, and posted his reactions to his YouTube channel.
While watching clips of Big Ed in action, PewDiePie's reactions were understandable. Firstly, as Ed slapped a huge dollop of mayo on his head and used it to style his hair, PewDiePie's expression was one of disgust as he scrunched up and his face and made gagging noises. He went on to watch more clips of Ed and Rosemarie's first meeting, an awkward exchange when Rosemarie saw that Ed did not look the way she expected. Later, during a clip when Ed asked Rosemarie for an STD test, PewDiePie called Ed out for not trusting her, since he himself is a "compulsive liar."
PewDiePie continued his commentary of Ed and Rose's relationship in a three-part video series on YouTube, which he called "the love story of the century." He concluded that the relationship was doomed to fail from the beginning, and while Ed may be a "bad guy," that doesn't mean he can't better himself.
Well, it seems that Big Ed saw PewDiePie's videos about him, and decided to take the game streamer down a notch with a video of his own. On Oct. 8, Ed posted a video from his YouTube channel, titled "Big Ed Gets in the Ring with PewDiePie."
That video essentially served as a reaction to a reaction, as Big Ed watched PewDiePie's video on his laptop. Ed countered PewDiePie's critique of putting mayo in his hair by saying, "At least I have hair!" Big Ed also responded to PewDiePie's teasing about his sweating issue by reminding Pewds about a time when the gamer also "sweated" during a playthrough of Sophie's Curse. All in all, the ribbing was all in good fun, and Big Ed even congratulated PewDiePie and his wife on their anniversary.
But that was not the end of their interaction. On Oct. 11, PewDiePie posted his own reaction to Big Ed's callout video on YouTube. Pewds seemed to take the video in stride, laughing and giving "big ups" to Big Ed. He couldn't resist poking fun, however, when he saw some Big Ed merchandise in the background. "Am I watching a commercial?," he asked, adding, "a bit less sincere, but I'll take it."