Doctor Who Fans Just Got Great News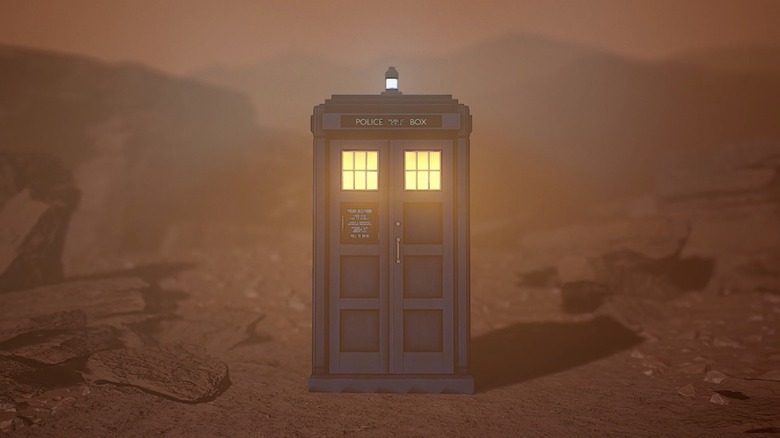 If you're a Doctor Who fan who also enjoys gaming, you may have wondered why the Time Lord isn't featured in any great modern titles. After all, the Doctor has consistently been around in some form or other since 1963, when the show first aired in the U.K., and the character has been a cultural phenomenon for decades. Naturally, video games trying to leverage his/her popularity do exist (and the Doctor has also made appearances in Lego Dimensions and LittleBigPlanet). Some Doctor Who games are considered better than others, but most don't seem to capture the scope of the Doctor's adventures through time and space in a way fans have found satisfying.
That may soon change, if BBC Studios — in conjunction with developers Maze Theory and Kaigan Games — has its way. BBC Studios announced during New York Comic-Con 2020 that it will launch two new games set in the Doctor Who universe. Doctor Who: The Edge of Reality and Doctor Who: The Lonely Assassins will both be released in spring of 2021. 
Doctor Who: The Edge of Reality is not a completely new title; it's a reimagining of 2019's VR game Doctor Who: The Edge of Time, complete with new gameplay. The first-person adventure will be released for the PlayStation 4, Xbox One, Nintendo Switch, and PCs. It'll also be playable on the PlayStation 5 and Xbox Series X through backwards compatibility, although there's no word about whether it'll be specifically designed for the next-generation systems.
The Edge of Reality contains new worlds, new puzzles, and new challenges. The original plot features the Doctor trying to save reality from a series of glitches that are breaking time, with the player as her latest companion. It continues the tale from the VR version, which was a three hour-long experience, to reveal a greater mystery. Classic Doctor Who monsters are featured, including Daleks, Weeping Angels, and the Cybermen. And fans of the 10th Doctor will be glad to hear that David Tennant is reprising his role in Doctor Who: The Edge of Reality alongside current 13th Doctor Jodie Whittaker. That's right: this game has two Doctors.
Beyond all that, fans haven't yet seen any gameplay or other hints about what might be included in The Edge of Reality. Reviewers of the original VR release VR game feel the title features some clumsy design but did include details and Easter eggs Whovians will love. Hopefully, this latest release improves upon that experience to bring players into an immersive world inhabited by the Doctor, the other Doctor (however he gets incorporated), and their enemies.
Don't blink! The second announced Doctor Who game, The Lonely Assassins, is designed for mobile devices and builds upon the popularity of one of the TV show's most popular episodes. It's based upon the iconic episode "Blink," which aired in 2007 during the third series of "NuWho" and introduced those creepy Weeping Angels. It's an adventure being designed for mobile phones by Malaysian developer Kaigan Games (makers of Sara is Missing and Simulacra), and will be available on the Nintendo Switch as well as iOS and Android devices.
In Doctor Who: The Lonely Assassins, players will team up with characters from the series such as Petronella Osgood (played by Ingrid Oliver). The adventure begins with the discovery of a found phone and unravels a series of events that take place at Wester Drumlins, the atmospheric uninhabited home where that episode took place (based on the real-life Fields House). The game promises a mystery involving a missing person and a new nemesis. It'll be full of adventure, suspense and horror elements along with puzzle-based gameplay. The story is original and comes from the writers of the TV show, according to the game's web page. Unfortunately, the trailer and other sources of information do not reveal which other familiar characters might appear.
Kaigan Games is known for adding jump scares and immersive creepiness. Combined with the Weeping Angels, this could offer the kids-running-behind-the-couch-style scares that Doctor Who is known for. Beyond that, players will have to wait and see how this game fits into the Doctor's story, which is a bit complicated and chaotic after more than almost 60 years of media. In 2021, they'll find out if Kaigan can succeed at making a good Doctor Who game for mobile.